The best gamepads and controllers for PS4, PC and Xbox One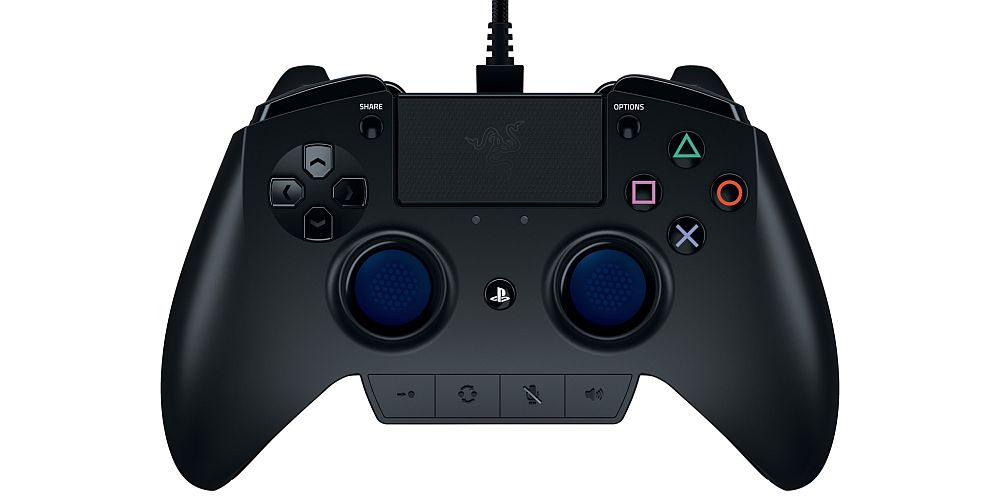 Our picks for the best controllers for PS4, PC and Xbox One that money can buy.
PC gamers have, for a while now, been both blessed and cursed with a huge array of controllers, gamepads and other ways to play. Even amongst all the rabble, though, it's quite a task to find the absolute best gamepads and controllers for PC gaming, and the options are even growing for PS4 and Xbox One owners. As more companies get involved with bringing their own takes on what a gaming controller should be, the easier it is to get a controller that suits your needs near perfectly.
That being said, there are some clear winners in the realm of gaming controllers out there on the market right now and whether you're a PS4, Xbox One or PC gamer, you've got some of the best gamepads in history available to choose from right now. In order to make that choice a little easier, we've gone and put together this guide to the best gamepads and controllers for PS4, PC and Xbox One, which we present here in the form of a stack-ranked list of our absolute favourites.
While you're out there considering another gamepad or controller, you may want to check out our guides to the best specialist controllers for PS4 and the best steering wheels for PS4 and PC.
Honourable mention: Nacon Revolution Pro
Before we talk specifics about the absolute best controllers, let's take a quick look at the Nacon Revolution Pro. Currently only available in the UK and some parts of Europe, the Nacon is one of the very few officially-endorsed third-party controllers and it's still relatively new to the market. With the use of a PC and some included software, every button and stick on this thing can be customised and remapped, vibration intensity and even macros can be adjusted to suit the player's preferences down to the last fine detail.
This controller's performance gives an excellent first impression, with each button feeling firm and satisfying and both thumbsticks feeling extremely precise (with a 46-degree amplitude). This controller may especially appeal to anyone who prefers the way an Xbox controller feels and who may want to have that experience while using a PS4. If that's what you're looking for, the Nacon Revolution Pro is about as close as you're going to get.
That being said, the Nacon isn't without its flaws. The first, and one that users will probably notice right off the bat, is that this controller won't turn a PS4 on with a button press - which sounds like a tiny detail but trust me, it's something you'll miss from a regular Dual Shock 4. On top of this, the Nacon is a wired controller - a design decision specifically chosen in order to eliminate all potential input lag from controller to TV. The three-meter textile cable screws tightly into the top of the controller and seems sturdy and well-made, but it's still a wired controller at the end of the day. As previously mentioned, you'll need a PC to customise the controller in any way as well, so that's worth keeping in mind if you're a console-only household.
As such, the Nacon Revolution Pro gets an honourable mention from us for now. It's a little too new on the market and a little too imperfect to make a high-end recommendation but with some tweaks and possibly another revision of the hardware, it may end up as the controller of choice for PS4 and PC.
The best for Xbox One and PC: Xbox One Elite Controller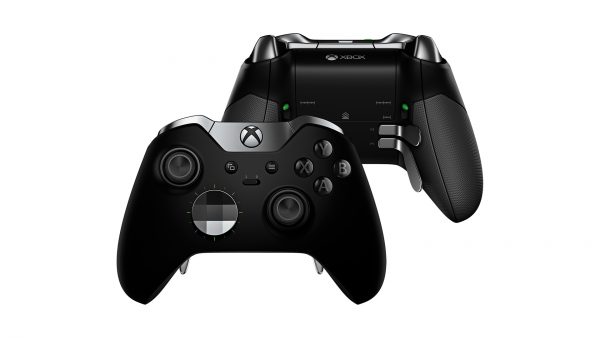 Onto the ranked list, we kick things off at the very top with the Xbox One Elite Controller. For PC users, this is absolutely the best gamepad you can get and use with PC games. That is to say, as long as you don't have any outstanding reasons to dislike the traditional Xbox controller layout. As with the standard Xbox One controller, the Elite controller is the latest in a long line of controllers which are all based off of the Xbox 360 controller design and layout. There's a reason for that, though, since the Xbox 360 controller was the most widely accepted and compatible controller to use with PC games for about a decade. Of course, as an Xbox One controller it's definitely the best option, too.
Along with a heftier, more solid stainless-steel build, the Elite controller adds four paddle-style buttons on the back of the controller, locking switches to turn each trigger into hair-triggers, a customisable set of thumbsticks and D-pad and a completely programmable controller button layout using onboard software. So fine is the customisation, that you can even adjust the range of the thumbsticks, the impact of each trigger pull and even the strength of the vibration in each hand. On top of all that, the matte finish is super pretty and the entire controller has a soft-touch grip feel.
In the box, you'll get a set of replacement thumbsticks of varying heights, a very stylish carrying case, the rather nice braided USB cable and an alternative D-pad (one that more closely replicates the 'cross' style of previous controllers). All the back-paddles are removable as well, if you don't fancy using them.
To put it simply, the Xbox One Elite controller is what most other controllers out there aspire to be. It is absolutely a luxury device but if you can budget for this one, it's almost impossible to beat. If you're planning to use it on PC, it's worth keeping in mind that you'll either need to use it wired with the included USB cable or get yourself an Xbox Wireless USB adapter for about £20 / $20.
The best for PS4 and PC: DualShock 4
Of course, the Xbox controller design and layout isn't for everyone. Some people just simply prefer the way a PlayStation controller feels in the hand. Fortunately, Sony has recently given its blessing for the DualShock 4 to be used as a PC controller along with being the new standard PlayStation controller. With the DualShock 4, you can really see just over twenty years of innovation from Sony, originating all the way back to the mid-nineties with the original PlayStation console, before thumbsticks were even a thing. The DualShock 4 is a massive improvement over previous iterations,
The DualShock 4 is a massive improvement over previous iterations and there are many small tweaks that made that the case. The two handles have been shaped to be slightly narrower and a little longer, which makes all the difference to the way the pad feels in your palms. In traditional PlayStation style, both thumbsticks sit next to each other (rather than the Xbox style of the D-pad sitting next to the right thumbstick), as expected but this time the sticks are moulded from a much more grippy plastic that feels better to spend hours pushing around.
One of the biggest improvements over previous DualShocks is the triggers. Arguably the worst thing about the DualShock 3 was the mushy R2 and L2 triggers which would more often be accidentally pressed when setting the controller down than when you actually want to. This is remedied perfectly with the DualShock 4, which features a more edged, upward curve to both triggers that feels fantastic. In terms of new features specific to the DS4, the new controller features a central touchpad which doubles as a mouse cursor control pad when being used on PC, a lightbar as well as a mono speaker built into the pad which is used by games to create atmospheric sound effects, to variable degrees of success.
All in all, it's hard to find fault with the DualShock 4, whether being used with a PS4 or a PC. If you're not a fan of the Xbox style controllers or you're just a diehard PlayStation fan, this is the ideal choice. It's also available in a relatively absurd amount of colours and designs if that's your thing. It can be used wired on PC or wirelessly if you have a Bluetooth-enabled computer or feel like shelling out about £20 / $30 for a Wireless USB Adapter.
High-end for Xbox One and PC: Xbox One Wireless Controller
Not everyone is going to be able to afford the luxury of an Xbox One Elite controller, that's just a straight-up fact. If that's the case, you may want to consider the more standard version of the Xbox One Wireless controller. While it won't come with as many bells and whistles as the DualShock 4, it does feature the Xbox controller layout along with a whole host of tried-and-tested features, all of which it performs excellently with.
The latest version of the Xbox One wireless controller comes with built-in Bluetooth capabilities, making it easier than ever to use with your PC (as long as your computer is Bluetooth-enabled), as well as a lot of tiny improvements to the framework and build quality that make it a much better option now than it was three or so years ago at launch. The thumbsticks feel light and fluid when being moved around, especially at speed and the bumper buttons are now much clickier than they used to be and much more satisfying to use.
Specific new features to the Xbox One Wireless controller include the unique force feedback that has been installed into each trigger individually. This means that each trigger can rumble separately against your fingers to simulate gunshots, hard braking while driving or many other examples. It might sound silly at first, but it's a very cool feature that works far better than expected. The D-pad has been massively improved over the original Xbox 360 controller design, too, with this new version being raised up away from the body of the controller and formed into a more traditional 'cross' style.
For the price, it's hard to find a better controller than this one, especially when using it on Xbox One and PC. The build quality is solid, the features are plentiful (it not luxurious) and the performance is superb.
High-end for PS4 and PC: Razer Raiju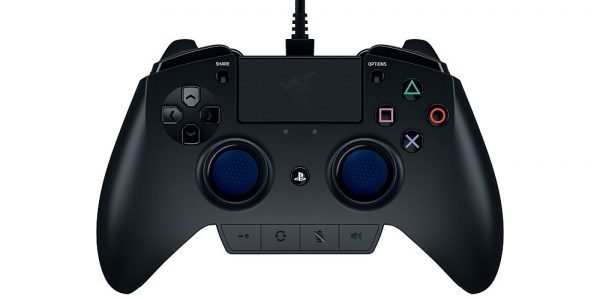 Much like the Nacon Revolution Pro, the Razer Raiju is another of a series of Sony-endorsed third-party controllers for PS4. By now, Razer has built up a bit of a reputation as a third-party accessory developer and whether you're going to like this controller is largely determined by how you feel about any Razer products you've previously come into contact with.
The Raiju itself is kitted out with a whole host of high-quality materials including carbon fibre and aluminium parts to give the whole pad a solid, weighty feel. The four face buttons are mechanical and deliver a satisfying click when pressed, resulting in more precise inputs with next to no input lag. The body is covered in a rubber grip coating in order to ensure comfort and security when playing and the back of the controller features a set of paddle-style controllers which are customisable. As a matter of fact, the whole controller is customisable and programmable using included software.
Along with all of that, also featured here is the 'quick control panel' along the bottom of the pad, which offers up immediate controls for chat - volume, mute, profile and function - if you should need it.
The Raiju is designed specifically as an eSports controller and it delivers very well in that regard, offering up a whole host of features that anyone into competitive gaming or online multiplayer games in general, will absolutely love. That being said, it's the most expensive controller on this list, so this one is most likely only for the die-hards.
Mid-range for PC: Xbox 360 Controller (Wired/Wireless)
Here we come to the workhorse of gaming controllers - the Xbox 360 controller. Once upon a time, this controller was the best of the best and an absolute must-own for any PC gamer as well as the industry-standard 360 controller. While many other controllers and more recent iterations have made vast amounts of improvements to this original design, there may still be a reason to own one of these.
The 360 controller was so widely adopted and used by PC gamers that PC games ended up including the Xbox button-prompts as standard and as such, this controller is still the most compatible with PC games, while the Xbox One controller is catching up steadily. Another benefit of grabbing one of these nowadays is the fact that you'll be paying a fraction of the price of an Xbox One, DualShock 4 or Elite controller.
Tried-and-tested, the Xbox 360 controller has consistently been one of the best performing and most desirable controllers, especially for PC gaming. It's hard to argue with close to a decade of success, after all. These days, you can pick up a wired edition of this controller which comes with a three-meter-long cable which is usually more than enough or get a wireless version and a USB adapter in order to take cables out of the equation.
It's not the fanciest of controllers these days and some more recent Xbox controllers improve upon it in many ways, but the 360 controller maintains its place as a high-quality and versatile controller that is hard to fault.
Mid-range for PS4: Hori Controller FPS Plus
Hori, known far and wide for creating accessories and peripherals for games and consoles, deliver their take on the PS4 controller with the FPS Plus. It positions itself as a more affordable version of the DualShock 4 and takes most of the features over into its own design. Missing, though, is a small list of features that you may prefer to spend more money to have.
Specifically, the FPS Plus is missing a headphone jack, rumble, lightbar, built-in speaker, PC support and gyro motion controls. If you're going to miss any or all of those features, you should go ahead and drop a few extra pennies to get an official DualShock 4. If not, however, the Hori FPS Plus offers up similar features as a DS4 for a lower cost. The most notable difference from a DS4 physically is its size, as the FPS Plus feels much more akin to an Xbox One controller in stature.
Also on offer here is a limited range of customizability, as the controller features a button on the back that will increase or decrease the sensitivity of the right thumbstick in different degrees, which is intended to give players an advantage when playing first-person shooters. There's also a turbo button for shoulder or face buttons, ideal for top-down shooters and arcade classics. Additionally, both thumbsticks feature gradual acceleration, eliminating sudden movements in exchange for more precise movement.
The FPS Plus, as you can probably tell from the image, is not a wireless controller and while this may be a benefit in not having to worry about battery life, you'll still need to make sure the three-meter-cable is suitable for your gaming setup. Overall, the Hori FPS Plus is an interesting addition to the PS4 lineup of controllers, offering some unique features for less than the price of a regular DualShock 4. This one won't appeal to everyone but to a specific audience, this might be the ideal pad.
Entry-level for PC: Speedlink Torid
Although it's one of the old dogs of video game controllers by now and isn't the most subtle of designs, the Speedlink Torid is still a great entry-level PC controller, especially for the low price. Firstly, the Torid is a wireless controller that, structurally, feels closely related to the original Xbox 360 controller. Indeed, the four face buttons are downright copyright infringing in terms of look.
This one is relatively barebones and simple in terms of features, it does the job it's there for and performs very well for what it is. If you're not looking for frills or lots of fancy features - and don't mind the controller being a little on the garish side - the Speelink Torid might be the best option. The body features rubber grip coated side points as well as precision thumbsticks which are actually more versatile than the original 360 controller.
In terms of accessibility, this controller is as simple as it gets. Plug in the USB receiver, install the driver from the included CD, switch the thing on and away you go. Depending on what you're looking to get out of a PC gaming controller and your budget constraints, there might still be some life in this old dog yet.
Entry-level for PC: Thrustmaster GPX Lightback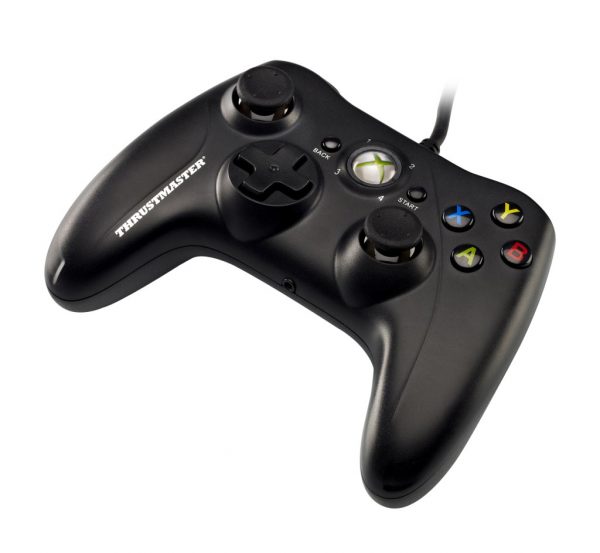 Our final featured product for the entry-level category is the Thrustmaster GPX Lightback, one of the most bafflingly named controllers we've ever seen. Taking a similar approach to the Speedlink, the GPX Lightback is very closely modelled on the original Xbox 360 controller and features many of the same attributes, too. It's a wired controller and only a wired controller, so be sure to have the space needed, The GPX separates itself from the rest of the pack with its two very grippy and precise analog thumbsticks, which perform excellently in almost every game we tried. Force feedback is also present, so you won't be missing out on any of the action there.
Design wise, it's largely copying the 360 controller but with slightly elongated handles and the unique addition of a pair of LED lights across the from of the pad which light up in conjunction with onscreen effects. If you happen to be accelerating rapidly in a racing game, for example, the LED lightbar will gradually fill up. It's a neat little feature that's massively pointless, but nice nonetheless.
For the price, the Thrustmaster GPS Lightback performs well and features a solid build quality but doesn't quite excite in any real way. It serves its purpose very well and offers some unique design choices that are nice to see but overall, it's one to look out for and will come down to personal preference for a purchase.
---
Well, there you have it. Our guide to the best gamepads and controllers for PS4, PC and Xbox One. Did we miss any controllers that you're particularly fond of? Let us know in the comments and we'll keep an eye out for bigger and better gamepads as they come along.