Test Drive Unlimited 2 announced for 360, PC, PS3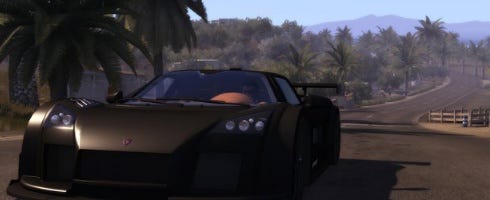 Atari's announced Test Drive Unlimited 2.
The game will appear on 360, PC and PS3. Eden Studios, who developed the first title, will also create the sequel.
The big key talking point is that the racer will have M.O.O.R, or Massively Open Online Racing, constantly keeping the offline and online worlds kept together and "always live".
As well as features from the previous game, like buying property and clothes shopping (naturally), the game will also feature day and night cycles and more.
First shots and PR are below. The official website's also opened up as well, but there ain't much there, if we're honest.
Mar 3, 2010 2:45:00 AM

NEW YORK, March 3 /PRNewswire/ -- Atari, SA, one of the world's most recognized videogame publishers, and much-acclaimed developer Eden Games, are proud to announce the newest installment in the legendary racing franchise with Test Drive® Unlimited 2 for the Xbox 360® video game and entertainment system from Microsoft, PlayStation®3 computer entertainment system and Windows PC coming Fall 2010. Â

Test Drive Unlimited 2 expands on the traditional racing experience providing gamers with M.O.O.R.®: Massively Open Online Racing®; immersing drivers in a persistent online environment and revolutionizing multiplayer racing communities as players compete, team up, and share their achievements and creations online.  Unlike any other driving game, TDU2 blends the open world experience with realistic vehicles and performance dynamics and for the first time, TDU2 features vehicle damage, weather effects, day and night cycles, and a brand new island to explore.

The first Test Drive® Unlimited innovated the racing genre with an immersive online and offline experience - over 1 million players created online accounts.  Test Drive Unlimited 2 blends the single player and multiplayer experiences seamlessly, creating a dynamic world of unique content and challenges.  Test Drive Unlimited 2 is "always live," with automatic updates and seamless online/offline integration.  A revamped single player narrative mode can be played offline or as part of the multiplayer experience.

"After the highly successful Test Drive Unlimited which redefined the genre with massively open online racing, Test Drive Unlimited 2 will be an innovative evolution in racing games, expanding its unparalleled multiplayer experience and immersing players in a world full of new online content and lifestyle customization." said Jeff Lapin, CEO of Atari, SA. "The game fits squarely into our strategy of moving online and generating new revenue streams while maintaining our current retail business."

Test Drive Unlimited 2 puts the world's most desirable vehicles in the players hands. Â These ultra-limited edition masterpieces are flawlessly replicated with Eden's finely tuned driving technology. Â Players define their online persona through the customization of their vehicles, and the acquisition of property, clothing and all the accoutrements of a luxurious car-based lifestyle. Â The challenge comes to life with the most expansive and comprehensive multiplayer offering on the console and the ultimate refinement of the core Test Drive driving experience. Â All-new race types, vehicle classes, environmental challenges, locations and much more push this epic franchise to new levels of performance and luxury.

For more information on Test Drive Unlimited 2 please visit www.testdriveunlimited2.com or log on to www.atari.com.