Take a look at the Gears 5 Xbox One X Limited Edition bundle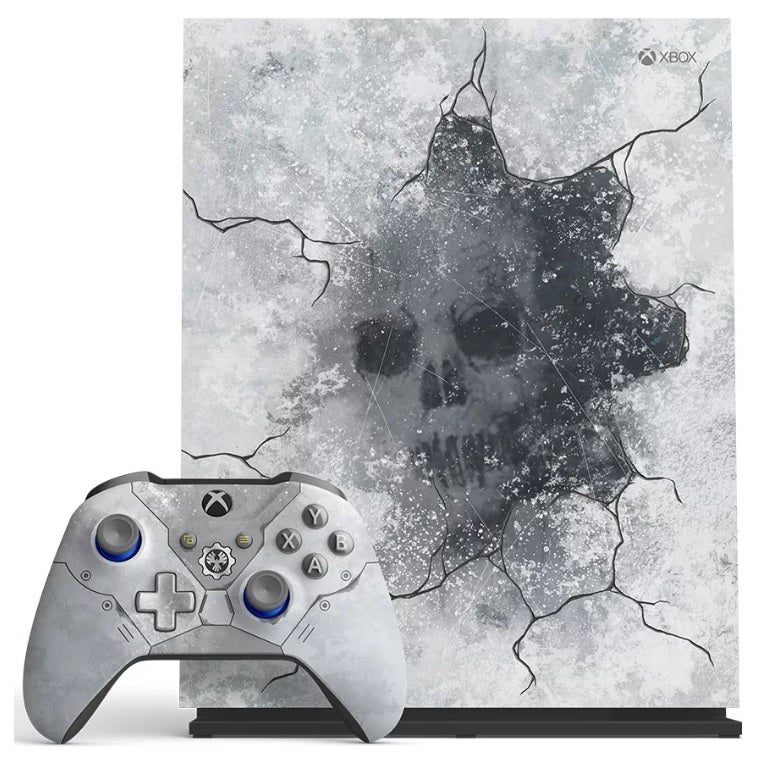 It's not long now until Gears 5 emerges like the first Locust from beneath the surface of Sera. Microsoft is clearly in the mood to celebrate and has announced a whole array of special goodies, including an ice-cold Gears 5 Xbox One X Limited Edition bundle.
It's a pretty comprehensive bundle, featuring a 1 TB Xbox One X with the iconic Crimson Omen encased in ice and snow. You also get the Kait Diaz Limited Edition Xbox One Controller, a copy of Gears 5 Ultimate Edition and digital download codes for all previous entries in the Gears of War series. That way, you can fondly remember the times back before they dropped the 'of War' bit.
The Gears 5 Xbox One X Limited Edition bundle is up for pre-order now at a number of retailers for $499.99. I've gathered up the places I've seen it so far and will add to this list when more become available.
Not in the US? No worries. You can also pre-order it from the Microsoft Store, GAME and Amazon UK.
Perhaps you'd rather not fork over the full $500 for a brand new console with Project Scarlett on the horizon, but still want some exclusive Gears 5 gubbins? Well, good news, you can also pick up the Kait Diaz Limited Edition Xbox One Controller separately for $74.99 from the Microsoft Store, Best Buy and Amazon US. There's a matching Gears 5 Limited Edition Charging Stand for $49.99, too, if you really need to complete the look.
That isn't the only new thing being slapped with Gears 5 branding. One of the more left-field items is this Seagate Gears 5 Special Edition 2TB Game Drive for $99.99 available at the Microsoft Store and Amazon US. Sure, bumping up your console storage space is a perfectly good idea, but I think you'll be better off going to our round-up of the best Xbox One external hard drives at Jelly Deals instead. We'll save you a bit of money on something that does exactly the same job!
Lastly, Microsoft is partnering with Razer to create the Xbox One's first wireless mouse and keyboard to celebrate the launch of Gears 5. This exclusive pair will also be available alongside the game in September, but for an eye-watering $299.99. You can see all of these and find more details on Microsoft's latest Gears 5 blog post.
Now, if you'd rather find some ways to save money, then do check us out over at Jelly Deals. We have the best price for Xbox Game Pass Ultimate and everything you need to know about the Xbox Series X pre-orders.