Streamer sets Super Mario 64 world record while playing with drums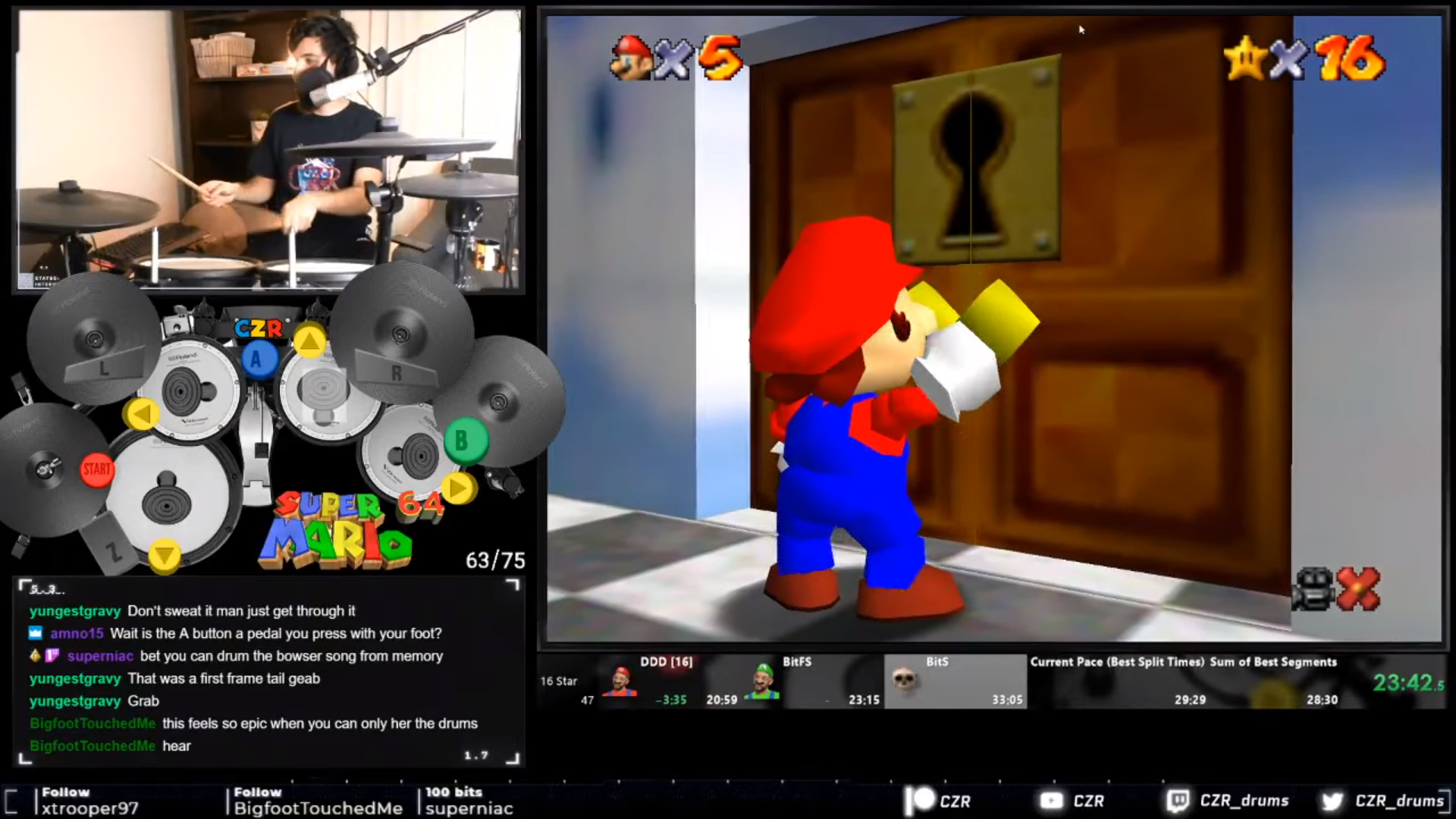 A Super Mario 64 streamer recently set a brand new world record while playing through the game using nothing but an electronic drum set.

The streamer in question - who goes by the handle CZR - regularly publishes a mix of drum covers and gaming videos to his YouTube channel. Occasionally, he combines the two and speedruns iconic games using a pair of drumsticks instead of an ordinary controller.
Check out the video below, which shows CZR speed-drumming his way through Super Mario 64 in under 30 minutes.
It's worth noting that this is a Super Mario 64 16 Star drumming speedrun, meaning that you need to collect 16 stars and complete the game as quickly as possible while only having access to a drum kit. The record for a regular Nintendo 64 controller is almost twice as fast as this, with world record holder Akki having beaten the game with 16 stars in 14 minutes 59 seconds.
If CZR was to submit his score to the official leaderboard for any input method - which means the one where everybody else is obviously using a normal controller - he'd be rank 880. Not bad for a 24-year-old game with a massive speedrunning community behind it.
This isn't the only speed-drumming record CZR has set. His channel is filled with all sorts of absurd drum runs - he even set the speed-drumming world record for beating Ganon in The Legend of Zelda: Ocarina of Time, which he also managed to accomplish in under 30 minutes.
CZR notes in the video description for the Super Mario 64 world record that the drum run was only supposed to be theoretical at the beginning - it was just something fun to experiment with. However, now that he has actually succeeded in beating the game in under 30 minutes, it's possible that he might get an ever faster speed-drumming run in future.
This still isn't the weirdest speedrun we've seen though - last year we spoke to the guy who shagged his way to a Fallout world record.