Street Fighter 6 trailer shows off Cammy, Zangief, and new fighter Lily!
Two world warriors and a brand new character smash through the PlayStation Showcase in this slick new gameplay trailer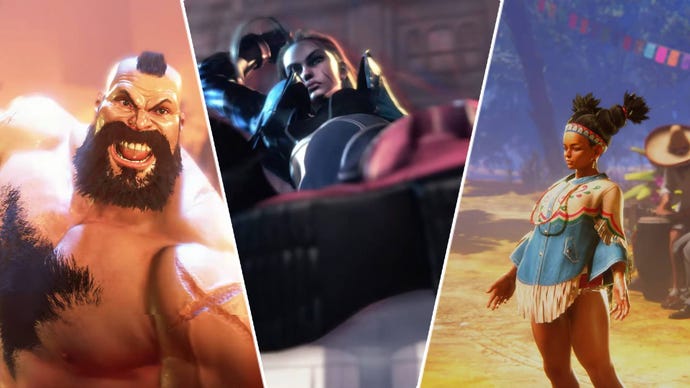 A new Street Fighter 6 trailer was shown off at last night's Sony State of Play, showing off gameplay footage of Cammy, Zangief, and a new character Lily.
It's an excellent trailer with some highly anticipated characters within. People have been desperate to see more of Cammy since the leaks from last year, in which we caught a brief glimpse of her Super. Zangief too is obviously a long-awaited reveal as the series' prime grappler character.
So lets break it down! Zangief comes first in a new professional wrestling attire (probably due to their relationship with R Mika from Street Fighter 5). We see a mixture of new and old moves in action: with several chain slaps and low kicks introduced as new basic combos. Big grabs return in a big way too, with the classic SPD and an explosive super command grab capping off his segment.
Lily takes the second spot in the trailer, and she looks great! Loads of T. Hawk vibes coming off this new fighter as a part of the same tribe and packing wind powers to make up for her small stature. Lily has a selection of long ranged normal attacks that she uses to combo into powerful wind-powered special attacks, as well as what looks like a command grab for when things get a bit too close.
Finally there's Cammy, who returns with short hair and a slick UK jacket. A lot of her classic kit returns including cannon strike and spiral arrow, but she also appears to have a new aerial special attack as well as a neck-breaking super inspired by the classic Street Fighter movie. It was worth the wait to see her official reveal, she looks exceptional.
This trailer comes only days following the reveal that the next Capcom Cup will be Street Fighter 6 exclusive, and feature a $1,000,000 prize to whoever becomes world champion. It'll also be at Evo 2023 later this year as a main stage game, so it's no doubt an exciting time for Street Fighter fans.
Ultimately this is a super rad trailer with a lot of content for fighting game fans to pick to pieces and drool over. With Street Fighter 6 releasing on June 2, there's not long to wait until we get hands on the final version!