Steam winter sale is now live, lacks pointless minigames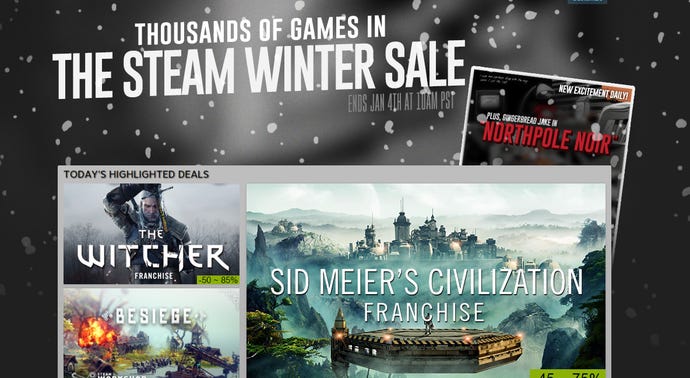 Steam's largest yearly sale is now live.
The starting date for this year's Steam winter sale, leaked by PayPal recently, was in fact correct. The year's biggest and last sale has been live for a few hours now.
As was the case with a few of this year's promotions, there are no daily deals anymore. This means the prices you see for any game will remain that way for the duration of the sale, no flash sales etc.
The homepage now features what Steam calls "highlighted deals," which are just as the name suggests, a random selection of deals that change everyday, but don't get extra discounts.
Below that, you will find a personal queue of games Valve thinks you'll like. If you click that and continue browsing the games it throws at you, you get a trading card, which can then be turned into gems, sold or crafted. It's a lot less convoluted than previous years, which involved mini-games.
If you're new to Steam's schemes, this FAQ page should help you out.
The sale goes on through Monday, January 4, 10am PST.