Steam Music beta "coming soon" to SteamOS, allows you to play music while gaming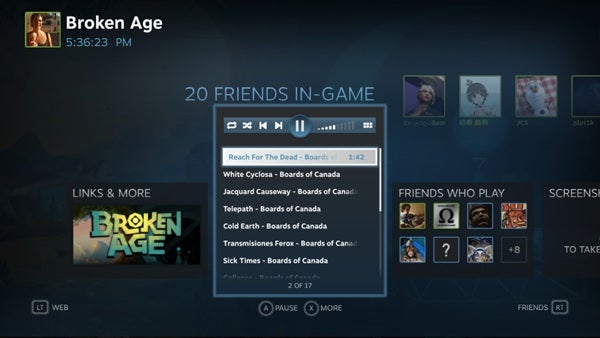 Steam Music will be accepting beta testers soon, allowing you to leave off alt-tabbing out to fiddle with your volume balances in order to juggle music and gaming levels.
As detailed on the Steam Music Steam Community Group, Steam Music will soon be an optional beta for Big Picture and SteamOS users.
Steam Music allows you to point Steam at your local music directory, so it can offer album and artist collections in your Steam Library. You can then play and manage music directly through the Steam client itself, as opposed to an external player like Windows Media Player, which should make it easier to juggle volume levels. Now, if we can only get out various VoIP clients in there somehow.
The interface can be controlled via the Big Picture overlay with keyboard and mouse, or more directly using a Steam Controller.
To participate in the beta, sign up to the Steam Music group; the feature will be offered in waves and eventually made available to all users.
Valve announced recently that it intends to eventually offer music, movies and TV through SteamOS, making Steam Machines a viable entertainment hub option.
Thanks, PCGamesN.