Steam has "a long way to go" to establish connections between users and creators - Newell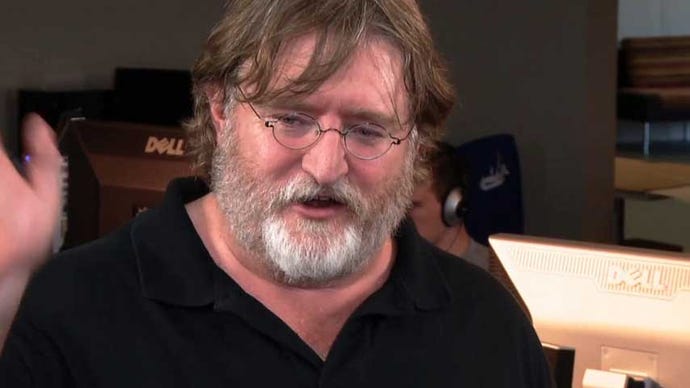 Steam's continued push to forge direct connections between content creators and players is something Valve thinks about "a lot", founder Gabe Newell said during his Reddit AMA today.
"We still think we have a long way to go to get to the point where all of the different people that are contributing value to competitive play get everything out of it that they should. Feels like we are making pretty good progress though," Newell told Reddit, responding to a question about Dota 2 (and perhaps Team Fortress 2)'s UGC and microtransactions.
"Giving the consumers of content a direct relationship with the creators of content is something we think about a lot. That is what drove our thinking about how the community could be more involved in the tournaments that mattered to them."
The AMA also included were several miscellaneous questions about Steam and associated services and products. Valve is "making some progress" towards lower-cost Steam Machines, Newell said.
"We see Steam Machines (along with SteamOS and the Steam Controller) as a service update to Steam, porting the experience to a new room in the house. As we've been working on it, we've focused first on the customers who already love Steam and its games," he said.
"They've told us they're tired of giving up all the stuff they love when they sit in the living room, so it seemed valuable to fix that."
As for the possibility of streaming services like Pandora and Spotify in Steam Music, Newell said Valve has "some things in the works" he thinks users will like.
One user asked about the possibility of Valve creating more IPs of its own - something those waiting for more Half-Life probably don't want to contemplate - but Newell didn't seem overly keen.
"An IP is really a tool for a development team more than anything else. The key is to have clarity around what is uniquely of value in what you are trying to do and not waste your effort on things that don't directly contribute to that," he said.
Source Engine 2.0's greatest improvement will be "in increasing productivity of content creation", he said later.
"That focus is driven by the importance we see UGC having going forward. A professional developer at Valve will put up with a lot of pain that won't work if users themselves have to create content," he said.
The full AMA includes many further comments, mostly related to Newell's career and personal life. One of the coolest moments was Newell offering personal thanks to the community members who helped track down the notorious Half-Life 2 hacker when authorities were baffled. There's also some chat about working with J.J. Abrams, virtual reality, Dota 2's success and more.