Stardew Valley Collector's Edition for PC and Switch is super cute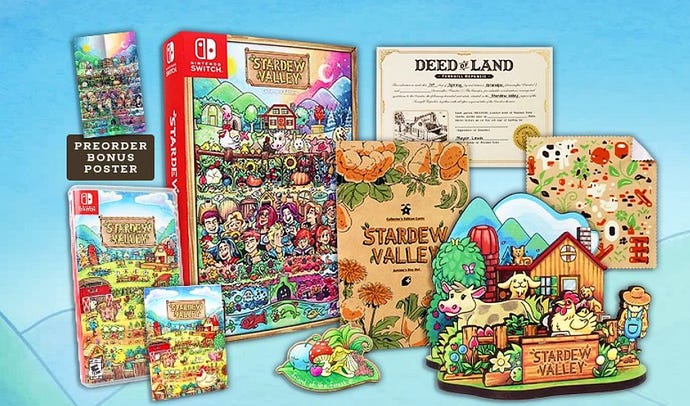 Stardew Valley is getting a physical release on PC and Switch along with a Collector's Edition.
A physical edition of the very popular Stardew Valley will be released on November 6, and there is also a Collector's Edition coming.
The standard edition for Switch will run you $34 and $29 on PC.
A Collector's Edition to be made available will run you $64 on PC and $69 on Switch.
It contains some rather cute items, such as a six-piece wooden standee featuring the Farm, a cow, chicken, goat, your dog, and a scarecrow.

Alongside the standee, this edition comes with a wooden lapel pin, a 14-page Junimo comic by Chihiro Sakaida, a deed to your farm featuring gold-foil details, a Collector's Edition box, a physical copy of the game, a full-color illustrated instruction manual, and a cleaning cloth designed by Chihiro Sakaida.
Also, if you preorder by August 15 you will receive a poster.
You can pre-order both editions now over on Fangamer.