StarCraft II still on target for mid-year release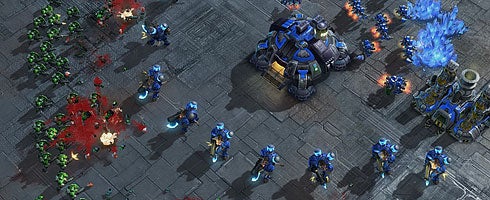 StarCraft II's lead producer Chris Sigaty, has said that not only is the game still on target for a mid-year release, but that once the team gets the game shipped, some will start working on the first expansion for it.
"We're still targeting a mid-year release. We're doing everything we can," Sigaty told Shack. "I was here all weekend along with a bunch of other people. We're trying to get done as soon as possible".
As far as the first expansion is concerned, he said that the team is aiming to release it 18-months post StarCraft II's launch.
"We'll have people transitioning in the next few weeks to beginning that process," said Sigaty. "There are other things that we want to work on; mod-related things that we want to do ourselves, but we'll definitely have people transitioning to the basics now, but there are still a ton of details to be worked out.
"It's going to be this constant process as people fall off from squashing bugs and finalizing tasks for the shipping product and start moving on to things related to expansion number one.
"We're estimating about 18 months from release of Wings of Liberty to when the next one comes out. That's purely speculative, honestly.
"Historically, it's taken us about a year-WarCraft III: The Frozen Throne is a good example-but you'll see the sum-total package [in Wings of Liberty] has raised the bar and there's a lot more to do with StarCraft II's expansions.
"I think 18 months is probably fairly accurate".
Previews for StarCraft II's single-player went live today, and you can get the round-up of 'em through here.