Star Wars: Battlefront Hero Hunt, Droid Run modes detailed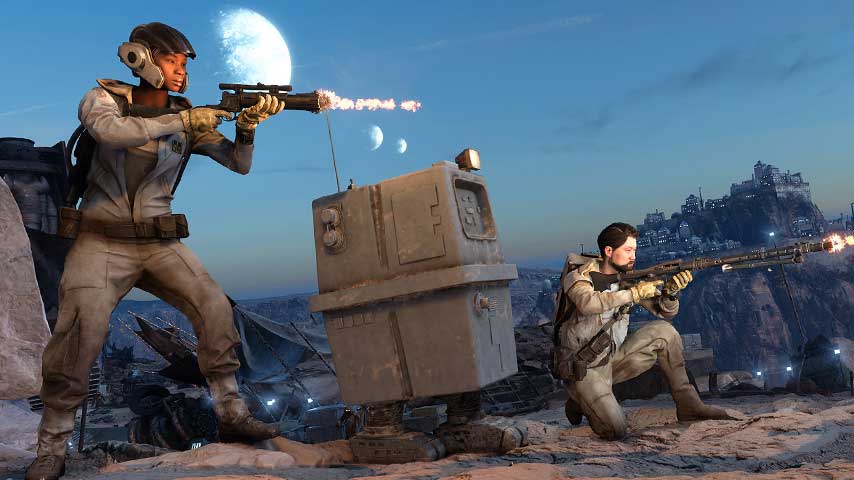 Star Wars Battlefront isn't all running around supply pods and chasing walkers down.
Now that the Battlefront beta is winding down EA and DICE are spilling details of some of the content you'll find in the full game.
Earlier today we took a look at Cargo Mode, but now two more modes have been unveiled.
Hero Hunt was leaked last week, but the official reveal on the EA Star Wars site has actual details. It's a 1v7 mode in which the player who takes out the Hero then switches places with them, becoming the hunted character.
Generic characters don't have much hope of taking out heroes in a one on one fight. DICE said knowing the strengths and weaknesses of each hero or villain character is vital to success, as is strategic deployment of star card abilities.
Meanwhile, I think this is the first we've heard of Droid Run. According to EA Star Wars, it's a 6v6 mode in which factions battle for control of droids including the GNK.
There are three droids that must be held, but they're actively dashing about the map themselves and you need to grab them all before you start earning capture points. Making it even harder, there are no hero or vehicle pickups.
DICE said the small maps favour both slow and powerfully defensive approaches or agile runs to get to the droids as quickly as possible.
Star Wars Battlefront launches on PC, PS4 and Xbox One on November 17.