Star Trek and X-wing Are Both Being Reborn in VR
But Star Trek Bridge Crew might be a little too ambitious for its own good.

This article first appeared on USgamer, a partner publication of VG247. Some content, such as this article, has been migrated to VG247 for posterity after USgamer's closure - but it has not been edited or further vetted by the VG247 team.
We're at E3 this week, covering the year's biggest gaming event. Be sure to check out all our coverage on our E3 2016 hub!
The Battlefront: X-wing VR Mission trailer is a merciless tease. It tantalizingly hints at the one and only game that would get me to buy a PlayStation VR without thinking: An X-wing reboot in VR.
I'm written at length about my love for the old LucasArts space combat sims. I think TIE Fighter is the best Star Wars game ever made.
Space combat sims infamously died after 1999, only recently regaining a faint heartbeat thanks to Star Citizen, Elite Dangerous, and more recently, EVE Valkyrie. They've been spurred by first Kickstarter and now the advent of virtual reality, with cockpits proving a perfect fit for claustrophobic headsets. All the sudden, space combat sims are cool again.
In that light, the X-wing VR Mission appears to be the closest we've become to a full-blown X-wing revival in quite some time. It only took 47 seconds for me to say, "I want this to be a real game. I want it so much."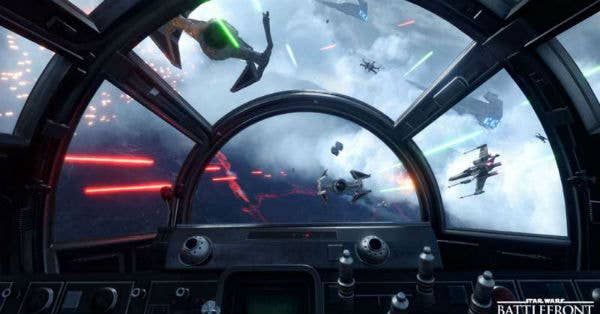 I'll admit that I tend to be jaded about Star Wars, mostly because it's all too obvious how cynically the franchise mines nostalgia in the service of merchandising. But X-wing still has the power to move me, mostly because that's my Star Wars experience, and it's been a long time since the series has catered to my particular niche.
If VR is what it takes for that to happen, then I'm all in on PlayStation VR. I truly hope that the X-wing VR Mission is a proof of concept and that the full game is not far off, because it's been far too long since I last roared down the Death Star trench. To do so in a VR headset would be the realization of all my dreams of childhood.
On the flipside is Star Trek: Bridge Crew, a game that admittedly caught me offguard. Star Trek games have been pretty much dead on arrival since the disastrous Digital Extremes co-op shooter from a few years back. But now Ubisoft is publishing a game that aims to make you a member of a starship crew.
On the face of it, it's rather similar Star Trek Bridge Commander; which, coincidentally, was developed by Totally Games—the studio that was behind X-wing and TIE Fighter. As one of the better Star Trek games to come out on PC, it's a natural candidate to be remade with VR in mind. And let's face it, what nerd hasn't wanted to fill the shoes of Captain Kirk or Captain Picard (or Captain Arch... oh nevermind)?
The game we're getting is closer in spirit to Artemis Spaceship Bridge Simulator, which is also a four-player co-op game in which you work together with friends to pilot a ship. As it happens, I actually once played Artemis with some people in what might be the nerdiest experience I've ever had. It was fun because it required everyone to work together in concert, and I'm a big believer in games that require communication. But since then I haven't been terribly motivated to play it again. It felt more like a novelty than a fully hashed out experience.
And I guess that's what I fear Star Trek Bridge Crew will end up being. This is a game that will require four—four!—headsets for optimal enjoyment, which is surely three headsets too many. This is the sort of fare I might have enjoyed back when the Las Vegas Star Trek Experience was still a thing. In a home environment, it may be a little too ambitious for its own good. And I haven't even gotten to the part where it's based on the Abrams-verse, which is the absolute worst.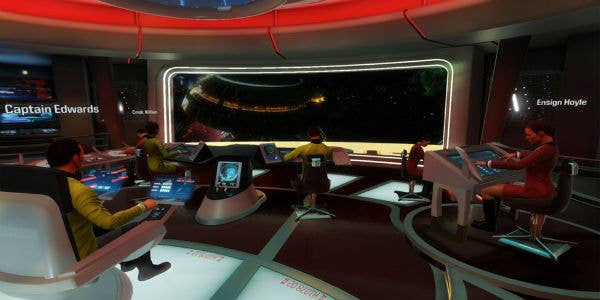 Lest I seem churlish, though, I am happy to see Star Trek live on, and I do think VR is the right venue for the series. I just hope that Star Trek Bridge crew will include a single-player mode to go with its rather novel local co-op. Captaining a starship with a VR headset is too good of an idea to go to waste.
Regardless, the fact that I'm even talking about Star Trek Bridge Crew and X-wing VR Mission is a good thing. Once considered too niche for mainstream gaming, space sims have suddenly become a flagship genre on one of the hottest pieces of consumer tech around. It only makes for Star Trek and Star Wars to be leading the way.
We're at E3 this week, covering the year's biggest gaming event. Be sure to check out all our coverage on our E3 2016 hub!