Spider-Man concept art shows Spidey taking on Fisk and Mr. Negative, and the inside of his filthy bedroom
Being a superhero takes its toll, particularly on household chores.
Insomniac's Spider-Man was announced at E3 2016 and we got a proper gameplay reveal at this year's event. So far, it looks great.
After dropping the trailer, Insomniac assured fans that web-swinging would be physics based, with a surface to tether Spidey's web to being a must.
They also confirmed that the there is a reason why Spider-man's suit is white rather than black, but it'll be "explained in the game", so if it's bothering you, you'll just have to wait. But there will be more than one outfit for Peter to slip into during the game.
A new trailer gives us an inside look at Marvel's Spider-Man, and the lead writer, creative director, and art director, all sit down to talk more about the setting and combat.
There's some lovely concept art in the video that you can check out in the gallery below. As well as Peter's bedroom, and the aftermath of some horrendous event on the streets, Spider-Man is shown battling Mr. Negative and Wilson Fisk.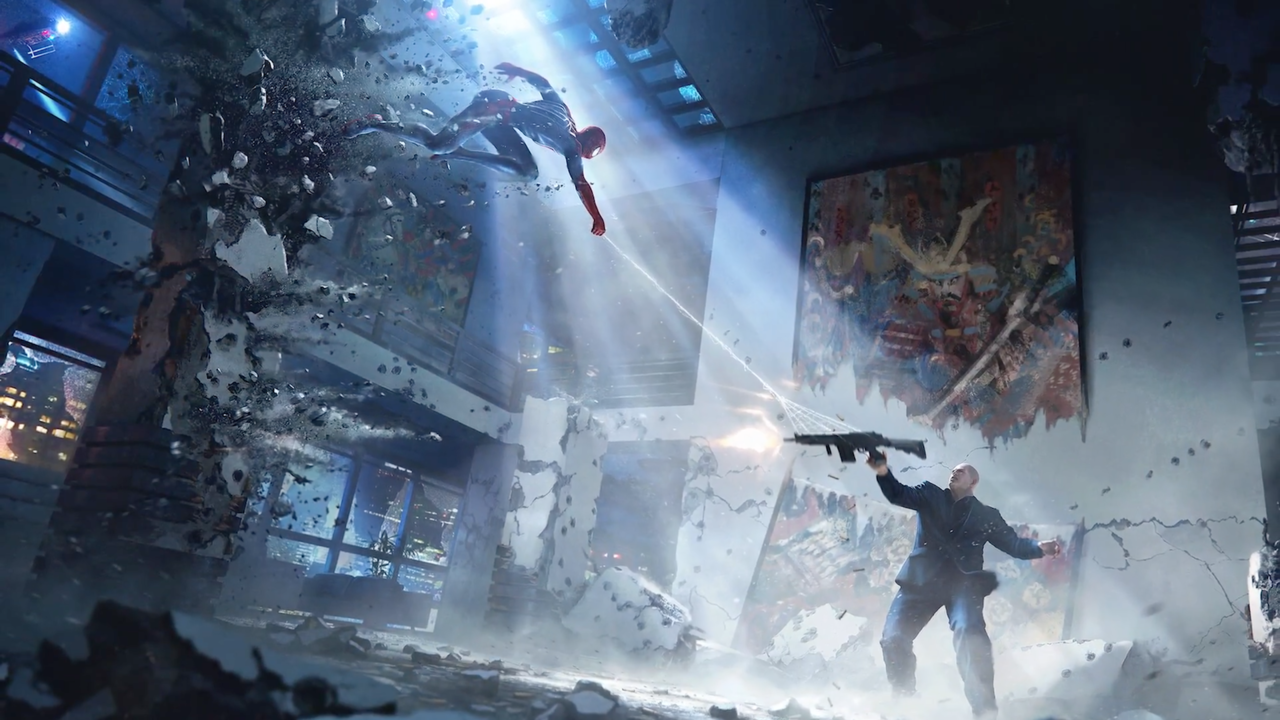 Peter Parker is 23 in the game, so he's been Spider-Man for a good while, but I guess he still hasn't learned how to clear up after himself, because that bedroom is nasty.
There were initial comparisons between Spider-Man's combat system and Batman's, but Insomniac's community director James Stevenson has said, "Our goals for this fighting is all about improvisation and acrobatics. So for improvising you're using things around you, pulling things like racks down onto guys, using objects in the environment against enemies, using gadgets in an improvisational way."
You can see that improvisation in the new video, and the combat is talked about in enough detail to give you a decent idea as to what to expect when we finally get our hands on it.
Sony is feeling pretty confident in the title, saying that Marvel's Spider-Man has the power to help them reach 100 million units in console sales by bringing new people into gaming.
"Spider-man is probably the best known comic book character in the world," said Sony's Shawn Layden, "and we can take that title – and the way that Insomniac has hit it out the park in realising that character in a way that finally Spider-man plays like you want him to play – I think we can bring people into gaming who may not be there yet through the power of that kind of character."
We haven't seen much of the game, but what we have seen looks very slick. Check out the video for yourself for more of an insight into Marvel's Spider-Man, coming exclusively to PS4 in 2018.