Full Report: Sony's Tokyo PlayStation Meeting - PSP successor revealed, PS Suite, PS Store for Android announced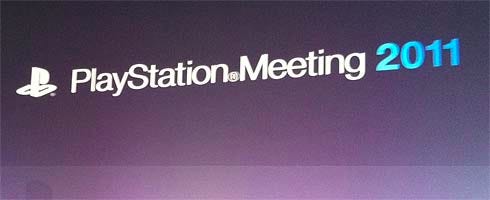 As expected, Sony announced the successor to PSP at a Tokyo "PlayStation Meeting" event this morning. Get a full report of the entire conference after the break.
In the build-up to the meeting's 6.00am GMT kick-off, developers spotted in the crowd included Hideo Kojima, Capcom's Jun Takeuchi, Sega's Toshihiro Nagoshi and Grasshopper's Suda 51, as was SCEA exec Jack Tretton. The father of PlayStation, Ken Kutaragi, also made the effort.
SCEI boss Kaz Hirai took the stage to start proceedings, promising new products and announcements for those that had made the trip. He wasn't lying.
Sony then played a video it first showed at E3 five-and-a-half years ago, which revisited the future the company at that time.
Hirai went onto reveal that 80 percent of all PS3s are connected to the internet, boasting that 69 million PlayStation Network accounts have been registered as of January 25. He also added that PSN had seen 1.4 billion downloads since its launch in 2006.
Next, Hirai went on to the current world of portable gaming.
"The world of portable gaming offers a different value in enjoying games," he said.
"Where you play, it creates a new sensation as the game unfolds in your hands. Now the world of portable has undergone a huge change since the release of PSP."
PlayStation Suite
He went on to announce PlayStation Suite, which will bring PlayStation content beyond PlayStation devices and onto Android-running devices and tablets.
PlayStation Certified, a new license program, was also announced. This will allow cross-platform devices to be certified by the PlayStation group.
Hirai also confirmed a PS Store for Android devices, and that PS1-gen titles would arrive on Android-powered hardware. Content will begin rolling out "within the next calendar year."
Next Generation Portable
Then the bomb dropped: Hirai detailed the successor to PSP, codenamed "NGP," or "Next Generation Portable".
He detailed the system in five key points: a revolutionary control system, location-based entertainment, social connection, augmented reality features and PS Suite compatibility.
A video followed.
Watch on YouTube
Hirai came back out stage and showed off the new portable. See the official images here. It'll have two analogue sticks, front and rear touchpads, a 5-inch OLED screen, 3G, WiFI, SixAxis motion controls, an eject button on the back and a physical media slot.
The handheld will use flash-based media. Hirai says the portable will be out this holiday season in Japan.
Yoshida does first-party games
Shuhei Yoshida, Sony's WWS boss, then came on stage to detail how the new handheld works, as well as confirming the first batch of games. They include Killzone, Hustle Kings, Reality Fighters, Gravity Daze, Hot Shots Golf, LittleBigPlanet, Wipeout, Resistance and, the big one, Uncharted.
A demo of Uncharted was then shown.
"You can tilt the console and you can see the images clearly from every angle," said Yoshida as he demoed the game.
Yoshida also confirmed that the touchpad could be used to control Drake as well as standard controls. SixAxis support was also confirmed. To demonstrate this, he showed Drake climbing using the gyrosensor. The sensor can also be used to point a weapon at an enemy.
Muneki Shimda from Sony's software department then spoke about the console's design, before Yoshida showed a new title known as Little Deviants, a game filled with cute and cuddly characters, apparently.
The game is controlled using the rear-touch pad. Yoshida went on detail a little more about the rear-touch panel, saying it was at the same size as the game screen, five inches.
Live Area
Kaz Hirai then took to the stage again to announce something known as "Live Area". Shimada re-entered to talk about the console's UI, which is a gateway to the games. There, you can launch games, launch the PS Store and communicate with friends.
"LiveArea adds depth to the traditional entertainment experience," said Shimada-san.
You can also send messages between friends using Live Area in real time. As well, NGP is claimed to be also be the first device to connect with mobile networks in an area around you, like a bus or a train. An application known as Near will track where you go during the day.
Using the app, you can see what's the most popular game is in the areas you've gone through, as well as be able to find out more info about said games and actually buy them from the PlayStation Store.
Hirai then brought up augmented titles - Eyepet, etc - before Hot Shots Gold on NGP was shown by Yoshida, with Sony looking to show the convergence between real and virtual worlds.
Once you have teed up your shots, you then enter into a window-like first-person view. The camera on NGP will detect a 360-degree movement in real-life, Sony said.
Hirai came back on stage to confirm that content currently being developed from PlayStation Suite will also work on NGP, adding that the cross-platform will offer new ways of entertainment.
"The Suite means that hopefully we'll be able to work with developers we haven't worked with in the past," he said.
Third-party action
Hirai then decided to invite third-party game creators on stage who are working with NGP, including Koei, Konami, Epic, Activision, Capcom and Sega.
First up was Capcom's Jun Takeuchi, who started off by thanking everyone for the success of Monster Hunter, one of the key PSP-driving series in Japan.
After announcing the latest edition, Portable 3rd, had sold 4 million units since its launch last year in December, Takeuchi showed off the game using NGP. A downloadable version of the game was confirmed for the device.
Claiming it was the first time he had seen the game running on NGP, Takeuchi said that the game looks beautiful on the handheld, due in part to the OLED screen.
He said: "The analog stick feels great. You can quote me.
"It feels different from the stick on the PSP. It goes down further, it tilts. It'll be good for action games."
Takeuchi then talked about how Capcom was getting ready for NGP development by showing Lost Planet 2 on the device, which is said to not be running as smoothly as its PS3 counterpart, although good-looking regardless.
No new titles were announced from Capcom for NGP by Takeuchi, although says announcements will be made in the future.
"Today I'm not announcing any new titles, but before long we will be able to announce new titles for NGP," he said.
Next was Sega's Toshihiro Nagoshi of Yakuza fame. He talked about 3G, saying he was very excited about the feature.
"This is a hardware with no excuses," said Nagoshi, before showing Yakuza rendered in real-time on NGP.
Akihiro Suzuki from Tecmo Koei was next. He showed off a demo of Dynasty Warriors running on NGP, where multiple and specific enemies can be attacked by using touch. After that, Suzuki was done.
NGP Metal Gear Solid heading for E3 reveal
Next: Metal Gear Solid creator Hideo Kojima. Unfortunately, he started with bad news.
"There's no announcement of a new title today, but I'd like to talk about the future perspective."
Kojima then showed off a demo of an opening scene from Metal Gear Solid 4 using NGP. The scene in question sees Old Snake meet up with Otacon via Mk II and gets his Solid Eye device.
"This game used the model data and environments from PS3, and it was exported directly to NGP," said Kojima. "On NGP, we can enjoy the same quality as the PS3."
Kojima didn't add if MGS4 was coming to NGP, however.
Referring to comments he made about console gaming being dead last year around the time of the Japanese launch of Peace Walker, he added: "When we launched Peace Walker for PSP, this is what I said: In the near future there will be a world of cloud computing.
"Portable MGS and Peace Walker was an experiment for the cloud computing future. NGP allows this cloud computing.
Kojima continued: "What I'd like to realize is playing on your PS3, and when you go out, you put the game on your NGP, and when you come back home, you can once again use your PS3 and large screen TV."
As previously noted, Kojima said he was not going to make announcements today, but did say he was working on a title for the platform that he hopes will realise his vision. He added he intends to announce said project in June at E3.
Epic business
Once Kojima left the stage, Tim Sweeney of Epic Games showed off Unreal Engine 3 for NGP, showing off the "Unreal Citadel" demo that turned into iApp game Infinity Blade, with the demo's world in the midst of a snowstorm.
Sweeney also showed a demo of Trendy Entertainment's Dungeon Defenders for NGP, a title developed for PS3 but moved easily to the handheld in a short amount of time.
"Its gameplay experience by its console controls for movement and touch-screen controls for interaction," said Sweeney.
"We're very excited and think you'll be stunned at what's possible on Sony's next generation portable platform."
Call of Duty confirmed for NGD
Next up, Philip Earl, boss of the Call of Duty business unit for Activision, confirmed that Call of Duty was coming to NGP.
He didn't mention if the game was in the Modern Warfare series or not.
"We believe Call of Duty will set the bar for the next generation of portable gaming," he said.
"When considering the OLED screen, dual analog sticks, touch-screens, and social connectivity options, the possibilities are endless."
Kaz Hirai then came back on stage and showed off a massive list of developers and publisher who had pledged their support to NGP. Rockstar, PopCap and many more were spotted on the list, which you can read in full here. After that, he made his closing comments and left the stage.
And that is that. No launch or pricing details for the west, although you can probably expect those at either GDC or E3.