Sony: MAG "only possible on PS3," is an "iteration of SOCOM" [Update]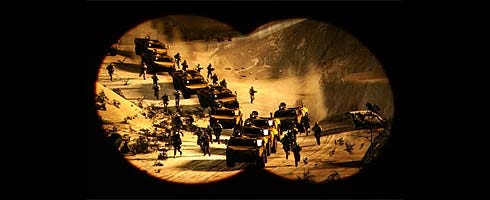 SCEA hardware marketing boss John Koller has claimed that upcoming multiplayer shooter MAG can only be built on PS3.
"MAG is a 256 online-player game which is spectacular," he said, talking to VG247 at GDC last week.
"If you look at that competitively, it's something that's only possible on PS3. The processor speed, the ability of PS3 to showcase 256 players at any given time, and their actions."
Koller went on to detail the Zipper Interactive game's concept.
"It's basically like an iteration of SOCOM, where you're maybe commanding the SEALs, and someone else has the Rangers, and the Green Berets, and so on," he said.
MAG was Sony's "big" announcement at the end of its 2008 E3 press conference.
A movie was shown of the title, featuring soldiers, vehicles and lots and lots of guns.
It's planned for release late this year.
Update: John Koller's sent us the following statement as clarification to the comments made in this story:
"I wanted to clarify my comment as the broader point I was making is that our biggest franchises and our best developers from PlayStation 2 are continuing to transition to PlayStation 3, which will help spur PlayStation 2 fans to move toward next-gen gaming on PS3. Zipper Interactive is best known for its great work on the SOCOM franchise, and they're building on their development experience to create a brand new IP in MAG. MAG is not a sequel to nor built upon SOCOM, and when the title launches this fall, PS3 owners will be able to experience intense 256-player combat, which is something that's never been available on console before."