This virtual reality Sonic game will give you nightmares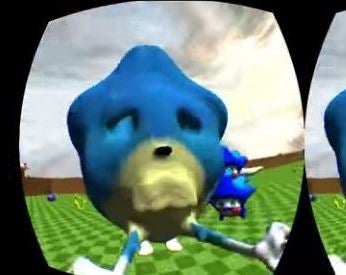 Sonic the Hedgehog is already a nightmare for those unhappy with Sega's modern entries, but after watching this virtual reality demo you might actually have trouble sleeping tonight.
Thanks Josh LG.
You'll find the free 'Sanic 06' demo over on Riftenabled. It basically drops you in what can only be described as a Green Hill Zone petting zoo for rejected Sonic designs and mutants.
In fact, many of the horrific Sonic designs seem to be based on the popular GIF thread Sonic Running Like An Idiot. It's hilarious. Look at it.
This is my favourite one:
Via Kotaku.