Shadowrun Online now available through Steam Early Access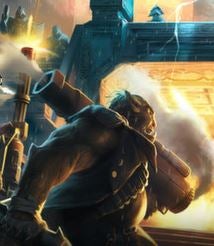 Shadowrun Online developer Cliffhanger Productions has opened the doors to its online RPG through Steam Early Access.
We reported on Shadowrun Online's Steam release last week, along with a video from studio co-founder, Jan Wagner, discussing the initial round of content feature in the first Lockdown campaign.
Now, Shadowrun Online can be yours through Steam Early Access for £17.49, which is 30% off the usual £24.99 asking price. On the early build, Cliffhanger wrote, "This is the most basic early access version - it contains a few missions and PvP, but no character creation, progression or anything else yet - this will all come in time. We want to make sure the basic combat gameplay works well before we pile more features on it."
You can also opt for a Founders Package at £20.99, or a Digital Deluxe Edition for £24.49. The 30% off promotion ends April 7, so you best be quick if you want the savings.
The Founders Package gets you the full Lockdown campaign at release, as well as an extra item set, as well as bonus weapons and armour. The Digital Deluxe Edition has all of these extras, plus the first campaign update for free once it eventually launches.
Lastly, be sure to check out the Shadowrun Online trailer over on Steam.
Via DualShockers.