Shadow of the Tomb Raider: Lara channels The Predator and Batman in her final origins chapter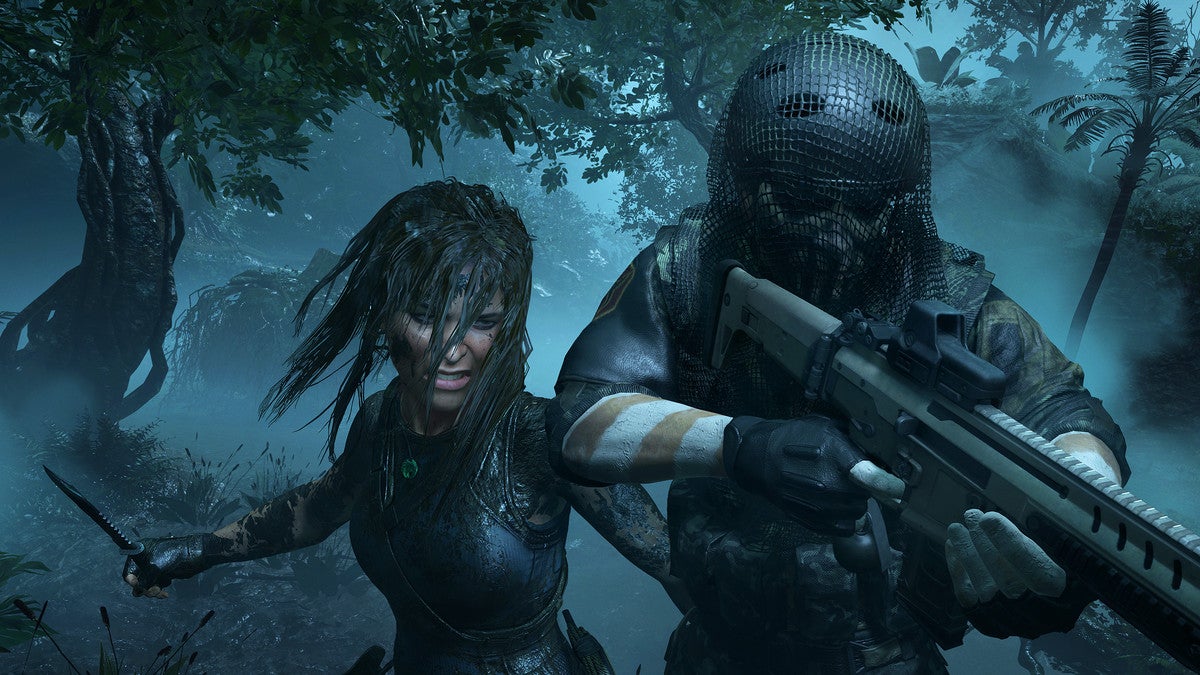 During E3 last week we had the chance to see a few new areas in the forthcoming Tomb Raider game - Shadow of the Tomb Raider - which represents the somewhat confusing 'end of the beginning' for this new, hard-bitten Lara. She's now a battle-ready hunter who has ways of dealing with her enemies that'd make Nathan Drake crap his pants.
We also sat down with lead writer Jill Murray and level designer Arne Oehme to talk about what makes this third instalment Lara's most exciting - and interesting - adventure to date. Three games deep now, how is Shadow of the Tomb Raider going to keep things fresh?
"The jungle setting hasn't been explored in the Origin trilogy, so this was naturally a challenge for us," says Oehme. "We wanted to pick a setting that would express Lara's mastery of the environment, so it seemed like an obvious pick. It created a challenge of having an organic looking environment that was still detail-rich, that still would work with the current gameplay systems and that would allow the player to use Lara's tools and traversal methods in new and unique ways."
Yep, Lara is in the jungle baby, and it's up to you to make sure she doesn't die. She's got a fair few new moves up her bandoleer this time around and there's more than a hint of legendary Arnie film Predator about the way she handles herself. In the first sequence we saw, Lara was outnumbered and outgunned by a mercenary group, tracking her through the thick jungle brush at night. Armed only with a knife, Lara showed off a load of her new skills as she despatched them.
Much like Schwarzenegger at the end of the aforementioned movie, when trying to avoid detection from the Predator, Lara can coat herself with mud, giving her that extra layer of camouflage as she cuts between cover. Her instant kills with the knife are absolutely brutal, from up close and personal shanks from bushes to some pretty wild dives from the treetops onto her prey.
"The emotion of fear is a driving force in combat," says Oehme. "When Lara strikes fear into her enemies, she's like a predator. They feel like the jungle itself is attacking them. She's reached the pinnacle of her craft."
There's also a touch of Batman to Lara's combat this time around. She can rely on fear as a weapon and has a few different ways of spooking her enemies. For starters, sticking to the shadows and picking off troops one-by-one is going to make the survivors nervous, but hanging a victim by their feet from a tree for the others to find is going to have them screaming, making rash decisions and, crucially, making them a much easier target. You can also, literally, put the fear into them, as Lara can craft 'fear arrows', which have a powerful hallucinogenic coating the tips. Fire one of these into an enemy backside (or anywhere, really) and they'll quickly start panicking, shouting at their squadmates and even firing at them. Lara can then use the ensuing chaos to make her next move.
The transition between stealth and action was always one of these new Tomb Raider games' strongest suites and that is no different here, and with not only more tools at her disposal, but tools that aid that transition and benefit both approaches, she's a much more effective killer. For lack of a better way of putting it, she's a more fun killer, too.
It's not all about killing, mind. Shadow of the Tomb Raider also expands on the hub area. While the previous games had large central points, Shadow has Paititi, a huge Mayan-esque settlement that dwarfs the Geothermal Valley area from Rise of the Tomb Raider. Where was supposed to be ancient ruins, Lara finds a lost civilization. A full, vibrant city deep in the jungle, this is where you can shop, take sidequests and upgrade equipment. Oehne and Murray were quick to point out that Paititi is very much a work of fiction, but with its roots deep in historical research. Before Murray was brought on as writer, a historian from Yale laid the foundation for the culture of the citizens of Paititi.
"We sent people to Machu Picchu and to the Yucatán to look at the architecture." said Oehme. "With all those inspirations they came back and extrapolated Paititi from this historical base. We looked at all this research and went "Okay, lets give these people 400 more years and see what they came up with."
It looks stunning, the blue skies and lush greens a real contrast to the blood and mud of the other section. There's a lot more social interaction for Lara this time around, so you get to see a more human side to her as she speaks with the locals. Murray previously wrote for the Assassin's Creed series, so has experience in writing to a more open world, full of sidequests, distractions and incidental dialogue.
It seems important to see Lara like this, chatting with kids, becoming part of the community in Paititi, because Shadow of the Tomb Raider seems like it is a game that sees her at a point where she has to make a big decision as to who she truly is. She seems set to do battle with not only the usual ancient evil, but her own internal struggle too.
"What we're bringing in this instalment is a deeper, more emotionally contrasting look at Lara as a whole person." says Murray. "So, she's very powerful but she's not Teflon - she's a very grounded character. We take her to darker places but at the same time we see a lighter side of her. We hear her laugh, we find out what her sense of humour is like. All of this comes together as she faces her defining moment and has to decide what kind of Tomb Raider she's going to be."
The fan favourite Puzzle Tombs have been given a bit of a revamp in Shadow of the Tomb Raider. In the previous games, they were little one-off brainteasers, a quick test of your smarts that rewarded Lara with some loot. This time around, they're absolute death traps. All rotating blades, spike pits and booby traps - a definite grimmer tone. There's still clearly stuff that needs figuring out - they're still called Puzzle Tombs, after all - it's just these are more likely to leave Lara without a head, rather than scratching it. It's all part of this distinct Mayan/Aztec flavour - both cultures with a lot of death and sacrifice throughout their documented histories - it's no surprise that it's not exactly going to be fun and games for Lara.
"Sacrifice as a theme from these cultures is found in many of our spaces, what it meant for these people in the past and what it means for Lara in the story," says Oehme.
In our final sequence we saw Lara climbing up an oil rig whilst being pursued by an armoured vehicle, firing upon her and causing the place to burst into flames. So far, so Uncharted, but Tomb Raider keeps pace with Naughty Dog's spectacle. Lara dives into the water below, emerging as a shadow in front of a wall of fire. It's a pretty striking visual, and one that frames Lara as being far, far removed from that lost and scared student who was too nervous to kill a deer at the start of the reboot a few years back.
"The darkest parts of this story come from Lara confronting her own guilt and complicity, and how her own actions have possibly unleashed an apocalypse and her own ability - or inability - to fix it," Murray concludes.