Sea of Thieves: how to get in on the Xbox One and PC open beta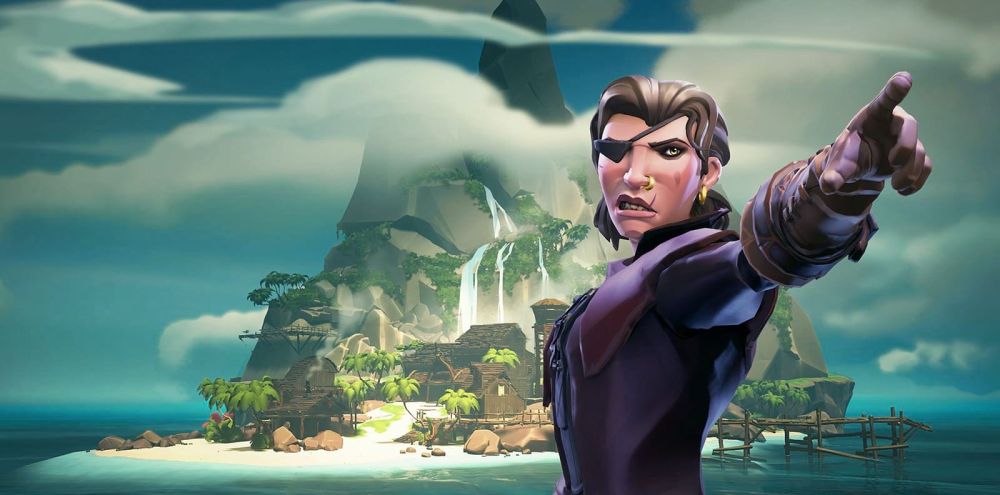 Surprise! A final beta for Sea of Thieves will be held this weekend and it's open to all Xbox One and Windows 10 users.
The final beta for Seas of Thieves kicks off today, and you don't need to be an Xbox Insider to participate.
This is open to absolutely anyone to play, and can be downloaded now from the Store on Xbox One and Windows 10.
In the Final Beta, alongside the Gold Hoarders, the developers will be testing Merchant Alliance voyages for the first time.
Players will also have the chance to find a now occupied Skeleton Fort. The lovely skull cloud hovering above denotes both danger and great rewards .
Previous beta players will also find Xbox One X enhancements will be available during the open beta.
Newcomers who need helps should give our Sea of Thieves open beta tips guide a read.You'll learn all about sailing, earning treasure, combat and and all about the puke bucket weapon. Ick.
If you have participated in the closed betas, you already know the routine. For those who haven't, or uninstalled it, we've posted some handy instructions for you below.
It should be noted the Sea of Thieves Final Beta requires an Xbox Live account on both PC and Xbox One, and an Xbox Live Gold subscription is required on Xbox One.
Sea of Thieves open beta PC Installation
Search for Sea of Thieves Final Beta within the Microsoft Store to get the game.
Press the Start key and search for Microsoft Store
On the Microsoft Store search for Sea of Thieves Final Beta.
Select Install
Sea of Thieves open beta Xbox Installation
Search for Sea of Thieves Closed Beta if this does not work search for Sea of Thieves Final Beta on the Xbox Store. Search criteria is dependent on what territory you are in.
On your Xbox One, head to the Store
Search for and install the Sea of Thieves Closed Beta, if this does not work search for Sea of Thieves Final Beta
Select Install
Sea of Thieves open beta download size
Xbox One: 8.95GB
Xbox One X: 18.25GB
Windows 10: 18.98GB
Sea of Thieves - Open Beta Start and End Times
North America
Start: March 9 - 4am PST, 7am EST
End: March 11 - 2am PST, 5am EST
UK and Europe
Start: March 9 - 12pm BST, 1pm CEST
End: March 11 - 9am BST, 10am CEST
Other Regions
Previous Sea of Thieves beta participants will find new content, updates and some fixes. This will all be fresh for new players, so enjoy.
It should be noted the full game will have more Trading Companies. For the open beta, Gold Hoarders and the Merchant Alliance will be the companies available.
That said, much of the content from the closed betas will also be included.
Below you will find a list of updates, features and known issues for the open beta.
Sea of Thieves Open Beta Content
Features
Xbox One X Optimization - We've talked about it before and now it's finally here! Experience Sea of Thieves with 4k resolution and textures.
Start anew – If you played in the Closed Beta or any of the Scale Tests, you'll find that your Pirate, Progress and Gold has been wiped.
Equipable Items - Players no longer start with an eye-patch, peg leg or hook in the Vanity Chest.
Known Issues
The Shipwright has some ship customization items which can be purchased, but not equipped. So don't let her get her hands on your gold just yet.
All ships have the same customization settings.
Features
Merchant Alliance
About the closest thing to a legitimate business presence on the Sea of Thieves that you'll ever see, the Merchant Alliance are seeking profit by shipping cargo to the Outposts around the world. Since these Voyages can often be dangerous, they've taken (somewhat reluctantly) to employing pirates as the protectors of their cargo, so this is where you come in.
You may be required to not only ship resources across the world… (watch those gunpowder kegs), you'll also need to find different breeds and types of animals on various islands. But that's not all – you'll need to do this against the clock, so keep tabs on the time and date by using your handy Pocket Watch.
Once you embark on a Merchant Alliance contract, remember that you'll need to visit one of the merchants at any Outposts to collect your assignment of cargo crates for the Voyage ahead. Keep your eyes on the clock and keep a stash of bananas ready for those hungry pigs.
Skeleton Fort
Although there are many unoccupied forts across the world that you can explore, they also sometimes become occupied by skeletons. When that happens, a huge looming skull cloud can be seen above the fort, visible from across the sea around the world. The skull cloud signifies that skeletons have taken control of the fort and also signals that their fort vault is available to be opened.
To do that though, you'll need to get your hands on the prized vault key, but don't expect it to just be handed over. Not only will you need to contend with a fearsome skeleton threat as you take the fight to their home turf, chances are you're also probably not the only one seeking to gain access to the spoils inside the vault.
Equippable Items
Clothing & vanity items - New sets in the Shop.
Items & weapons - Various items from Spyglasses to Hurdy gurdy, or Cutlass to Blunderbuss.
Locked Content – Some of the new items & clothing in the shops are only available to Pirates who progress to the upper ranks in each Trading Company. These won't be attainable in this session as there is a cap of level 25 for each company.
Bug Fixes
Under certain 4k configurations, vsync no longer incorrectly remains enabled when disabled in settings.
Sea of Thieves will be released on March 20 for Xbox One and Windows 10 PCs.