What you need to know about Sea of Thieves, Rare's new open world pirate sandbox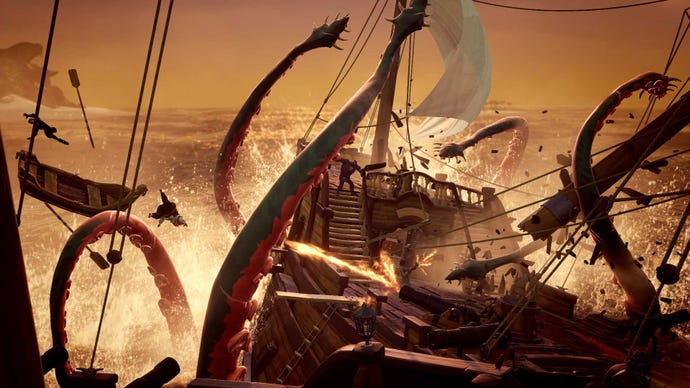 Sea of Thieves has made a lot of people very excited. Catch up with the hype.
Sea of Thieves was announced at E3 2015 and made another showing at E3 2016, but it doesn't seem to have generated the level of hype you'd expect for a new Rare game now that Kinect has gone into retirement.
Perhaps that's because not many people are really sure what Sea of Thieves is - largely due to a lack of communication, a necessary side effect of early announces of experimental new titles.
Those who do know what it is seem to be massively excited; a playable demo of Sea of Thieves was one of the hits of E3 2016. So let's catch up, shall we?
As Arekkz says in the video above, Sea of Thieves is due in early 2017. As a Play Anywhere title, it will be available on PC and Xbox One with cross buy.
An open-world sandbox with an emphasis on co-operative multiplayer, Sea of Thieves presents players with quests but gives them the freedom to live their ideal pirate life - sailing the farthest seas alone, forming a crew to terrorise their rivals, hunting treasure or facing off against beasts of the deep.
There's still a lot we don't know about it yet (are there towns? What happens when your ship sinks?) but the video collates all the information we do have on Sea of Thieves, taking in the recent San Diego Comic-Con panel which showed off some of the ship customisation options.