Sea of Thieves is an antidote to the turgid open world game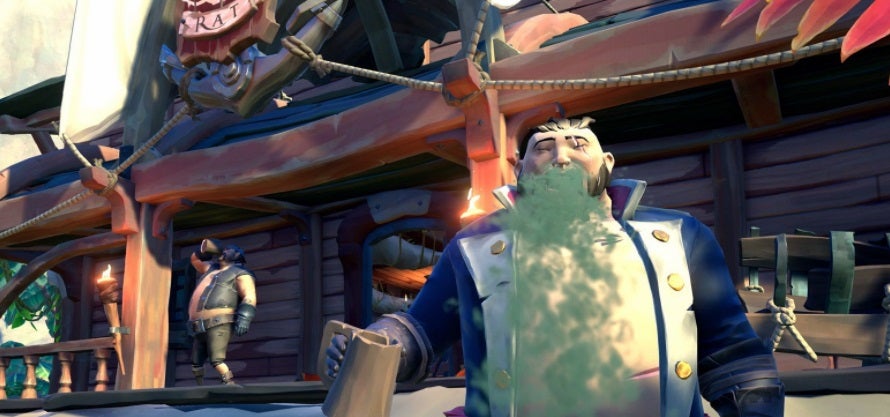 Don't give up the ship.

In a world where games are glorified work - where we farm resources for hours, craft, build, earn scraps, die and repeat - it's refreshing to explore a world for no real reason. Sure, you can dig up treasure in Sea of Thieves, sell it on and use the cash to buy more maps, or a bit of kit and a new outfit if you like.
But the real fun isn't in that. The real fun of Sea of Thieves is sailing from here to wherever with a crew of like-minded idiots. I say idiots in the most complimentary way. There's something about this game that promotes goofing off. Whether friends or strangers, I've teamed up, laughed out loud and puked all over other players while mucking about on a boat. It's as welcome as knocking off work early on a Friday afternoon.
Call it No Man's Sea if you must, because it has something in common with PlayStation's love-to-hate space exploration game. What's the point? Well, there isn't one, really. If you're out to sink ships and steal gold then by all means go for it but I'm not sure it's going to be that satisfying for long. It's an antidote to the turgid, bloated open world game. There's combat and conflict but it's not a game for trolling. Far better to fire each other out of a cannon at a mountain top. Why? Because you can.
"I'm pretty sure Rare is having fun making Sea of Thieves and that feeling is infectious"
Sea of Thieves finally delivers on the real promise of co-op. This isn't four people trekking down the same path, ganging up on enemies and hitting them from all sides with fancy weapons. This is four people trying to steer a giant lumbering galleon through the swirling seas. You have to work together as a team, as one reads the map, another on lookout in the crow's nest, someone steers, and another manages the sails. That is work, I suppose, but it's immediately thrilling together, not mindlessly gathering rocks to trade later for a shinier rock.
It's testament to Rare's skills that this makes Sea of Thieves feels distinctive. Games have become increasingly grey; all titans and guardians, legendaries and loot, blood and corpses. It's boring. Who thought video games would become so tired? Moribund, even.
But here's a game full of jovial goons, rolling around with ruddy cheeks, whistling. The NPCs might not have a lot to say but they're happy! The fat sharks are grinning! Even the ghosts look like they'll tell you a dirty joke if you buy them a pint. Bloody hell, could it be that this has been made in a barn with large glass windows by developers eating fruit, rather than being flogged through crunchtime and force fed free donuts to exploit their sugar rush? I don't know, but I'm pretty sure Rare is having fun making Sea of Thieves and that feeling is infectious.
There might be issues, though, and you'll begin to questions them after a couple of hours. Should there be more of a risk/reward element to Sea of Thieves? Do you leave your ship unguarded to go hunt for treasure on shore? Another crew could attack, but right now I've barely seen any other players, so it feels as if you're in your own little world. Ship-to-ship combat is rare too, teasing what could be a great and disastrous gamble for all involved if only there were more players. That might be an issue with the beta itself which has proven wonkier than a pegleg pirate, but it feels like Sea of Thieves really needs numbers to liven it up beyond your own gang of treasure hunters.
There's also the question of, you know, is that it? At the moment you buy a map to dig for treasure to turn it in for another map and start again. You can buy some cosmetics and a few other trinkets but in terms of PvE is there going to be more things to do? Maybe it doesn't need it, and I'm personally enjoying the anti-rhythm of mucking about in boats on the sea for shits and giggles. But whether that feeling will last I don't know. Maybe adding more stuff turns it into work, and then the fun gets sucked out of it and it becomes like 20 other games you've already played.
Right now I'm happy making my own fun. Sailing directly into a storm, being thrown across the deck, bailing out buckets of water and hammering planks of wood to the side of my boat to stay afloat. It's a wild ride. Sea of Thieves is a bucket of cold water to the face.