Undertale's Sans is now a costume in Super Smash Bros.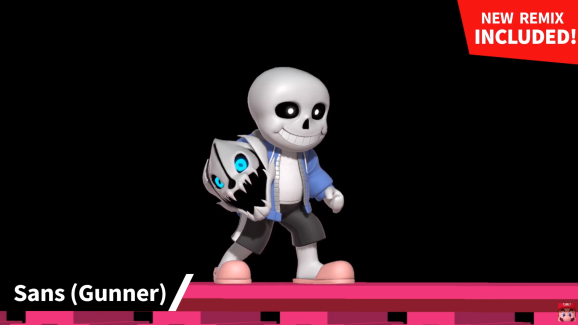 The ever popular Sans of Undertale is now available as a costume in Super Smash Bros. Ultimate.
News of Sans coming to the Switch fighting game was revealed last night by Super Smash Bros. Ultimate director Masahiro Sakurai, along with a trailer showing off other new customization options for Mii Fighters and new DLC fighter Terry Bogard from Fatal Fury.
In addition to the costume, Undertale developer Toby Fox has created a new arrangement of the song "Megalovania" which will be made available with the costume for $0.75 USD.
Yes. It's true. You'll be able to buy a Mii Gunner costume of Sans in Smash Brothers Ultimate later today! It'll come with a special arrangement of Megalovania composed by me. It's a huge honor to have something I created in Smash. Thank you so much Mr. Sakurai!!! pic.twitter.com/eKDhwSKOJj

— tobyfox (@tobyfox) September 4, 2019
"I didn't have a translator with me so I had to use my own broken Japanese to talk about Smash," wrote Toby of his experience meeting the famed Sakurai-san. "It was one of the most surreal (and fun) experiences of my life. I'll never forget it."