Romero and Carmack reunite for Kickstarter project Blackroom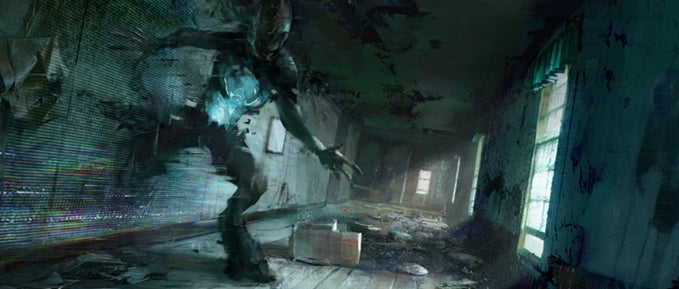 Id software co-founders, John Romero and Adrian Carmack, launch a Kickstarter campaign for their new FPS Blackroom.
The basic premised of Blackroom is simple enough - holographic simulations, indistinguishable from reality, are projected inside of a giant black room. Inevitably, it all goes wrong.
"When testing of their new leading-edge Predictive Memory technology reveals troubling anomalies that blend the real world with the virtual, you're sent in to investigate and are swept across a staggering and dangerous array of simulations developed for BLACKROOM™ users, from medieval castles to horror sets. Peering into your mind and tapping into your deepest memories and fears, however, it's clear that the BLACKROOM™ is not all fun and games."
Blackroom is described as "the FPS you have been waiting for: a return to fast, violent and masterful play on the PC. In BLACKROOM, you reign supreme in a variety of multiplayer modes, including co-op, 1-on-1 deathmatch and free-for-all arena in a motley mix of locations including hardcore military sims, hellish infernos and interstellar space. If you prefer a single-player experience, delve into an intense 10+ hour campaign, spanning wildly varied environments, from ruined Victorian mansions to Wild West ghost towns to treacherous pirate galleons and beyond."
Frankly, it sounds awesome, and there a lot of people that would seem to agree. The pledged amount has already gone up by $6,000 in the time it's taken to write this, and it's still ticking along nicely.
"It is incredible to work with Adrian again," said Romero. "We're developing exactly the type of game we think a lot of shooter fans want. It's the type of shooter we're known for, and the type of game we love to play ourselves. It's a skillful shooter, from movement to weapon and map mastery."
Carmack, equally as enthused about working with Romero, said, "Because of the BLACKROOM™'s setting, we have a lot of freedom to create environments that players might not expect in an FPS. BLACKROOM™ technology lets its users enter just about any universe imaginable, and gives them the power to alter the world. That gives me lots of artistic freedom."
There are currently 32 days to go and the project has received almost $15,000 of its $700,000 goal. Head over to their Kickstarter page if you would like to donate.
You can find out more about the games features over there, and take a look at the concept art below.