Riot Walkout Organizers Release Statement Saying They're "Disappointed" By Company's Decision on Forced Arbitration
Without a solution on forced arbitration, Rioters are going to keep resisting the company.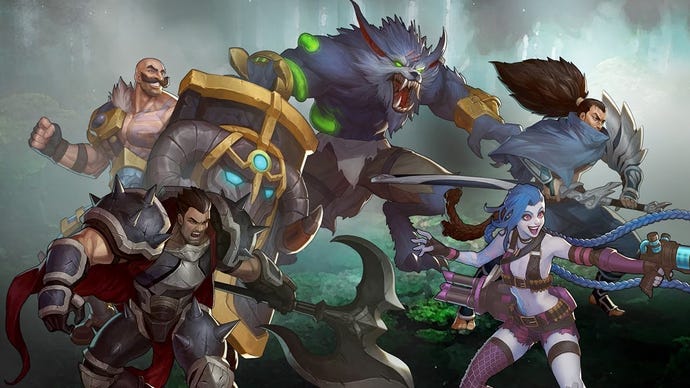 This article first appeared on USgamer, a partner publication of VG247. Some content, such as this article, has been migrated to VG247 for posterity after USgamer's closure - but it has not been edited or further vetted by the VG247 team.
The group that organized last week's Riot Walkout has expressed disappointment with the company after its leadership announced today that it will not be ending its forced arbitration clause. Protesting the clause was the main reason for Riot employees' walkout, and the walkout group is planning future actions as a result.
Riot Games today announced that it will not be ending its forced arbitration clause for existing employees, or those currently in litigation. Although the company outlined alternative plans, the group behind last week's company walkout have announced their disappointment with Riot's decision and will announce their next course of action next Monday, May 20.
USG received a statement provided by the Riot walkout organizers Indu Reddy, Ronnier Blackburn, and Jocelyn Monahan, outlining their response to today's news and future actions from the group.
"Conditions of current Rioters' employment around forced arbitration, including those in active litigation, are unlikely to change anytime soon. We're disappointed leadership doesn't seem to be considering any major changes to their active policy."
The group also thanks supporters both within and outside of Riot following the walkout. "That said, we're blown away by the passion, solidarity, and vulnerability that workers who support the walkout are showing. Despite their fear, many bravely shared stories of pain they've suffered while at Riot. We all felt how validating it is to connect with others who share similar experiences."
"As we continue to pressure Riot to end forced arbitration, we are leveraging that teamwork and solidarity by involving more coworkers in the effort. We are weighing the options for our next steps, and will share more information next week. As always, our main goal is to make sure that workers at Riot feel heard and represented, and above all, safe."
Despite Riot leadership calling the walkout "an important moment in our company's transformation," the studio stood firm in not ending its controversial arbitration clause. This clause relegates employees' legal actions against Riot to private arbitration, a way that settles legal matters outside of courts and prevents the public from gaining knowledge of the proceedings.
Riot instead announced it will form councils, forums, and other internal channels to discuss ongoing fallout from a 2018 Kotaku report detailing a culture of sexism and harassment at the studio. But when we spoke with the Riot organizers on the day of the walkout, the group said that ending forced arbitration in existing employee contracts was paramount. And because Riot will not budge on the matter, it seems the group is preparing further action.