Riot Games is Making a Fighting Game [Update]
Former Radiant boss confirms the "worst-kept secret" in fighting games.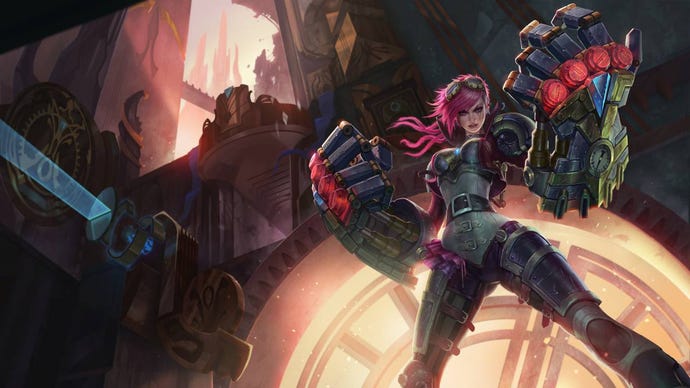 This article first appeared on USgamer, a partner publication of VG247. Some content, such as this article, has been migrated to VG247 for posterity after USgamer's closure - but it has not been edited or further vetted by the VG247 team.
Update: We reached out to Riot Games, who provided USG with the following statement:
"Riot Games is excited to confirm that we're developing a fighting game. We have experienced the profound impact this genre can have on players and want to bring the fighting game experience to more people.
We're working hard to create a game truly worthy of the vibrant fighting game community and are making progress, but still have a long way to go before we're ready to share more details."
---
Several years ago, League of Legends developer Riot Games acquired a fighting game developer, and now it seems like that acquisition will finally come to fruition. On an Evo 2019 stream today, developer Tom Cannon confirmed that his team is working on a fighting game for Riot.
In an interview segment on the Red Zone-esque Jump Off for Evo 2019, hosts Stephen Lyon and Steve Scott were discussing Cannon's former project Rising Thunder. Cannon proceeds to discuss the thought process behind why Radiant Entertainment put together Rising Thunder before confirming something new was in the mix.
"I wanna be able to let people in maybe like, the worst-kept secret in the universe, which is that we are working on a fighting game for Riot," Cannon says.
Cannon and his team at Radiant Entertainment were acquired by Riot Games after developing both building sim Stonehearth and free-to-play fighting game Rising Thunder, alongside developers like longtime fighting game veteran Seth Kilian.
No title, release date, trailer, or other info was revealed. As Cannon says, "it's far away, but we've got a great team working on it."
"I would love to share the juice with you, but I can't," Cannon says.
Riot Games recently branched out into new genres with Teamfight Tactics, a take on the "auto chess" phenomenon. The League of Legends developer did confirm that the mode is a permanent fixture moving forward, so it looks like Riot Games is really trying to tack the S onto the end. We'll update as we learn more about what this fighting game could shape out to be.
For more insight into Rising Thunder and the thought process likely going into this new Riot fighting game, check out our 2015 interview with Seth Kilian.