Reverse shooter Retro/Grade coming to PSN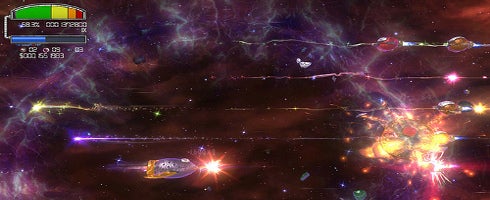 In Soviet Russia, Retro/Grade plays like a normal shooter. Everywhere else, though, it moves in reverse. Sounds confusing, right? Well, a recent post on The PlayStation Blog explained the self-proclaimed "reverse shooter" in more detail.
The story goes like this: You're Rick Rocket, and you just saved the universe. Congrats! The champagne, parades, and small armada of princesses you probably liberated will have to wait, though, because a temporal anomaly has caused time to move in reverse.
Thus, it's up to you to undo all of your actions -- exactly as you did them before -- in order to shift time back into drive.
As a result, the game plays more like Guitar Hero than a shooter (the game even has built-in guitar peripheral functionality!) and sees you ducking into different lanes so that you won't block enemy's shots before they ever fire them. You also, of course, must hop into the correct lane and intercept your own shots by timing button presses correctly, lest you cause a time paradox. Still confused? So are w--
Bzzt. The VG247 mega-brain has encountered a fatal error. Press any key to continue.
Or just hit the link for a video of the game in action.