Returnal patch once again targets deceased scouts problem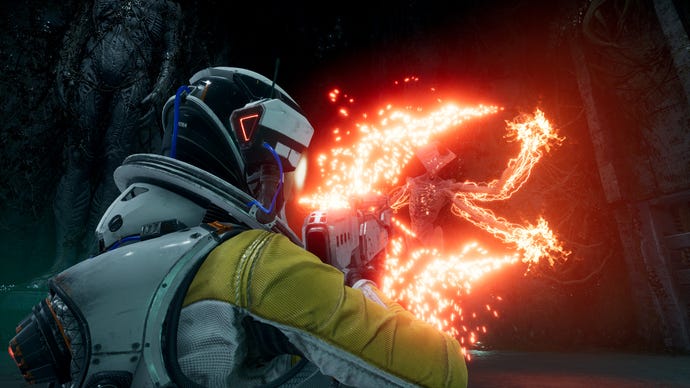 There's a new Returnal patch.
Housemarque has released a new update today for Returnal. Patch 1.3.7's headline feature is a fix for a problem that's been affecting a lot of players since the launch of the game.
Returnal has a form of passive multiplayer that will occasionally show you the corpses of other players who died in the area. You can either scavenge them, or avenge them - at which point a tough mini-boss spawns and you have to fight it. However, for some reason, those deceased scout corpses just haven't been spawning.
I managed to finish the game, putting in around 30 hours of playtime, and I have not run into them once. If you follow the discourse around Returnal online, you'll have likely seen that so many players didn't even know the feature existed. After installing the patch, you should come across those corpses more often.
Another related change Housemarque made there is that players will no longer receive a negative Parasite when one of their corpses from a previous run gets scavenged.
Outside of that, 1.3.7 brings a host of other minor bug and crash fixes, including the weird bug that would randomly cause loud noises to play during combat - which has been particularly brutal for players with headphones.
See the full change log below:
Fixed an issue with Deceased Scouts not appearing as often as intended.
After having one of their Deceased Scout corpses scavenged, players will no longer receive a negative-effect parasite on startup.
Fixed an issue where the Ophion boss might disappear after a player uses the Reconstructor during the fight.
Fixed a rare audio bug causing loud noises during combat.
Fixed a small number of issues where players might become stuck in various rooms.
Fixed several issues where the player might encounter a black screen during the credits or whilst playing.
Multiple fixes for rare crashes during gameplay.
As always, turn off automatic updates if you have an in-progress run, as taking the patch will cause the game to restart, ending your run. Let's hope Housemarque eventually figures out how to implement the ability to save.