Resident Evil 7 guide: all the ending unlocks and how to get them - x-ray glasses, running shoes, madhouse mode, infinite ammo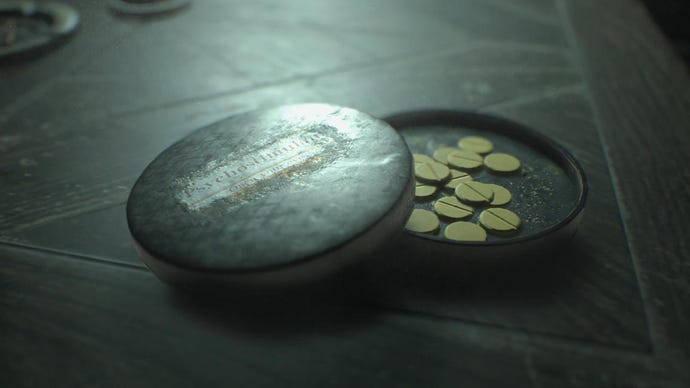 What do you get for your hard work? Allow us to explain.
Resident Evil 7 follows the template of a lot of classic Resident Evil games - and that means the game encourages you to replay often. There's a couple of different endings, and when you complete the game you're given unlocks to encourage you to give the game another run through with your unlocked goodies?
But what can you unlock? And how? We're still working out in detail exactly how each and every one of Resident Evil 7's unlocks works, but we can at least tell you what they are and inform you how the ones we know of work. Some of them are new weapons, while others will adjust your gameplay experience in other significant ways when in your inventory. Let's take a look...
Keep in mind that this page is of course going to be full of spoilers, and in addition to that it's very much a work in progress. We're still working out exactly what the unlocks are, but since we now know a few for certain we're putting this page live and will update as we work more out.
Resident Evil 7 guide: all post-game unlocks
Each of these unlocks is automatically added to your chest once you unlock it. Anything unlocked will be displayed to you in a special window when you see the end-game statistics.
Madhouse Mode
This mode has been unlocked for some players via pre-order bonus, but if you didn't do that then Madhouse Mode is one of your major rewards for finishing the game for the first time on any difficulty. Madhouse mode is a brutal difficulty designed to recreate the challenge of the original Resident Evil. What's different? Well, quite a lot, actually:
Your health regenerates far less naturally
Enemies are more numerous, appear in different places, and are far smarter.
Enemies are more persistent. They're harder to lose and will follow you further before despawning.
Items are rarer, and item placement has been completely changed, with more of some items and less of others. It promotes heavier crafting.
The game auto-saves less often.
You require cassette tapes to save. These are found around the house and must be carried. They function like ink ribbons from classic Resident Evil.
Albert 01-R
This gun is an insane piece of kit. It's given to you as part of the main story of the game very late on, but once you've finished the game once on any difficulty the Albert-01 hand cannon will be in your item box from the very start of any new game. It's powerful, and takes the same ammo as the other basic pistols.
X-Ray Glasses
We got these after we completed the game for the first time on normal. We're not sure if it's related, but on our first play-through we collected all the files, too. This unlock is actually mega-cool, if a bit distracting. If you've used the psychostimulants in-game, you'll know what it looks like when the game marks any nearby pick-ups or collectibles on your HUD. This does that all the time, meaning that you'll be alerted to the location of all pick-ups. Ammo, herbs, chem packs, Mr. Everywheres - they all show up so long as this item is in your personal inventory - super useful.
Running Shoes
The Running Shoes up your movement speed significantly. We unlocked these on our second play-through. This was an easy-mode run where we finished the game in under 4 hours for a trophy. We've seen a number of different methods suggested for this unlock, but for us the only two major factors were that it was our second play-through, it was on easy, and we finished the game quickly.
Circular Saw
The Circular Saw is a hugely powerful melee weapon. It'll kill enemies in basically one hit, but it can also leave you quite vulnerable. You have to be careful while using it, but it sure beats your knife. Much as with the running shoes, we unlocked this on our second run, on easy mode, beating the game in under 4 hours. We're working to figure out exactly what the unlock condition is.
The Secrets of Defense
This item is a scroll, and much like the running shoes and X-Ray Glasses adjusts lead character Ethan's abilities when held in your inventory. Any time it's there, you get the passive bonus. In this instance, this item ups the amount of damage you avoid taking when you block. We unlocked this on our first normal-mode completion of the game.
The Essence of Defense
We haven't unlocked this ourselves yet, but based on descriptions it seems that this item is similar to the Secrets of Defense. This scroll-type item seems to offer a bonus to your ability to block or survive damage, and according to the in-game description is better when paired with The Secrets of Defense.
Infinite Ammo
This is the reward for beating the game on Madhouse Difficulty. It does exactly what is says: infinite ammo for your weapons. Now we're talking.