Resident Evil 2 Remake preview - imposing, unforgiving, and an incredible start to 2019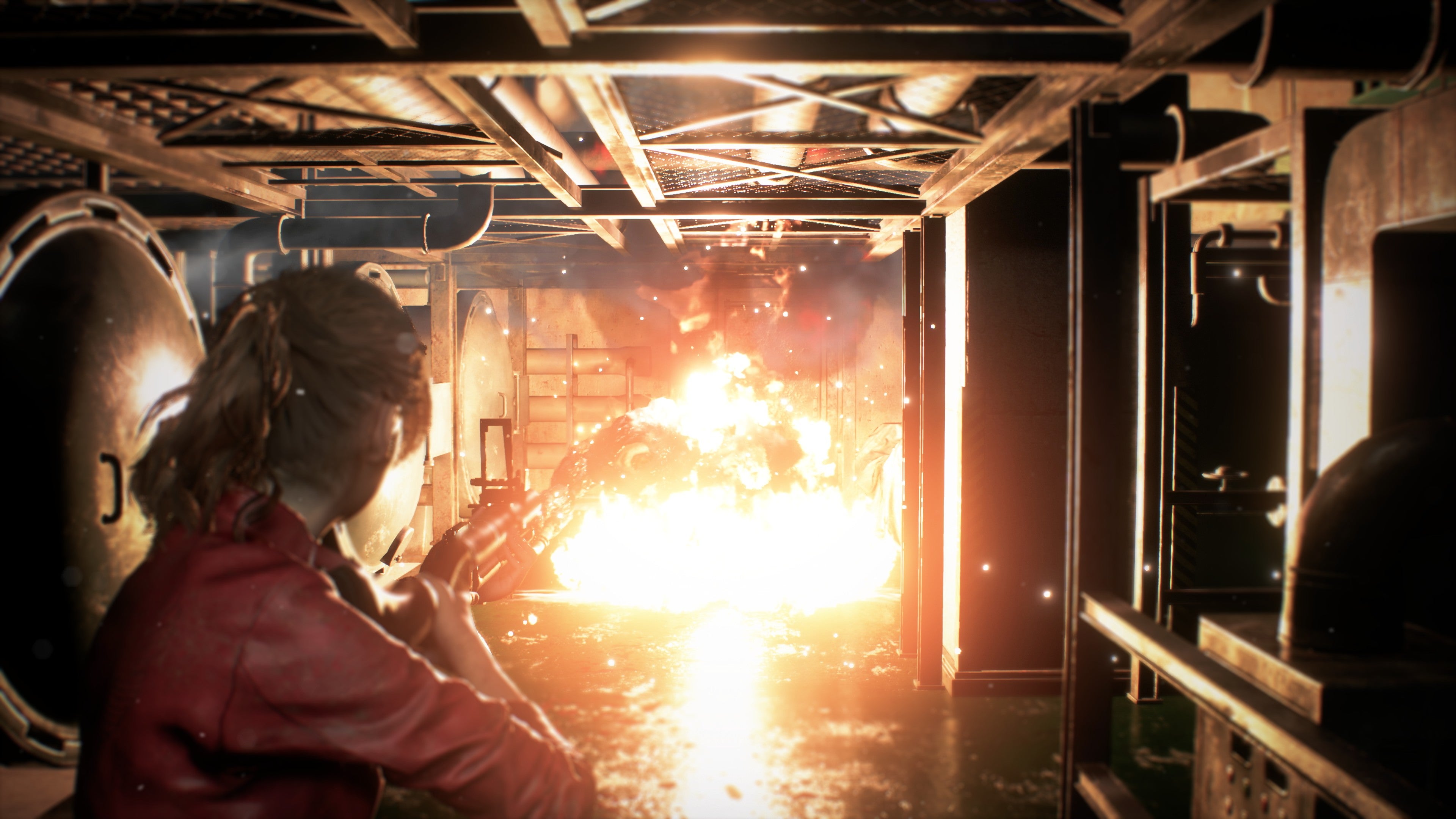 The Resident Evil games, at their core, are about being trapped.
Those undead creatures hunting you are a threat, but it's the sinister, surreal environment that will kill you - or, rather, your lack of familiarity with it.
Limited ammo and your low inventory capacity force you to gamble, carrying only the essentials as you attempt to unlock the secrets of this place. Eventually, you will make the wrong turn, you will slip past the wrong zombie, and you will end up backed into a corner with nowhere to run, rotten hands clawing at your face.
Like a castaway on a deserted island living off scraps, eventually you learn to master your surroundings. To thrive. You earmark the location of each monster habitat, you learn the shortcuts that loop around. You know where the dead ends are. If you can just find the spade key, you can bypass that corridor filled with lickers. Of course!
The original trilogy of Resident Evil games are built around this progression towards mastery. It's why the hardest unlockables are always gated behind challenges that seem impossible to the uninitiated, asking you to finish the game in a few hours without saving your progress. Keep at it and eventually these spaces become like a second home. It's what makes the series so beloved.
Resident Evil 2 Remake retains that ethos, as well as everything else that made the PlayStation classic such a, well, classic. There's that section where Leon is running away from a giant, mutated alligator in the sewers. There are puzzles involving books, gems, statues, and USB sticks. Ada Wong is rocking her signature red dress. Lickers are fucking terrifying. It's all there, but smart tweaks to puzzles, entirely new sections, new threats, and a switch to an over-the-shoulder camera reanimate the ageing corpse of the original release.
The Raccoon City Police Department is a bizarre building, with its main hall, side rooms, huge library, and internal clocktower - all of it sectioned off by locked doors, fire exits, and electric shutters. It would be hard to navigate as it is, never mind when you are dropped into a save file halfway through the game with a handful of bullets, hallways stuffed with zombies - who can now open doors - lickers dangling from dark corners, and an unkillable tyrant on your tail. It's like trying to solve a Rubik's cube while someone punches you repeatedly in the face. In a good way.
This is Resident Evil at its most tense. Even wearing his stupid hat, the tyrant is intimidating. The way his head turns as he spots you, the sound his footsteps make as he stalks the corridors, the way his gait slightly increases as he comes at you, and the way he casually backhands any zombies who get in his way - he's a relentless threat that doesn't let you rest. It reminds me of my previous job.
The constant danger makes those safe rooms your only asylum, the only place where you can collect yourself. Even puzzle rooms aren't always secure.
You have to kite the tyrant around RCPD and lose him in the labyrinthine corridors, but he always comes back. He can only be delayed, and that makes it hard to get your bearings - especially with all the other creatures hunting you as you go. Zombies move erratically, doing their best to throw off well-placed headshots. Lickers cling to walls and creep across ceilings before diving at you, claws extended, in a flash of speed. Very few games feel as hostile as this.
It's impressive that it still feels as scary as it did back in the '90s. Back then, some of the tension was derived from the controls. The tank movement anchored you to the environment and meant you had to commit to every burst of speed. The shooting was imprecise and only let you headshot enemies when they were right in your face. With the new camera, you can shoot zombies from across the room, and a critical shot on the head - which triggers randomly - splits their face in two. But the tight corridors and walkways - in tandem with a close, claustrophobic camera - manage to retain that feeling of constant anxiety.
With four playable characters in Leon, Claire, Ada, and Sherry - the latter in an entirely new area called The Orphanage - there's plenty of anxiety to go around as well, each character coming complete with their own challenges and quirks. Resident Evil 2 Remake has the potential to be the best remake we've ever seen in video games, and it looks to kick off 2019 in an explosion of severed limbs and mushed heads. I can't wait to feel trapped again.