Roll on release season 2017: these are the games we can't wait to get our grubby little hands on
If your picks aren't on the list, don't worry. We can fight about it in the comments.
We're halfway through the year and the summer dry spell has set in, but there are plenty of games coming out as we gather momentum and start hurtling towards the holidays.
Narrowing down our list of anticipated releases was tough, but here are the obvious and no-so-obvious games we have on our radar for the second half of 2017.
Destiny 2
In a time when shooters were getting stale, Destiny swooped in and overhauled the genre.
The MMO FPS had a good run with over two and a half of years of content, and while the story isn't the best, the gameplay hits the sweet spot.
New content, weapons, raids, and challenges successfully kept players engaged and coming back for more - even when they'd been out of the loop for a few months. Some amazing communities have grown out of the game too, and compared to other online shooters, a nicer time is generally had all around.
Bungie seems to have taken player feedback on board, with senior narrative lead Jason Harris saying, "I can't emphasize enough that we are ready to tell stories in this world. Big, expansive, and cinematic stories."
Weapon categories and subclasses are getting a shake up too, and all player progress is being reset for the sequel, explained by a story event at the start of the game.
You don't need to have played the first one to get in on the action, so if you're a newcomer to the series, or a PC player whose interest is piqued by the fact that Destiny 2 is coming to PC, give the beta a whirl.
It's going to be a fresh start for everyone on September 6, and PC players can join in the fun a month later, on October 24.
Wolfenstein 2: The New Colossus
BJ's back and with twins on the way, he's got some cleaning up to do.
The Nazis are still a huge problem, as evident by the alternate reality version of America and Europe we'll visit in "the best story" the studio has ever made with a cast made up of around 100 actors, and 3 hours of cinematics.
At our E3 hands-on, we got to try out combat in the wheelchair that BJ finds himself in at the start of the game. The verdict? It was awesome.
To rid the world of the Nazi scourge once and for all, BJ will have to work with the resistance movement and get his hands on a lot of guns to lead a second American Revolution, so expect a lot of satisfyingly gory carnage.
Bethesda boss Pete Hines has described it as "fucking bananas," and from what we've seen so far, he's not wrong. Just take a look at the trailer to get an idea of what's in store when Wolfenstein 2: The New Colossus releases for PC, PS4, and Xbox One on October 27.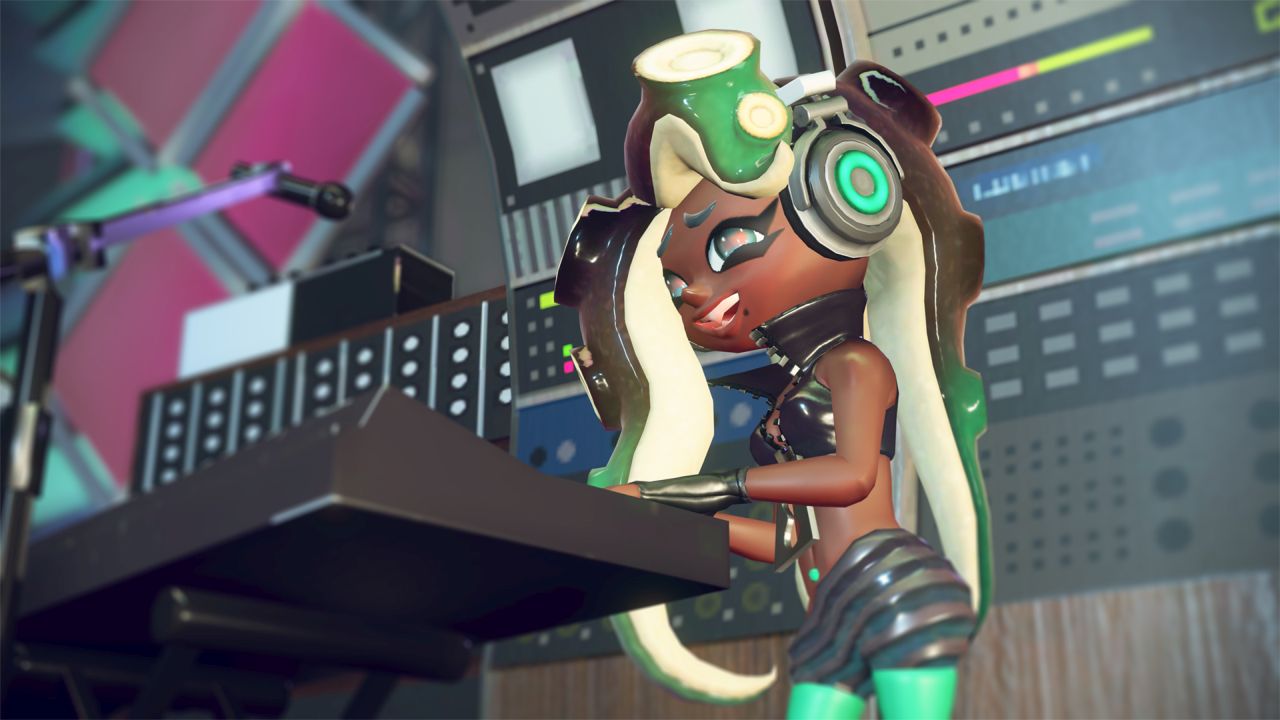 Splatoon 2
Splatoon hit the Wii U in 2015, and although the console didn't fare well, the multicoloured shooter built up its own cult following. The announcement of the sequel for the Switch was definitely geared towards the existing fan base, teasing a rift between the Squid Sisters that carries over to the single-player campaign.
The reveal of Marina and Pearl, the new squid idols for the Splatfest, has worked up fans into a frenzy, and the internet is already littered with fan art of everybody's favourite Octoling Marina.
When it comes to new features and how Splatoon 2 will differ from the first game, we'll see new weapons, gear, new stages in turf war, a new social hub, and more choice when it comes to customising your Inkling.
New modes have been added to keep things fresh, like co-op Salmon Run, Private Battles with a spectator option, and League Battles.
If Splatoon isn't your cup of tea, I doubt you'll find much to tantalise you into playing the sequel, but for those of you who enjoyed the first one, you'll find plenty of tweaks and features to grab your attention when it releases on July 21.
And don't forget, the first Splatfest - where you'll vote between cake and ice cream - is being held the weekend before release, on July 15. We saw the dramatic fallout of the Splatoon's Splatfests, so who knows what dire consequences will erupt from the next lot.
Dragon's Dogma: Dark Arisen
This one sneaks onto the list because it's finally getting a current gen release, and even though we'd like to see the free-to-play sequel Dragon's Dogma Online get a western release, this will keep us quiet, for now.
Dragon's Dogma is an action RPG from Capcom and if you cast your mind back to its reveal, you may remember the epic battles showing players climbing onto monsters to position themselves for caving its head in, rather than just thwacking at its shins.
The innovative pawn system adds another dimension to the gameplay. Pawns are AI members of the party that players can hire from the Rift or allow other players to hire their own Pawns.
The AI party members will learn about potentially unexplored areas and new enemy weaknesses on their travels, and utilise that knowledge when journeying with the player, shouting out strategies to take down unfamiliar monsters, or leading them to hidden paths that they've already walked down with someone else.
If you missed it the first time around, you should definitely try it out when it comes to PS4 and Xbox One in fall 2017.
Pyre
If you've played Bastion or Transistor, Supergiant's next game should be on your radar, and you know the soundtrack is going to be amazing because Darren Korb is back on composer duties.
The action RPG follows a party - rather than one character - on their journey through the Downside. The most interesting mechanic is that there's no game over. Each encounter pits three of your team against a group of enemies, and win or lose, the story marches on, creating a narrative unique to every player.
In an interesting departure from their previous titles, Supergiant has included a two-player versus mode where you can face off against a buddy - or the CPU - in battle.
While Bastion's combat was fairly straightforward, Transistor's was a lot deeper allowing for synergy and versatility, and it looks like Pyre will be going down the same route, as you customise your party's loadout with Talismans and Masteries before diving into the fray.
Pyre is out on PC and PS4 on July 25 and you can pre-order on Steam for a 10% discount.
The Long Dark
If you're on PC or Xbox One, you may have already dabbled in The Long Dark, what with it being on Steam's Early Access and Xbox One Preview Program, but it's getting a proper release soon, and that's why it made the list.
In the wake of a geomagnetic disaster, you're tasked with surviving the winter in Canada, and it turns out that without the luxury of food, shelter, and warmth, Canadians aren't as nice as the stereotypes would have you believe. You can opt to play sandbox, or for those who crave purpose and direction, there's story mode.
The game is all about survival and it isn't kidding around. Body temperature, hunger, thirst, and fatigue all gnaw away at you, and the wild animals at your heels will do the same. Equipment degrades, food goes bad, your stamina is relatively low, and your movement is slow and deliberate. It's a snoozefest for some, and the epitome of strategy and survival for others.
You can decide which camp you fall into for yourself on August 1 when The Long Dark gets its full release with Season One: Wintermute on PC, PS4, and Xbox One.
Mario + Rabbids: Kingdom Battle
I was as conflicted as the next guy at news of this seemingly unholy alliance, but despite the funky-looking amiibo and Rabbid Peach's Instagram account, I've definitely come around to the idea that this is going to be an awesome game.
There. I said it.
A turn-based adventure RPG, Mario + Rabbids: Kingdom Battle has similar cover mechanics to Xcom. In fact, Jake Solomon, creative director on Xcom 2: War of the Chosen, said he was "surprised" during the reveal, but excited at the prospect of being able to introduce Xcom's basic concept to his daughters through the game.
The live demo at E3 probably sold a lot of Doubting Thomases on the mash-up, and it looks like a solid title to add to your Switch library when it releases on August 29.
Pillars of Eternity
The latter half of the year is looking promising for RPG fans and it kicks off with Obsidian's Pillars of Eternity, which is finally getting a console release, more than two years after its launch on PC.
We keep hearing that this game is the spiritual successor to Baldur's Gate, and the high fantasy isometric RPG is just that, garnering positive reviews on release.
The art style isn't overly fussy which isn't a bad thing, but if that kind of thing niggles away at you, it's something to bear in mind. The lore and story have been highly praised, as has the combat, so it ticks the boxes when it comes to capturing the spirit of the RPGs of yesteryear.
The complete console edition drops on August 29 for PS4 and Xbox One and includes the White March expansion.
Uncharted: The Lost Legacy
Technically a DLC, The Lost Legacy ended up being so big that it was made into a standalone expansion. It follows the exploits of Chloe and Nadine as they seek out the Tusk of Ganesh and if you're a fan of the Uncharted series, this is more than likely going to be your cup of tea.
We may even see more characters from the franchise in their own spin-offs, as Lost Legacy's writer and director Shaun Escayg hinted, saying, "to say the Uncharted world is done… I doubt that highly."
If you don't mind minor spoilers, you should check out the E3 extended gameplay because it looks bloody brilliant.
You can pick up Uncharted: The Lost Legacy when it releases on PS4 on August 22.
Cuphead
Cuphead was revealed to the world at E3 2015 and after an initial delay, the game will finally be in our hands in just a couple of months.
The indie title's 1930's art style instantly grabbed our attention, and since it was announced, it's evolved from a boss rush to a full platformer, but boss battles still get their fair share of attention with their own stages.
The original jazz soundtrack adds to the overall flavour - something you can check out for yourself in this gameplay video.
The only real downside is that Cuphead won't be getting a PS4 release, but PC and Xbox One players can experience the magic firsthand on September 29.
Danganronpa V3: Killing Harmony
Who amongst us doesn't have fond memories of the psycho bear Monokuma and their murderous classmates at Hope's Peak Academy?
If you've never partaken in the series, Danganronpa is a visual novel in which the player is trapped along with the other students, and is at the mercy of a crazed, remote controlled bear.
The third entry won't be tied to the to previous story, instead taking place at the Ultimate Academy for Gifted Juveniles. As always, players will have to solve murders and participate in class trials, using similar techniques to those found in the Zero Escape and Ace Attorney games.
Danganronpa V3: Killing Harmony is coming to PS4 and PS Vita on September 26, and in case you were wondering, there's no cross-play feature.
Middle-earth: Shadow of War
The sequel to Shadow of Mordor is sounding better and better by the minute.
The first title in the series introduced the Nemesis system which is getting even more fleshed out in Shadow of War with Nemesis Fortresses and armies. Players will battle for control of huge strongholds by laying siege to them with their army.
If you played Shadow of Mordor, you can use Nemesis Forge to import your Nemesis and Follower to Shadow of Mordor.
Basically, everything we loved about the first game is in there and then some, with an open world and a bigger emphasis on loot and gear customisation.
Middle-earth: Shadow of War is coming to PC, PS4, and Xbox One on October 10.
Divinity: Original Sin 2
If you feel like you've been waiting for this game forever, you aren't the only one.
Divinity: Original Sin is an isometric RPG in which every decision has palpable consequences. You may find yourself battling a grieving widow after digging up her husband's grave nearby, or return to a scene of carnage after refusing to kill a female Orc who was temporarily subdued by a love spell. It's a living, breathing world that warps around you with every encounter. And it looks gorgeous.
The turn-based combat is a blast. You can strategically position your party before a fight, and even weaponise the terrain and elements to turn the tide of battle.
The sequel takes everything from Divinity: Original Sin and builds on it to create deeper combat, exploration, and story, plus there are even more character customisation options with five races to choose from and the ability for players to create their own backstory. The new companion relationship system develops on the concept of consequences; if you annoy your party members too much, they'll leave you forever.
This release is for PC only, but we're looking forward to it because it means we're one step closer to a console port. Meanwhile, PC players can fill their boots with all of that sweet RPG action on September 14.
The Evil Within 2
It can't just be me that thinks The Evil Within was severely underrated. It's getting a sequel, so I think the answer to that is a resounding "no."
Resident Evil series creator, Shinji Mikami directed the psychological horror, which wasn't lacking in the blood and gore department either.
The story is a bit too convoluted to explain in detail, but suffice to say, there are nefarious organisations and characters all over the shop that the protagonist has to deal with, as well as his own inner turmoil.
The Evil Within 2 picks up three years after The Evil Within, with the main character Sebastian turning to the nightmare dream world by choice this time, to find his daughter, who may not be as dead as he was lead to believe.
The game is out for PC, PS4, and Xbox One on October 13, just in time for a Halloween spookfest.
Super Mario Odyssey
Super Mario goes open world for the second time in Super Mario Odyssey and after our hands-on with the game, we can't wait until release.
The main mechanic involves Mario's hat, Cappy, who - despite appearances - "captures" innocent bystanders and creatures, rather than possessing them like we all thought.
The levels look spectacular, with New Donk City getting most of the attention, what with the normal-sized human beings and environments that make Mario look super weird and out of place.
There's a tremendous level of freedom in the game, and even the smaller areas are actually bigger than you'd think, given the verticality of the level design.
If you're on board the Super Mario Odyssey hype train, it pulls into the station on October 27 for the Switch.