Red Dead Redemption sequel rumours peak with Retribution flyer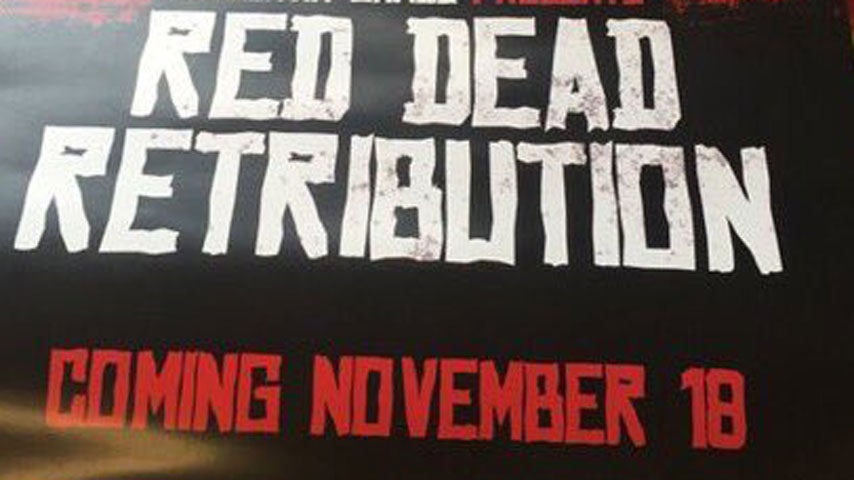 Red Dead Retribution releasing in November? Get away with you. But also: yes please.
Red Dead Redemption should obviously get a sequel; it's only one of the best-loved flippin' games of the last flippin' generation. When is it going to happen, eh?
As with every major video game event, people are talking about Rockstar potentially making an appearance at the PlayStation Meeting in New York this week. A Red Dead Redemption remaster is one of the hot bets, given it's now backwards compatible on Xbox One but not PS4 - but some are daring to dream bigger than that.
This flyer for Red Dead Retribution is doing the rounds on social media today, which isn't helping us to keep calm at all. It's probably fake. These things usually are. The Red Dead font is not hard to copy, and neither is the promotional aesthetic. The art on show here is not Rockstar's usual style, though, and a November release seems a little too - actually, what am I saying, that is absolutely something Rockstar could do, it is a damned juggernaut.
Hum ? pic.twitter.com/Nnv6jnrQol

— Tom V (@Get_crazy78) September 6, 2016
I'd love to think Rockstar is going to front a Red Dead game led by a woman of colour, although its promotional materials regularly feature characters who aren't protagonists, and perhaps only feature in sidequests - see the whole Lindsay Lohan vs Rockstar debacle for examples. So it's probably too much to hope for, innit; there's probably another five flyers showing grizzled men. Assuming it is legit, which we are not in any way endorsing, because ah ha ha ha.
Update: our amusement was proved entirely justified after the flyer was tracked down to someone's fan project. It's a lovely little gift box sent to Rockstar; check out the details on Imgur. (Thanks for the link, Shannon!)
Anyway, let's all talk about how much we wish a Red Dead Redemption sequel actually would materialise this year. I'll go first: I wish that a lot.