Red Dead Redemption 2: where to find the witches cauldron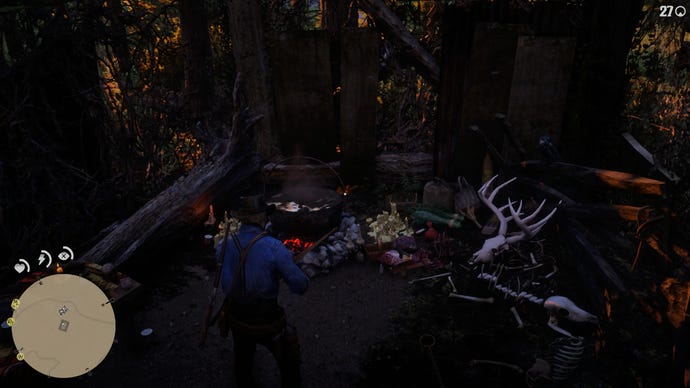 We're still uncovering the many mysteries hidden away in Red Dead Redemption 2, as you'd expect from a game its size.
Tucked away in a forest in the Grizzlies lies a witches shack, filled with animal skulls, tonics and, you guessed it, a big bubbling cauldron.
You have the opportunity to drink the mysterious dark liquid and since I decided my Arthur is the curious type, I did just that.
After consuming the cauldron's contents, you pass out and wake up a few feet away from the shack. Sign of a decent drink, really.
We're not sure what the after effects are of drinking this potion but it will probably become clear after a few in-game hours, so we'll keep you updated.
If you need more help with Red Dead Redemption 2 – and we wouldn't blame you, it's massive – check out more of our detailed Red Dead Redemption 2 guide. It's got everything from treasure hunt locations and side quest guides to cheats and fast travel tips.