Red Dead Online PS4 early access content available, all players get new Free Roam missions
Red Dead Online players on PS4 can claim their early access content today, but Xbox One players have plenty to look forward to this week too.
This week's Red Dead Online update includes the PS4 early access content. While it includes new content, all players can partake in some new Free Roam missions this week.
Plus, just for playing in a Posse this week at any point through May 27, you'll earn five bonus Gold Bars.
PS4 players can now enjoy early access to new Showdown Modes, clothing, emotes and the Ancient Tomahawk. We've broken down the updates for you below.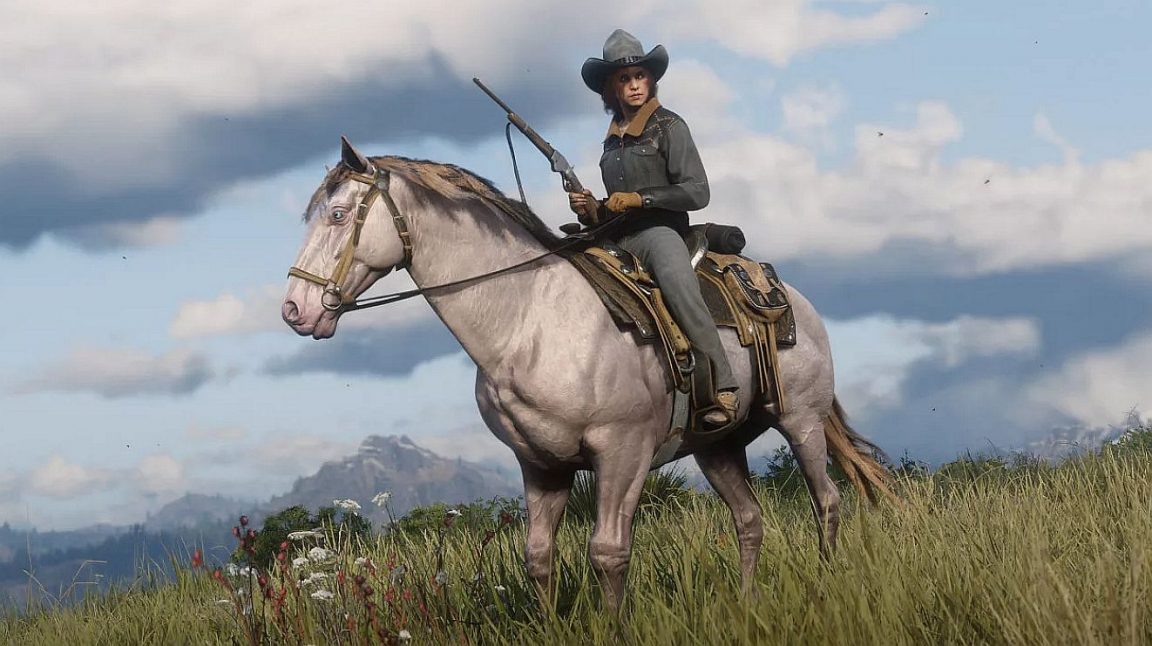 Red Dead Online PS4 early access content
The Ancient Tomahawk - Visit your local Fence to acquire the throwable weapon free of charge. It is available to players of any rank.
Perlino Andalusian Horse and Equipment - The lovely Perlino Andalusian has higher stamina for longer rides and can be acquired for free. It also comes with a new saddle and saddlebags.
Clothing - Check out the Wheeler, Rawson and Co. Catalogue in the game or online for new content available at no cost. The PS4 content also has no rank restrictions. The local General Store and Tailor also has the Finely Jacket, Stenger Studded Spurs and Caldwell Hat.
Emotes - Get the Boast and Hey, You emotes from the Catalogue and equip them for use through the Emote Wheel.
Showdown Mode: Make it Count -Use nothing but Ancient Tomahawks to be the last one standing in this free-for-all with a gradually shrinking play area.
Showdown Mode: Last Stand - A new variation of free-for-all where players compete to survive in two-minute sessions. There is "no way out, no second chances, and only one winner."
Red Dead Online weekly update
All players this week will earn a 25% increase in RDO$ and Gold payouts for all A Land of Opportunities Missions. Free Roam Missions, Showdown Modes, Races and Free Roam Events are also included in the bonus.
This week, new Free Roam missions can be picked up by visiting the Adler Ranch in Ambarino. Alternatively, you can search out Red Dead Redemption 2 gunslinger Black Belle in Lemoyne.
While playing a posse anytime this week will earn you five bonus Gold Bars, you will also earn bonus RDO$ and XP when playing together. Plus, you have the ability to bring an entire Posse into Free Roam Events, Competitive Challenges, or the Showdown Series.
Clothing this week in the Wheeler, Rawson and Co. Catalogue includes a pair of Citadel Boots, the Valdez Vest, Wescott Skirt, and limited stock of the Plaid Cap.
Rockstar also noted in the update it continues to work on stability and performance. Recent fixes include closing some duplication exploits, it has reduced numbers of animals in sessions, updated the Defensive mode to revert Playing Style to Offensive and applied a Hostility penalty when stealing cargo from another player's horse and more (the dead horse pile).