Rockstar takes away hackers' ability to spawn KKK NPCs in Red Dead Online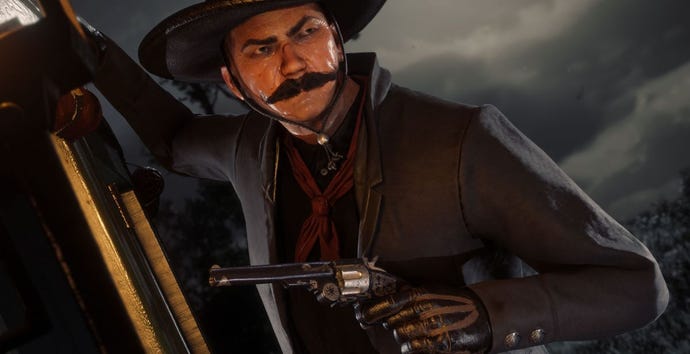 A particularly nasty racist cheat in Red Dead Online has thankfully been stopped.
Red Dead Online has always had problems with cheaters. These vary from the more practical aimbots and the like, to the much more insidious that grief other players by spawning random animals on top of them, blowing them up and creating other aggravating/bizarre situations.
In the days since Rockstar turned off servers for two hours out of respect to George Floyd's memorial, hackers decided to respond in kind by using the in-game public message system - intended for use by Rockstar for server-wide alerts - to spam blatantly racist comments.
Using the same programs that allow them to spawn random objects in the game and ruin the day of everyone in the server, hackers decided to randomly spawn KKK NPCs and send them after other players, particularly those with Black and Asian characters. The KKK exist in Red Dead Redemption as one of several random events Arthur can run into, but they do not appear in Red Dead Online.
Unfortunately, since the 3D models already exist in the game's files, they can be manipulated just like that of any random animal or bird.
Content warning: racism.
I wouldn't normally share this, but we're seeing more & more posts about it on reddit & Discord

Will @RockstarGames ever do anything about modders abusing the "Rockstar Message" text in Red Dead Online & spawning klan npcs?

Give us crew/friend only sessions. Stop enabling this pic.twitter.com/WXsRihsrqV

— Red Dead Online Community (@RedDeadRDC) June 13, 2020
The good news is that Rockstar appears to have put a stop to it in a recent server-side patch. Although the developer didn't officially publish those notes, dataminer @TezFunz2 revealed that KKK peds - a collective term for character models in Rockstar games - can no longer be spawned in Red Dead Online.
PC update
- Cheaters can no longer spawn KKK peds to attack other players.
Credit: @alloc8or #RedDeadOnline

— Tez2 (@TezFunz2) June 16, 2020
Interestingly, according to the same leaker, Rockstar did not simply remove the model from the game's files, which means none of this will affect those sticking to the single-player.
It checks if you are in online, detects an event that spawns peds, check if the ped model match any of the KKK models and instantly deletes it.

— Tez2 (@TezFunz2) June 16, 2020