Red Dead Online's Frontier Update has me falling in love with Rockstar's world all over again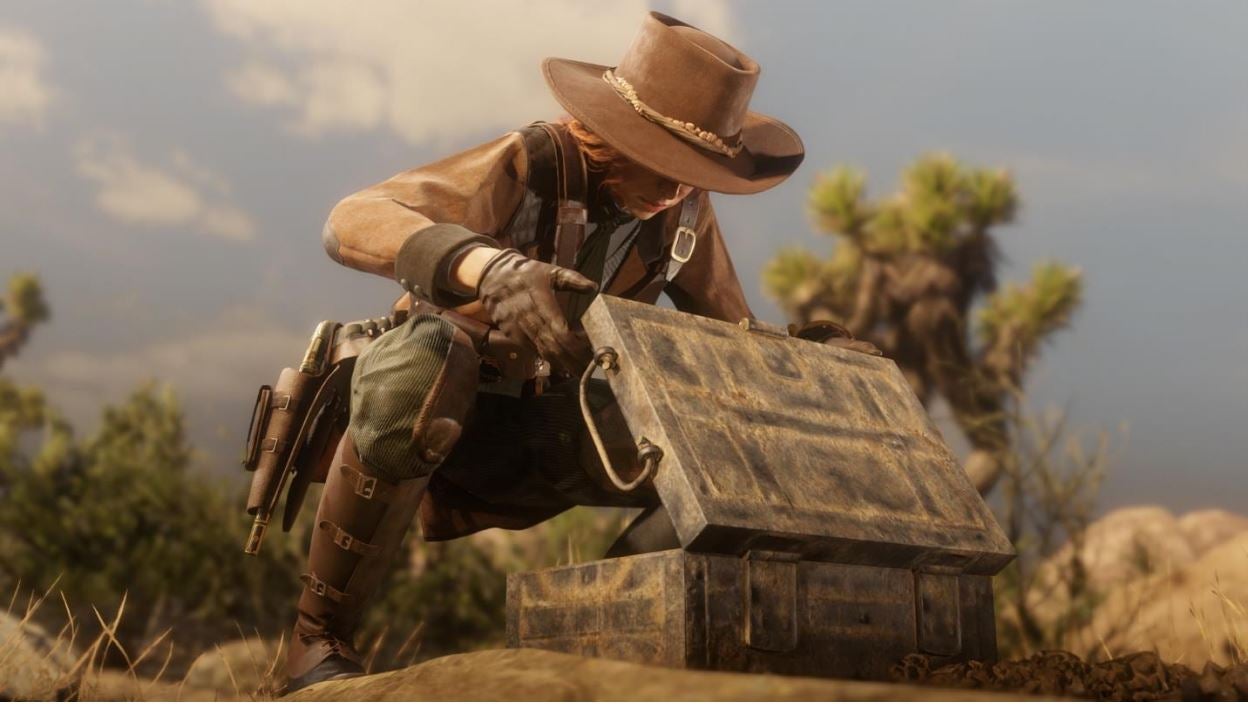 Last night I spent three hours roaming the world of Red Dead Online. I did the same the night before and the same the night before that.
I wasn't interested in jumping into the PvP shootouts or horse races, I just wanted to exist in that world again. The new Frontier Pursuits update adds three new roles to this online space, allowing you to track down bounties, hunt animals for pelts to sell as part of your own business, and take on the role of collector, searching the Wild West for ancient coins, tarot cards, and wildflowers.
These were put into the game to encourage roleplaying, though you can easily perform all three at the same time. The Trader role ticks over in the background so long as your camp is stocked with animal parts. The Bounty Hunter missions are activated via posters within towns, and you can easily grab a few Collector bits as you travel between areas. Still, each of them encourage you to play the game a certain way, allowing you to pick and choose what suits your mood. Last night my mood was picking wildflowers.
It might not sound like the most exciting thing to do, to slowly roam a world and scour for collectibles. In fact, it's something I actively avoid in pretty much every other game. Collect 100 things? Nah thanks, I'd rather jump onto a runaway train and throw a bola at some mug. But Red Dead Online's world is best experienced at a Collector's pace.
The Collector role works like this: you head to Madam Nazar, a new NPC, and purchase a Collector's Bag. You're then free to buy maps from Nazar, which highlight searchable areas on the map where a collectible is hidden. Head to the search area and feel the controller vibrations to zone in on it. Some are specific plants, some are cards tucked under fireplaces or placed on a sideboard, and some are arrowheads and coins buried in the ground that you have to buy a shovel to uncover.
But there's another way - a better way - to progress as a Collector. There are hundreds of these things hidden around this gorgeous and expansive landscape, and they don't just spawn in when you purchase maps - you can find them at any time. Open up your world map and look for points of interest, head there, and you'll likely find something in that woodland cabin, that derelict church, or that shack in the marshes.
It encourages you to really explore. While you're doing that, you might just come across some things you didn't know existed, such as the hilltop house decimated by a meteorite, or the cult of alien worshippers who died during some unholy sermon. Maybe you will find the remains of some long lost creature, or explore within dark caves tucked behind the lip of a waterfall.
I already did all this when Red Dead Redemption 2 released, searching out every corner of the map for secrets and easter eggs. Doing it again in Red Dead Online just reminds me how stunning this world actually is. Even the trees are beautiful. And the way the light beads through them during the golden hour makes me want to live there. There's nothing quite like an unexpected storm to add drama to familiar surroundings, either. Just like how the three roles allow you to switch up the pace as your mood changes, the world is dynamic, always hiding some surprise vista.
Head into New Austin and you're welcomed by a craggy dust bowl full of yawning chasms and deadly drops. Head off the beaten path there and you might end up falling from a cliff. The smoke stacks and bustle of Saint Denis is over to the East if when you're done with life in the wilderness, and the Bayou is only a stone's throw from that, offering up different navigational challenges with its alligators hiding in the mire and narrow bridges that can see your horse buckle you into the swamp. To the North there's verdant farmland full of grazing animals, then there's dense woodland and mining towns to the East and frozen, deadly mountains and vast lakes of ice snaking across the map's northernmost point.
There's just something about how Rockstar creates its worlds that's quite unlike any other developer. The way the parts are connected, how it all fits together so convincingly despite this variety, somehow makes them stick in the mind that little bit more: I'm sure most people who played GTA can trace a route in their head from muscle beach right up through to the Vinewood sign and the hills and desert beyond. In fact, GTA 5 captures the essence of LA so well that I felt like I knew the place the first time I went there for real.
I also enjoy how lean Red Dead Online is in comparison to GTA Online, which feels almost impenetrable if you haven't kept up with it - there's just so much stuff to do and you have to be rich to access a lot of it. If you don't have a group of friends, it's also near impossible to take on the best content: those incredible heists. Red Dead Online offers up a different pace, and it's one that suits me more.
The griefing that plagued Red Dead Online seems almost non-existent since the update as well. The map is so vast that you rarely run into other players outside of towns, and when you do it can create some incredible, tense moments. In one, I'm transporting my Trader goods to a town to turn them in. I'm on a one-man cart out in the wilds, and I can see a distant figure on a horse at the top of a hill in front. Barely a silhouette. It's another player. They don't attack me, they just watch me pass. Nothing happens. It's one of the most tense moments I've had in a video game.
Another encounter sees me galloping through a town to turn in a live bounty target. I happen to speed past the saloon as some unfortunate soul steps out - presumably after playing a hand of poker - and I trample them dead. It is instant. It is accidental. But man, is it funny.
Frontier Pursuits is a solid addition to Red Dead Online and I can't wait for even more excuses to meander through this world. I personally hope some distant updates changes how we treat this world once more, just like how the Collector role encourages you to slow down, to take note of your surroundings and not just bomb between waypoints on the minimap.
Undead Nightmare for Red Dead Redemption is one of the best expansions ever. While I'd love some single-player DLC for Red Dead Redemption 2, a zombie survival mode could be just the ticket for Online. Imagine how creepy the swamps would be. Imagine how terrifying Saint Denis would look at night time, overrun. It would also feed into the survival elements of the game, which could be ramped up, forcing us to balance our need for supplies, hunger, and ammo against the risk of heading into a town that's been taken over by the undead. Whatever route Rockstar goes down, though, I'm onboard.