Red Dead Online gets new Free Roam Event and a new Showdown called Head for the Hills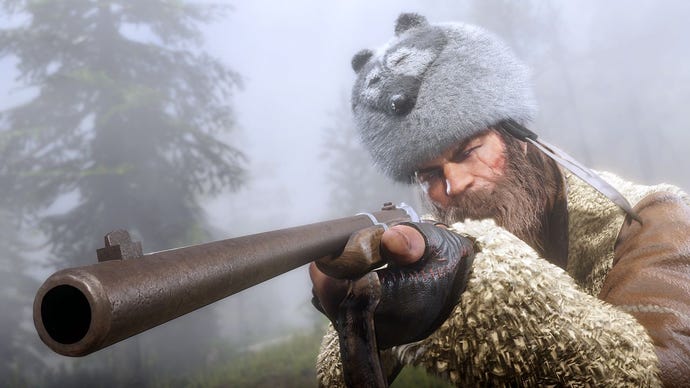 Red Dead Online players can take on hunting challenges in this week's new Free Roam Event, and run for their lives in the latest Showdown Mode.
more
The new Free Roam Event in Red Dead Online this week is the Wild Animal Kills Challenge.
Here you will go up against other sportsmen to hunt critters. Points are awarded based on the size of the animal, and no, other players don't count. Offensive attacks have been disabled for this event anyway.
Small animals are worth one point, medium sized earn two points, and larger animals are worth three points. As the challenges expand, bears, cougars and wolves "will emerge," and will offer bonus points.
https://media.rockstargames.com/rockstargames-newsite/gifs//051db35.mp4
This week's new Showdown Mode, Head For The Hills, finds you making a "last-ditch run across no-man's-land" in order to get to your safe house. While making this mad dash, opponents will be hunting you down so be careful.
Rockstar said it will be adding two new Showdown Modes over the next couple of weeks called Public Enemy and Sport of Kings. More information on those will be provided at a later date.
Bonuses this week come from the missions included in A Land of Opportunities. Complete the first missions for bonus RDO$50, RDO$75 for completing the second, and earn a 10 Gold Bars bonus for completing the third and final mission.
You will also earn a bonus just for signing up for 2-Step Verification. The bonus is the Racoon Hat pictured below, but in a different tint than normal. If you already have 2-Step Verification applied to your Social Club account, it's yours.
If not, enable it, and receive your raccoon skin cap. If this is your first time enabling it, you will also receive 10 Gold Bars for Red Dead Online and GTA$500K in GTA Online.
Also this week, Rockstar is handing out a Showdown Mode inspired care package. It contains five potent versions of each of the following: Miracle Tonic, Snake Oil, Health Cure, and Potent Bitters. It also comes with 120x Express Revolver Ammo.
Head to your nearest post office or your Camp Lockbox to make it your own.
Finally, the Wheeler, Rawson and Co's latest include the Flora Corseted Chemise and Paddon Shirt tops.
There is also a limited supply of the Plaid Cap, Raccoon Hat and Shaffer Chaps - and the new How Dare You emote. Nice.
Have fun this week.