Rainbow Six Siege update 3.4 includes severe punishments for team killers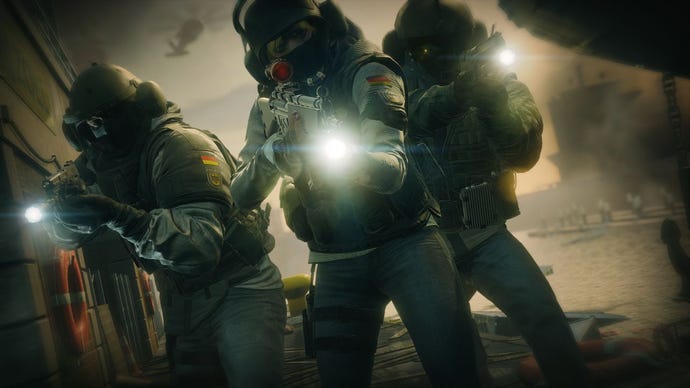 A lot of changes are coming to Rainbow Six Siege with update 3.4, not the least of which are the new rules for team killing.
Rainbow Six Siege is about to get its latest patch, version 3.4. This update will be released on all platform on Wednesday, July 13.
3.4 brings a number of big changes, but the highlight is definitely the new system being implemented to deal with team killers, especially repeat offenders. The gist here is that players who repeatedly kill teammates will be banned from matchmaking, eventually landing a permanent ban if they continue to do it.
It works like this:
First offence - Casual- Kicked from match. Ranked- Banned for 15 minutes, 50% renown penalty for 30 minutes.
Second offence - Banned from Matchmaking for 30 minutes.
Third offence - Banned from Matchmaking for 2 hours.
Fourth offence - Banned from Matchmaking for 24 hours.
Fifth offence - Banned from Matchmaking for 7 days.
Ubisoft said verdicts will be decided on a case by case basis, and could differ slightly from the guidelines above.
The other big change in 3.4 is a complete re-balance for Pulse, one of the game's operators. He now gets better visibility from his gadget, increasing his awareness. This changes the detection marks on the screen to make it easier to interpret based on real-world locations.
Find the rest of the notes below:
Gameplay
FIXED – Ubisoft Club challenge rewards required players to restart their game client. (Reward is now automatically placed in your inventory once you redeem the challenge)
FIXED – Xbox One users were unable to create Custom Matches while offline.
FIXED – Casual menu can be accessed even while banned.
FIXED – Camera devices float when a player is killed while using it.
FIXED – Player's weapon disappears if a pickup animation is cancelled.
FIXED – SR-25 has a flickering texture on top side of stock.
Operators
Doc - FIXED – Unable to revive himself if put in a DBNO state during the vaulting animation.
Tachanka - FIXED – Turret will float in the air if it runs out of ammo. When viewing Tachanka as a spectator, there are multiple visual/animation conflicts.
Blackbeard - FIXED – Replay and Spectator mode cameras sometimes made Blackbeard appear to have no recoil.
Valkyrie - FIXED – Throwing a Black Eye outside during prep phase does not destroy it. (This does not apply to Terrorist Hunt)
Bandit - FIXED – No sound effects can be heard when a Shock Wire Battery is placed on barbed wire on stairs.
Shield Operators - FIXED – Shield clips through the Operator's field of view while picking up a breach charge.
Level design
Kanal - FIXED – Players are able to rappel in the air at EXT Front Lawn from EXT Coast Guard Roof.
Chalet - FIXED – Placing a Black Eye next to a window in the 2nd Floor Hallway in Preparation Phase destroys the Black Eye.