"It's a conscious effort to have a diverse cast" - Ubisoft on the future of Rainbow Six Siege

Tom Clancy's Rainbow Six Siege released almost three years ago. For any multiplayer game to stick around for that long is impressive. To do so after a very rocky start is unheard of.
Yet not only is Siege still growing, it's stronger than ever. With a player base of 30 million, frequent updates and a huge international tournament, Siege just keeps on ripping the FPS genre to shreds.
"One of our goals is a hundred operators and so with a release of about eight operators a year that gives you an idea of how long we plan to support Siege," community developer Craig Robinson explains of the game's consistent post launch plans.
If you're not keeping track, there are currently forty operators. One hundred is quite a way off.
"Our commitment to supporting Siege for a very long time means a lot to us, but I think it means a lot to our players because they know we're going to be around and Rainbow Six is going to be supported."
So what does it take to keep Siege growing? How does the team keep coming up with new and exciting operators? Is it just about coming up with brand new ideas, or is responding to player feedback more important?
"Racist, homophobic language does not belong in Rainbow Six and if you feel like it does then maybe you don't belong in Rainbow Six"
"A little of both," Robinson says. "Our game designers have wanted to have a shield operator on defence for quite some time and so now we do. We'd known we need an additional breacher on attack and we had to implement a little bit of additional new tech to make that viable in the way that Maverick is, but now that's implemented we're able to have operators like Maverick."
But responding to the needs of the game and its community is just as important to determining the shape of Siege's future.
"We have an idea for the meta long-term and our players teach us a lot so sometimes that changes," the community developer continues. "We have an idea for where the meta is headed and so if we see something where we need to make an adjustment then we will. I think Hibana is an excellent example of that. When the game launched, we had one hard breacher, we had Thermite. If you lost your Thermite in the opening of a round, you were in trouble. So the addition of a second hard breacher was prioritised in order to make sure we had more options in our gameplay portfolio."
It's also noticeable that each new set of operators comes with a heck of a lot more personality than those that shipped with the game. This has been no accident.
"We've recently created a new team, a production team that is solely dedicated to coming up with these backstories for operators and for giving them more personality and for making them more people instead of just operators in a videogame," Robinson explains.
"We have these CGIs, the Zofia and Ela patch notes, the kind of bios they had, those were our first steps towards that, trying to figure out what the reception was to providing more background for our operators. It did really well. We're really excited, players are really excited, so we're going to improve upon that."
The diversity of characters that go along with this has also been a welcome change from the norm of military shooters full of nothing but gruff white men.
"Making sure that Rainbow Six is a welcoming environment for everybody who plays games is very important to us as a development team and so yes, it's absolutely a conscious effort to make sure we have a diverse cast of operators so people can feel like they're part of the Rainbow Six universe," Robinson admits.
It's not the only thing helping players get into Siege, of course - the game's fundamentals are a big part of its success and appeal.
"One of the exciting things about Rainbow Six is that it is played in a lot of different ways and on a lot of different levels," Robinson explains. "At its very core, its base level, it's a first-person shooter. It's got quality gunplay, it's very responsive and so if all you want to do is play a tense first-person shooter, Rainbow Six can deliver that. But if you want to get way more involved with the meta and gadget interactions, how certain operators play better with others and how that all plays out, you can do that too. Giving players a lot of options for how they want to approach the game is hugely beneficial."
That goes hand in hand with the improvements they're making to the game to reduce player's encounters with toxic chat, too.
"With Operation Grim Sky we're going to be implementing additional muting features," Robinson says. "Players will be able to take their experience more into their own hands. They'll be able to mute voice chat and text chat individually and then any player in the match. We're making progress on chat filter which will prevent a lot of these negative remarks, these toxic remarks, from ever being broadcast. Recently we activated the autoban... that was our very first, firm step in saying racist, homophobic language does not belong in Rainbow Six and if you feel like it does then maybe you don't belong in Rainbow Six."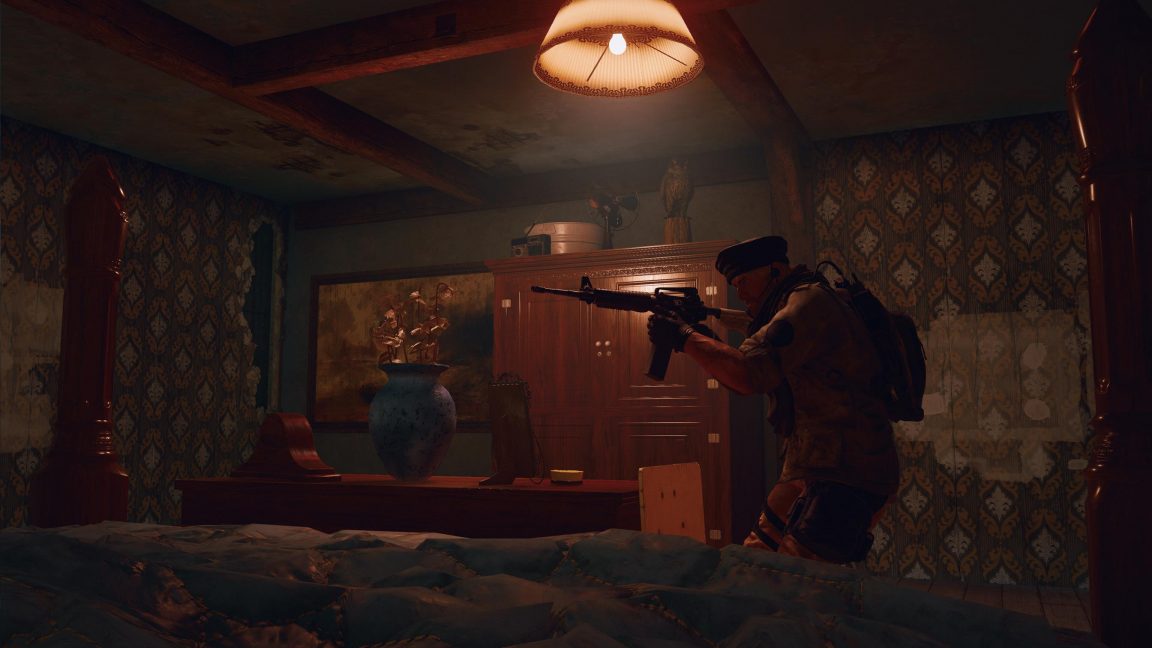 "It's absolutely a conscious effort to make sure we have a diverse cast of operators so people can feel like they're part of the Rainbow Six universe"
Siege's growth has presented it with some unique problems; bringing new players in and drawing old ones back has proved more than a little tricky, especially for a game as dense with strategy as this.
"The new player experience and the returning player experience are two things we've recognised we need to work on," Robinson admits. "It's something we're working on improving right now. We've recently launched a new website called R6 Academy which is very much geared towards and designed for that on-boarding experience for new players. It's a video content curation platform that allows YouTube creators to upload their videos to the website that deal with teaching players about Rainbow Six. Operator guides, map guides, ranked guides, meta guides and all different types of information for new players. That's our first step to improving the on-boarding process. We have a lot of other things we're working on as team that aren't quite ready to be talked about yet but it's an ongoing process for us that we're going to keep working on."
While there's still room for improvement it's hard to deny what an incredible game Siege currently is and how well the team have transformed it since launch. Robinson couldn't be prouder.
"It's been a surreal experience," he says. "Seeing the game grow the way that it has over the last three years it's... it was very unexpected but very exciting. We are very proud of the game we have today. And we're very excited and happy that our players love the game as much as we do. That's kind of the most rewarding thing for us. We can head to our subreddit, we can head to Twitter and we see fanart and cosplay and players making videos and all kinds of things. To be able to see that and know that our players love our game so much. There's nothing quite like it."