We asked id Software studio director Tim Willits about their Avalanche partnership, open world fatigue and Rage 2 on Switch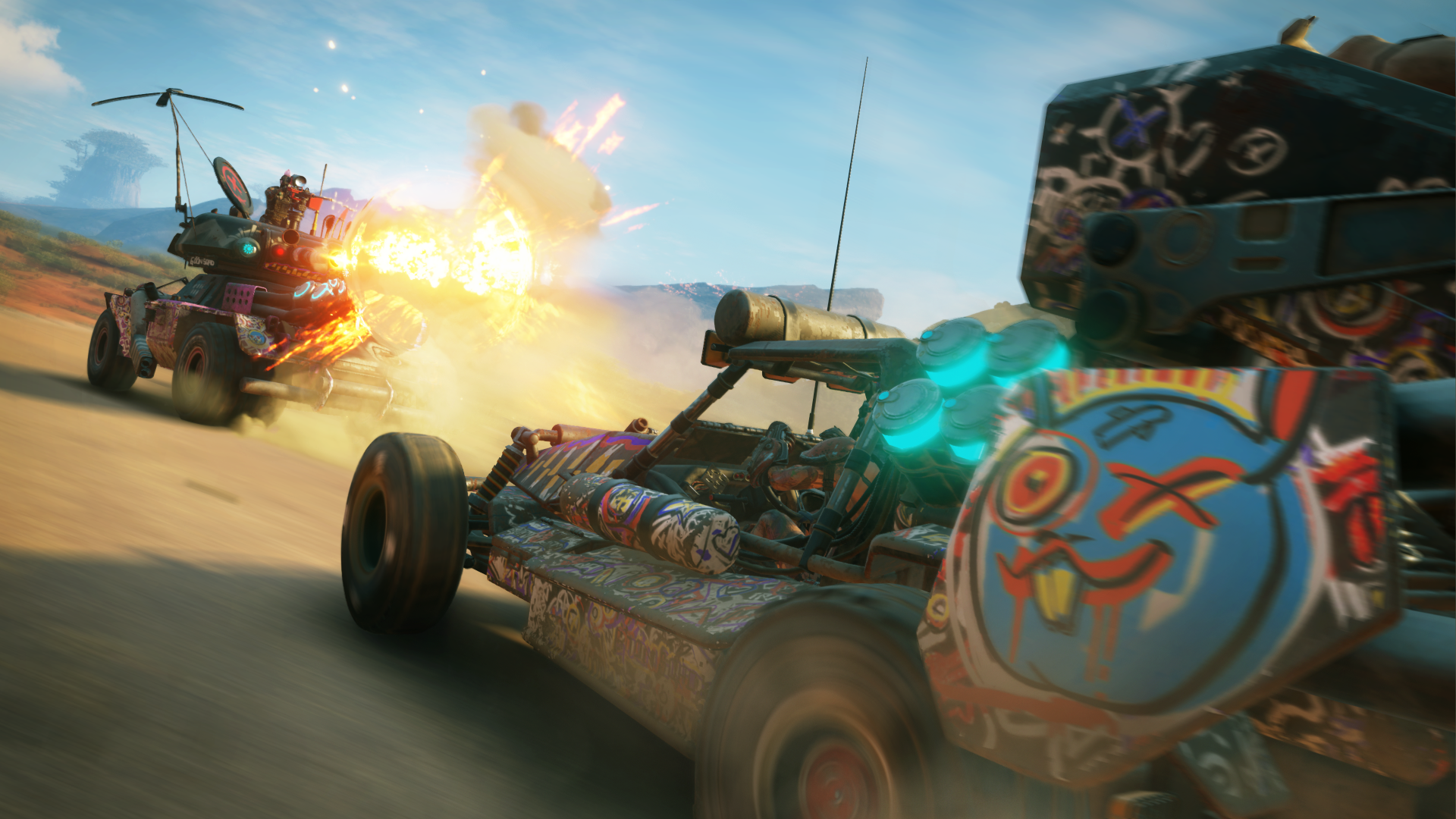 In his near 25 year career in games, id Software studio director Tim Willits has worked on some of the most iconic shooters of all time - first designing levels for the legendary Quake, before rising through the ranks to direct games like Doom 3 and the 2016 series reboot.
In a change of tack for id, they're partnering up with Stockholm's Avalanche Studios - of Mad Max and Just Cause fame - to collaborate on the sequel to one of their most ambitious titles: Rage 2.
We caught up with Tim at a recently press event held at Avalanche Studios to learn a little more about the behind-the-scenes of working on the game. For more on how Rage 2 looks and feels to play, check out our hands-on impressions as well.
VG247: The original Rage was a game with a lot of ambition, but some people didn't feel that it fully delivered on its promise. What're you doing to rectify that with Rage 2?
Tim Willits: We wanted to have much more of an open, dynamic world, but the technology really did limit us. So Rage 2 delivers on the promise of the original game, because we truly now have the open world where there are no level loads. If you remember with Rage, you'd drive around, get to an area, then go "now, okay I'm in a first-person area".
But here you just go. That open and dynamic experience, we can deliver. Rage 2 builds off of Rage, you don't need to have played the first one, but this can answer some questions and deliver on that promise - so I'm very excited about it.
Doom (2016) is full of really intense combat that pushes you forward to the next encounter, but that's more of a linear style of game. How do mesh that intense push-forward combat that id Software is known for with the amount of down-time that you get when traversing an open world?
Whereas Doom was definitely push-forward, we are more like, "combat is offence and defence". So because there is more freedom to attack your enemies from any direction, we had to balance the weapons and of course balance the rewards. We do reward you for getting in fast, but that's not how you have to play.
We have some people that play the Eden Park area [that's been shown off in trailers and E3 gameplay], and just snipe everybody and never go into the barricades. So we have to adjust our AI. We have some AI that will just rush you, and the Goon Squad are more rushers than some of the other factions.
So we build that in to encourage you to get into that fight. But then we have some guys that are like "nah, I'm gonna shoot from back here, and if you want to kill me, you have to come into me". It's a combination of rewarding the player, the AI, of course the weapons and then the environments.
Well it must be hard to balance an open world game full-stop, right? Was there a temptation to try and funnel people one way or another?
That is really hard to do, and I've learned from these guys [at Avalanche Studios].
Our goal for Rage 2 is that we didn't want to make you feel underpowered from the beginning. We've always wanted you to be the toughest guy in the world - this is your power fantasy. We initially wanted to make all the weapons cool, and then more awesome - you will become very, very powerful. We do have some challenges for you, but it's a heck of a lot of fun too.
Can you tell me a bit more about your partnership with Avalanche Studios? Do you both work on one thing at the same time, or go separately and push it together at the end?
There are major sections of the game that we work on together. One of our first big goals was to make it feel like an id Software game, so we were able to bring some experts in based on where we are in our development of some other things. We were able to bring in some gameplay guys, some animators, some gun experts.
We kind of push and pull with different disciplines until we have major sections of the game working, and that was one of our goals. Once we got that, we went out and tested it.
The biggest challenge for us were the Nanotrite abilities. It was actually one of the guys [at Avalanche] that came up with the great idea to use one of the shoulder buttons as a modifier, which allowed us to combo them. That changed everything.
I really cannot stress this enough that this is a good collaboration. Yes, we are the first-person experts, but the thing that made this all possible was a guy here. It just kind of works out.
id Software has always pushed the boundaries in terms of visuals for its games, are there any headline technologies that you're trying to incorporate in Rage 2?
The Apex engine that Avalanche has developed is more advanced than the previous title's, which does allow us to create more variety in indoor environments. That's helped us to build environments that are very classic id style.
This is an evolved Apex technology, id Software create games that are very detailed and deep, and Avalanche create games that are very broad, so this is a great combination of that fine-crafted moment-to-moment detail of an id game, and the broad depth of an Avalanche game.
Was there something specific that you saw in Avalanche's back-catalogue that made you say, "these are the people we need to work with"?
Yes, the physics-based emergent gameplay. We've all seen the clips from the Just Cause series and I love the fact that my kid has spend a zillion hours playing Just Cause 3. And I'm like, "I want to make a game that you play for that long".
The distraction factor is very high with Rage 2. Because we're in a sci-fi fantasy world that isn't limited by franchises or restrictive IPs, we were able to create unique environments, unique characters, AI, and weapons that really give a high distraction factor. You will be playing this game for a long time - you'll be surprised.
Why did you choose to come back to Rage?
If you've got the id Software portfolio, we do each of these games really well. You've got of course Doom, you've got Wolfenstein with our work with MachineGames, you have Quake Champions.
This is our open world action shooter with a different style and different gameplay, and it really fills the portfolio nicely. Rage was very popular and there were lots of people that really enjoyed it, and it was a perfect game to come back to now that we can deliver on the promise of what we wanted to do.
This time it looks like your adding more colour and attitude to Rage 2, was it another limitation of the technology of the time that you couldn't in the first game?
We do have some deserts and sand in Rage 2, but the technology has let us create environments with water and vegetation, and then because it's sci-fi and the biomes dropped in from space we have some different kinds of vegetation. That post-post-apocalyptic feel fed into the character design, fed into the marketing design, fed into the colours.
We just wanted it to be fun, it has a unique personality and it has that attitude that really sets itself apart other games and sets itself apart from other id games.
If you've never played the original, that's fine, because this is a unique game all to itself.
How are you trying to avoid open world fatigue?
The biomes make a big difference with that. Because you're not driving around in the same area - like we have the overgrown city, which is really cool - so you really get a unique take on the world and it feels different.
And when you acquire your Nanatrite abilities, you'll actually play differently. When you get to the Eden Space Port through the normal course of play, you may have just Dash, or you may have all the abilities. That actually helps to mix it up a bit as well.
You've mentioned that the distraction factor is quite high, does that mean that there are a lot of side quests and characters that you can meet that're unrelated to the main story?
I don't like to say side missions because it's such an old term, but there are activities that you can do that basically earn you rewards that help you with your own progression, or weapon and item progression. They also kind of support main characters.
If you take out a convoy, you'll earn some rewards for that, and you can also affect an area so different merchants will come in and sell different things.
But when I say distraction factor, I mean that there's a bandit settlement with a jump at the very top of it, and I just keep driving up it and think, "oh, I'm going to try that again". Then I realise I've blown like two hours and I actually need to do some work.
It's those kind of things that'll keep you playing for a long time. It's more gameplay focussed, just because that's the nature of it. If you've played any of the other games Avalanche has made, it's more gameplay focussed.
I wouldn't be doing my job if I didn't ask this: Hypothetically, from a technical point-of-view, it's not possible to get a game like Rage 2 onto the Nintendo Switch is it?
The Switch is pretty impressive - we got Doom on it. People were like, "that's never gonna happen".
But we'll just have to wait and see. We're looking at it.