Rage 2 is going to blow your fucking head off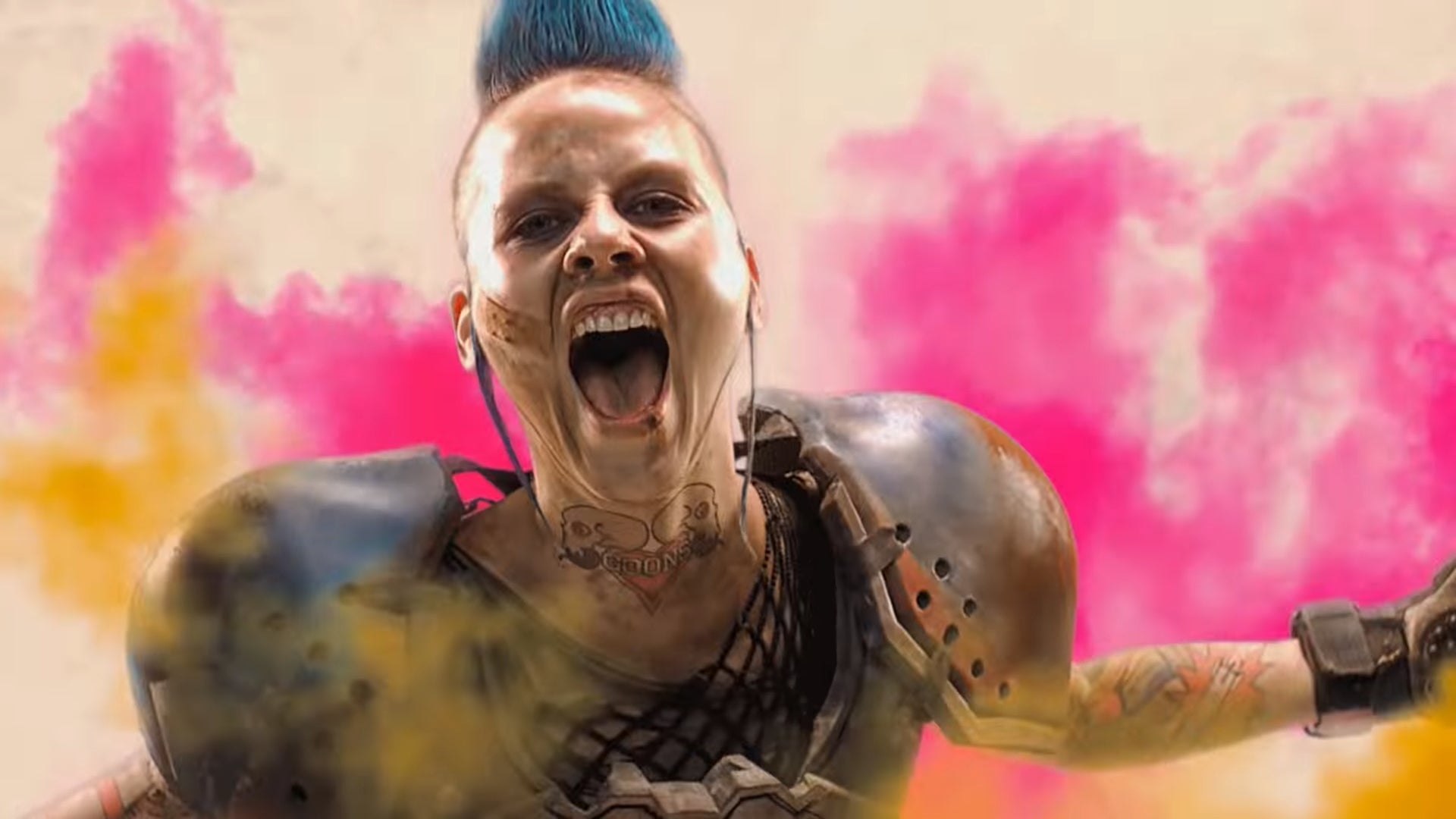 On paper, Rage 2 should be amazing: Avalanche's open-world, driving, and explosions mixed with decades of shooting expertise from id Software - yes please.
The thing is, the first Rage was a bit of a mess. I never got around to finishing it because life is too short to complete games I'm not enjoying - especially games that are relentlessly brown and set in a generic post-apocalyptic world.
Still, speak to anyone who has finished Rage and most of them will tell you it gets really good towards the end. It's one of those games - a flash of promise, but front-loaded with bullshit. That's why I had my concerns about this sequel.
During a recent hands-on at E3, however, all my doubts were blown away along with the facial features of a mohawk-sporting raider. You just have to get your hands on the game's shotgun and you're sold.
Rage 2 has the best gunfeel I've experienced. Every shot rips through enemies and sends their bodies flying as the audio blasts out your eardrums and your weapon kicks like Anderson Silva.
It's not just the guns, though. The powers you combine them with make you feel like John Wick after a meeting with Dishonored's Outsider. The thing that really sets it apart is a single movement ability that feels straight out of Overwatch - the ability to do a Tracer-like dash in any direction.
The dash so fast it's almost a teleport, and it can get you in and out of conflict in a flash. You can zip up to an enemy, blast their kneecaps off, zip left and immediately crouch behind a barrel, switch to the assault rifle, pop some melons, then charge back into the fray.
It feels frenetic and relentless, empowering you to chain together abilities and equipment in a way that allows you to murder multiple people at the same time. It's a beautiful, bloody dance.
During one fight, I find myself on a balcony looking down at a hall full of enemies. I leap over the railing and ground pound between them, killing a couple and sending the rest scattering. When I recover, I am exposed to fire from all sides as more goons rush in from above, from side corridors, all around me.
I zip back up the stairs, wheeling around halfway to toss a grenade into the raiders who are trying to get back to their feet. Another zip as a chunk of flesh slams against the wall next to me - the grenade did its job.
Now there is a raider in front of me and one across the other side of the balcony, so I sprint and throw my wingstick at the guy across the room. As it whirs into his face, spitting out gore, I slide on my knees, pull out my shotgun, and blow the legs off the enemy in front with a single, point-blank shot.
Around five enemies remain, but I've powered up my Rage meter. I squeeze the buffers together and my avatar screams, time slows, and my gun becomes even more murderous. I spin like a deadly, lead-spitting ballet dancer, and every round of my assault rifle sends someone careening through the air.
When my Rage is gone, so is every lifesign in the room. All that is left is me, the dust, and the meat of everyone silly enough to take me on.
It is hard to put into words how good this game feels. I have no concerns over whether the shooting will remain satisfying across the course of the game - it will - so all that remains is the driving and the quest variety.
I didn't get to sample the driving during the short demo, but Rage 2 could be an all-timer if Avalanche get it right. The trailers don't do it justice, my writing isn't doing it justice - you have to play it to believe. Rage 2 is going to blow people's heads off.