Hands-on with Rage 2: Colourful carnage in post-post-apocalyptia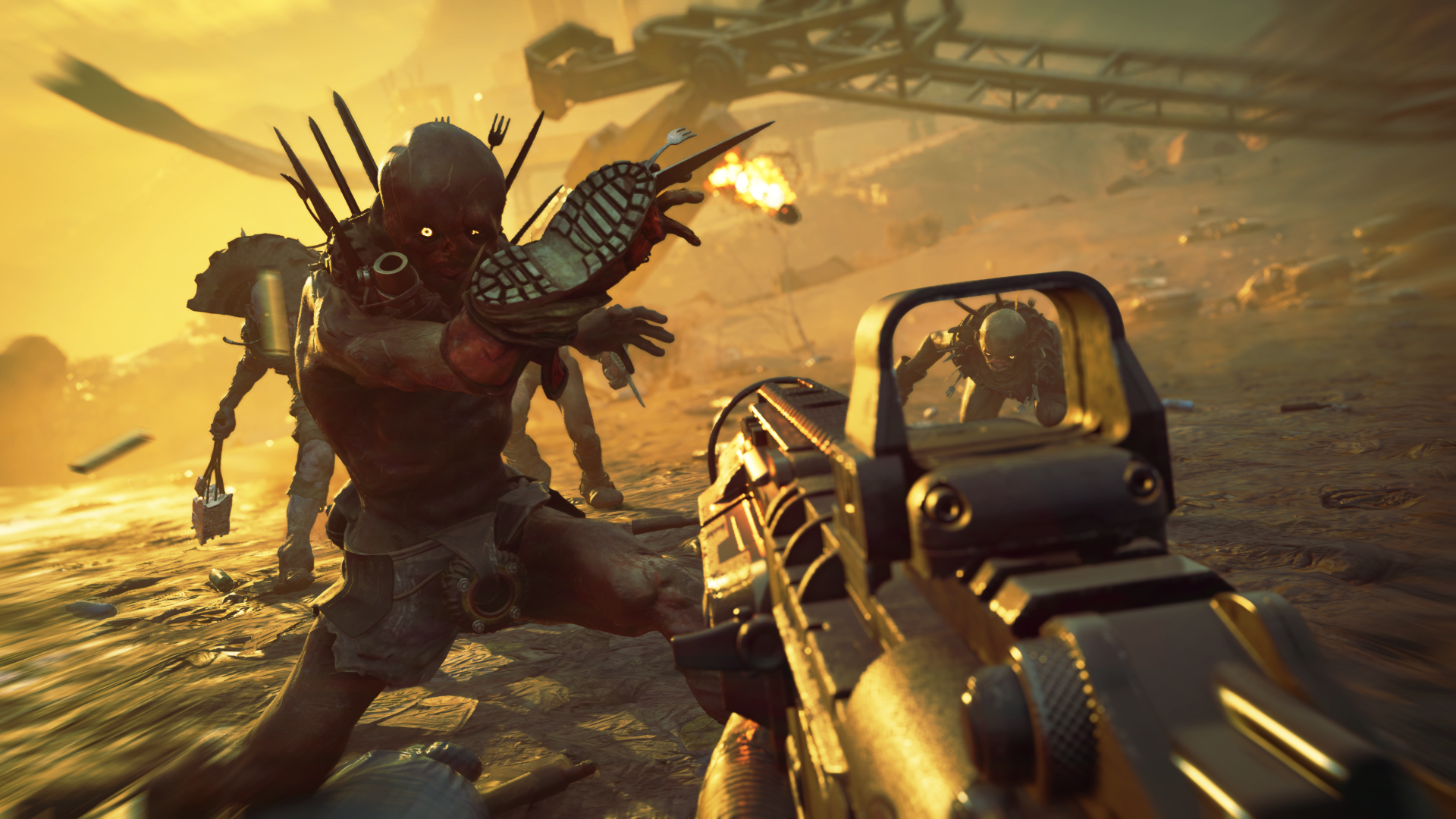 On my first run through our recent hands-on demo with Rage 2 at Avalanche Studios in Stockholm, I cautiously approach the parking lot of a ruined space laboratory and scan the dilapidated landscape for enemies. Spying a dozen toughs from the anarchic Goon Squad faction - all mohawks and shoulder pads - I bank behind cover and line up a shot to start the fray.
By the fifth time through the demo, I'm just blowing stuff up for the fun of it.
You see, although the first Rage boasted tight shooting and powerful weaponry, Rage 2's addition of superhuman Nanotrite abilities are a game-changer that up the power level of your player-character considerably, and go a long way towards turning them into the Arkist badass they're billed as.
The best toy we get to play with is Slam, a shockwave-inducing ground-pound that sends bad guys flying with a satisfying thunk. It's awesome for crowd control, and when paired with Shatter - a forward-facing melee that splatters anyone in your path - provides a big incentive to get up-close-and-personal when you're brawling with the "post-post-apocalyptic" denizens of Rage 2.
The new powers mean things feel quite a lot like the 2016 Doom. Rage 2 isn't a game where you're meticulously plotting a battleplan and scrapping for every hard-fought victory - that's not to say it's too easy; your enemies are strong, but you've got a number of equally strong tools in your arsenal to take them down. Your character's movement isn't as slippery along the ground as DoomGuy either, but the twitchy motion-blur as you look around makes it look remarkably similar.
That might sound like a given, but Rage 2 is built using Avalanche Studios' proprietary Apex engine rather than id tech 6, and it's testament to the two studio's close partnership on the game that you might not be able to tell from a glance.
When you're fighting in first-person, this looks and feels like an id shooter - full of intense action that pushes you forward to the next encounter. Whether that'll translate well to an open-world setting where you'll have to travel large distances between objectives remains to be seen, but in more enclosed spaces it's a tried, tested, and engrossing formula.
In the demo, once the exterior's clear I venture inside the lab on the instructions of Dr Kvasir - a turncoat Authority scientist returning from the first Rage - and meet another old friend: the Wingstick. Rage's signature weapon, a deadly combination of boomerang and ninja death star, is as effective as ever, tearing chunks out of anyone unlucky enough to have one come their way. More conventional weapons, like assault rifles and shotguns, are as chunky as you'd expect from id, discharging with heft and noticeable recoil.
As I climb the floors of the lab building, the good doctor sorts out the security access I'll need to get to where I'm going. Not one for subtlety, he opts for Presidential level clearance. "President - I like the sound of that", my character quips as he unlocks a sealed door with his palmprint.
That's another big change from the first Rage: your character talks. One of the most common criticisms of that game was that the story felt a little flat throughout - let alone the anticlimactic cliffhanger ending. To try and combat this, id and Avalanche have chosen to go with a voiced protagonist.
Set 30 years after the events of the first game, you play as Walker, the last Vineland Ranger, forced to strike out into the wasteland after the destruction of his home at the hands of a mysterious mutant force. The story itself is supposed to answer any questions that you had at the end of the original, but be non-linear as well, so you'll be able to meet characters and progress in your own way. What we heard of the voice-acting was solid, with a nice interplay between Dr Kvasir's over-the-top sci-fi scientist and Walker's more down-to-earth tone.
On this front, the similarities with another big Bethesda franchise are pretty apparent. Fallout 4 made the move to a voiced protagonist for the first time in the series back in 2015, with largely positive results. It certainly helped to give the main character a more defined personality and stronger presence at the centre of the story - but at the expense of some of the game's role-playing potential. From this early demo, it looks like that very well might be the case here too.
Rage always had its fair share of silly moments - from sad robot hands to rotating knife gorillas - but this commitment to telling a stronger story is at least an effort to breathe personality into the sequel's entire world, so the funny bits aren't just punctuation points between samey brown environments. You get a sense of this from enemy banter as you sneak up on them: "My next tattoo!" a Goon exclaims, pointing to some graffiti on a wall before he notices the grenade I've rolled onto his boot. But there's more to it than that. They didn't feature in the demo we played, but Rage 2 will feature a greater diversity of biomes than the first game - thanks to an early plot point where material falls from space to re-fertilise Earth. All of this comes together to mean that, as the first reveal trailers alluded to, this latest instalment will be much more colourful that the first: both in terms of palette and personality.
While this demo has given us plenty to chew over before we hear more, it didn't shed much light on two of the key cornerstones of Rage 2: the driving and open world. Tim Willits, id Software studio director, has said that he wants to be the kind of game that you can pick up and play for a long time, so how these mechanics fit with the core shooting has to potential to make or break the whole experience. But as foundations go, Avalance and id have laid some strong ones for Rage 2.
For more more on how id Software are realising the ambition of the first Rage with the sequel, check out our full interview with Tim Willets.