Quantum Break hits Xbox One in 2015, watch the new trailer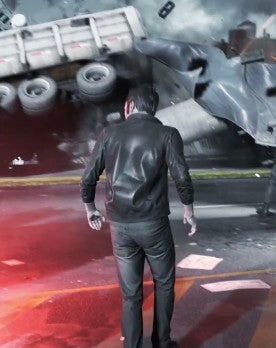 Quantum Break developer Remedy Entertainment has confirmed that its Xbox One shooter will hit Microsoft's console in 2015. There's also a new gameplay trailer and screens to look at with your eyes.
Remedy's Sam Lake has also confirmed that Quantum Break will see a full reveal at gamescom this August. The clip above shows several gun battles and environments, as well as time powers and some climbing sections.
In the trailer, Lake said, "The game is about heroes. The show is about villains. In the game, you play Jack Joyce in a desperate fight to stop the fracture that threatens to cause the end of time.
"In the show, in the style of an edgy modern TV series, you follow the schemes and power play inside Monarch, the corporation that's Jack's main enemy."
Lake re-iterated that Quantum Break will run parallel to the game's live-action TV show, which he called, "top of the line."
We'll have more on Quantum Break soon. Stay tuned.
Via Polygon.