PUBG update 23.1 brings customizable emote wheel, ability to test Name Change item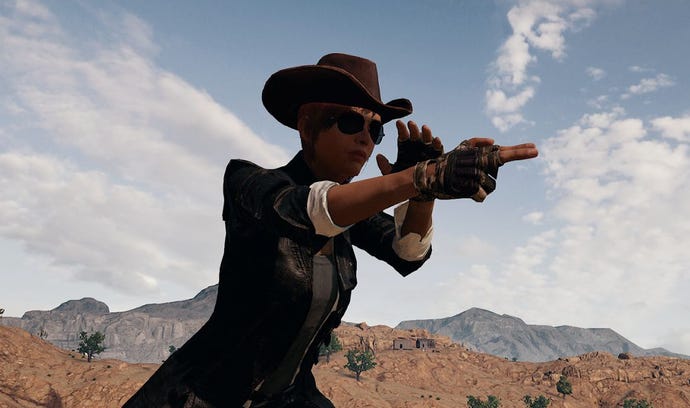 A patch to fix bugs along with apply updates to the emote system has been released for PUBG.
The most recent PUBG update to patch 23 also introduces a new customizable emote wheel and three new emotes.
A new Name Change item is also being tested ahead of its addition to the online store. Players who wish to change their test server name and test the item can use the free pass received by logging in on the test server.
Full patch notes for PUBG update 23.1 are below.
PUBG PC 1.0 Update 23.1

General
For technical testing purposes during this test server period, players will receive a name change item through the Player Care Package upon login.

This item is only available on the test server and will be distributed until Nov 20, 6pm PST / Nov 21, 3am CET / Nov 21, 11am KST.
UI/UX
Improved the in-game emote system.

Added an 'Emote' tab in the 'Customize' menu.
You can add/remove emotes you own to the Emote menu for use in game.
You can also see animations of the emotes you've selected on the character to the right of the screen.
You can have up to 12 emotes active at a time.

Improved item visibility when you equip items on the Appearance menu.

When you select an item in the Appearance tab, equipped items will now be hidden from the character in order to show the selected item clearly.
Skins & Item
You can purchase various emotes from the store using BP.

Three new emotes are currently available: 'AIR GUITAR', 'DRAW!', 'ZAPPED'
Bug Fixes
Fixed an issue where pressing ESC while leaning would maintain the leaning stance.
Fixed an issue where sometimes a character would be shown as under the ground with only their face showing while waiting in specific areas before the game starts.
Fixed an issue where helmet skins applied in the lobby are sometimes delayed from appearing on looted in-game helmets.
Fixed an issue where characters can't pick up a dropped melee weapon again after dropping it on specific stairs in Erangel.
Fixed an issue where grenades would sometimes damage an incorrect area.
Hot Fixes
These hotfixes have been applied to the live server.
Fixed an issue where the voice channel shown was not the active one.
Fixed an issue where character model was shown as the opposite gender in the store preview screen.
Fixed an issue causing a game crash when other players pick up an item while you are picking up same item with specific amounts.