Since we never got a live-action trailer for PUBG in the West, here's the Chinese trailer for the mobile version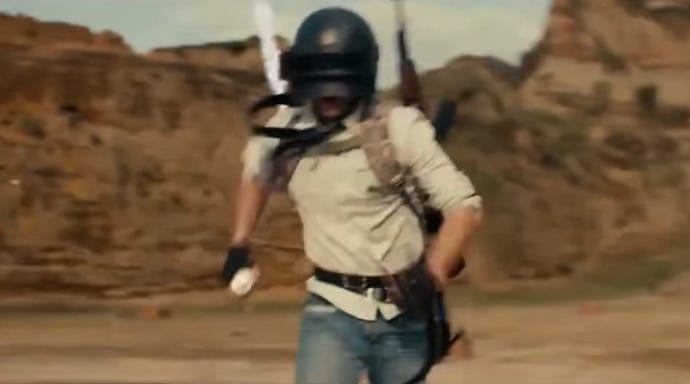 The situations PlayerUnknown's Battlegrounds players find themselves in every match, and the setup for battle royale itself, can work really well in a live-action format.
Although the idea of bringing PUBG to the world of live-action has yet to be explored in the West, whether in trailers or in a feature-length movie (save for some parody, fan-made videos), China is already ahead of the pack with its own take.
To celebrate the launch of the China-only PUBG mobile off-shoots, publisher Tencent produced a live-action recreation of a typical PUBG match.
It starts at the top, with players looking at the map and deciding where to land, before proceeding to fight and kill their first opponent using pistols/shotguns. As the number of survivors dwindles, remaining players become more geared up and the battle takes a more tactical turn. Even crate rushes and the damn Corn Field Campers are shown.
The whole thing is in Chinese, for obvious reasons, but you don't need to speak the language to understand what's going on.
The filmmakers also show good attention to detail, and the PUBG visual identity is intact. You'll see it in the default parachute colour, the costumes, the helmet designs, and in the vehicle and weapon sound effects. Even the almighty pan blocked a few bullets and saved someone.
Here it is below, via PinoyGameStore.