How can the trophies system evolve for the PlayStation 5?

"A lot has changed since the launch of the PS4. Prior to it, we were a small platoon-sized niche community. I wasn't even a content creator yet. Now, we're a division sized army looking to charge straight into the next generation with a whole lot of expectations and I'm hoping PS5 is ready for me."
These are the words of Brian English, who runs the ever popular YouTube channel originally known as PS4Trophies. Nowadays, it's known as PS5Trophies, signaling the excitement that lies on the horizon for the new iteration of Sony's flagship console. For many, trophies are a simple reward for the accomplishments gained across their gaming careers. Whether it's peeping up a skirt in Lollipop Chainsaw or watching the loveable Trico shit everywhere in The Last Guardian, these are all done in the name of pursuing that sweet 'ding' as the trophy unlocks.
For the last seven years, English has worked effortlessly to ensure the passion that keeps us up until sunrise chasing meaningless collectibles to further our digital collection; by dropping carefully curated trophy guides, walkthroughs and a plethora of top ten countdowns focused on trophy lists. It's from someone who understands, supports and advocates the love people wholeheartedly pour into chasing PlayStation trophies. Brian has built a community of people who rally behind him.
"The brand loyalty trophy hunters have is astonishing," says English. "These achievement systems are put in place to create that, to keep you on that platform. Games with fun trophy lists reign supreme within the community but there are many layers to that. Casual trophy hunters will platinum their favorite game, no question. On the other end of the scale you will have hardcore trophy hunters who might look for the cheapest or quickest trophy sets and don't even care about the game. While some people will simply challenge themselves with historically difficult trophy lists."
It's clear that the community is built upon people wanting to achieve different goals. But one thing remains clear, they're all after the same end result - trophies. With the PlayStation 5 rapidly approaching, how the trophy system will evolve with the hardware is a key question for English and the community, all with their own ideas they want to push to the forefront. But it all starts with looking back at how this generation got it right.
One of English's highlights this generation was the highly regarded iteration of Marvel's Spider-Man by Insomniac Games. "It may be the most important trophy game during the PS4 generation," he states. "It checks all the boxes; it's a first party game, it was very successful and it was very easy to platinum. This stands out because it gave many people their first taste of the trophy hunting life, some of whom have stuck with it." This rings true, with Spider-Man boasting the highest percentage rate of people who have web-swung in with a platinum for a first party exclusive title.
Perhaps one of the finest examples of how well utilised the system can be implemented was by the unique use championed by Bend Studio's Days Gone. "This is an example of a trophy list that was carefully thought out by lead open world designer, Eric Jensen, and his team. They thought of everything including the screenshot capture moments and a wonderful trophy menu in the game. The littlest of things can really make a big difference," adds English.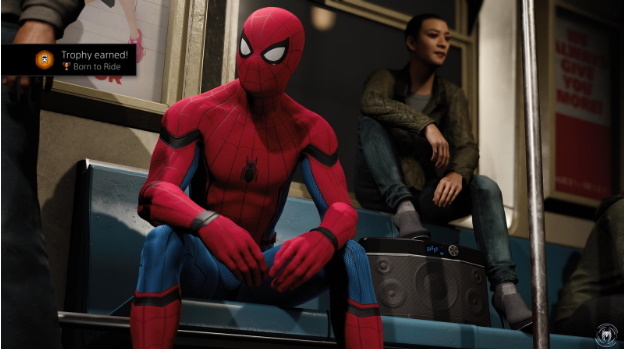 The screenshot moment in question is a wonderfully inventive feature. Players will notice that their games snap a screenshot of the precise moment they've unlocked a trophy. Our galleries are often a game of 'Who's Who?' as each screenshots bare no resemblance to the trophy it's associated with. Eric Jensen purposely scripted all of Days Gone moments to capture beautiful moments that players will remember for years to come.
There's a clear indication of what the community is yearning for in the next iteration. Accompanying this is how the community wishes to use ideas represented on other systems. Xbox also invites players to unlock achievements within their games. Microsoft was originally the leaders for this feature, which other companies such as Sony and Valve's Steam took upon themselves to mimic with their own spin.
"There's only a very few differences between the two platforms but they are big," English says. "The Xbox One does have a nifty feature where it will track progress towards an achievement. For example, if you need 100 melee kills, an Xbox player can easily see exactly how many they have left until they've completed it. I'm very jealous of that feature as I'm always afraid it's not tracking properly."
Despite this, English feels that the platinum trophy offers an edge that Xbox doesn't quite hold. "The PlayStation trophy system does have the beloved platinum trophy that requires you to earn all the bronze, silver and gold ones in the game first. It's basically a symbol that you have 'mastered' the game. It's that final moment of closure that doesn't come with (Xbox) achievements," says English. "Having that platinum incentivises you to fight for those last couple of tough trophies whereas it could be easier to stop short of 100 percent on Xbox because it doesn't have that carrot at the end of the stick. There's something about that final platinum moment, like punching a time clock at the end of a very long shift. It just feels good."
It's this extra satisfaction that keeps the community coming back for more and actively using English's content as a means to achieve the full completion for their favourite games. It's a community that embraces all console lines, living outside the walls of console wars. "As far as I'm concerned, trophy and achievement hunters are part of the same community," says English. "We're after the same goals, with the same struggles and in mostly the same games. At least 10 percent of my audience play on Xbox and I love it. There is nothing but mutual respect across party lines these days. We all want the same things. It's actually kind of beautiful."
So how can developers and Sony take all this and build upon it? There's many ideas that English and the community would love to see companies infuse in the future. "For me, I appreciate when a developer really puts extra thought into it," he says. "It's really easy for me to determine if they cared or were just doing it because it's required. I see more and more developers getting creative and understanding the value of the trophy system, even how it impacts overall sales. There's people who make their purchase decisions based on the trophy list. They see if it looks fun or tedious. Will it take a few days or a month? This is all before they even look at a trailer, if they even look at one at all. The only question is what will PlayStation give us?"
Brian posed this question to his community on Twitter, with many quick to put their interesting takes on how the system should evolve. "On the platform level, one of the most requested things is leaderboards, both global and for each individual game," details English. "There's also a desire to delete lists even if you have up to 5 or 10 percent (currently you can only delete lists at zero percent). And of course, there's the ever popular, 'please remove online multiplayer trophies' movement." The community has ideas pouring in by the bucket load and are actively hoping Sony will actively incorporate some to the new console.
English dreams bigger though. He would love more ways to interact with all the accomplishments he's worked so hard to achieve. "I desire something more ambitious," he says. "I want a system that feels up front and center. I suppose in my little dream world I'd want a full blown app that gives me stats, similar to third-party sites like PSNProfiles which uses data that PlayStation provides it."
"In this app, I would want a virtual trophy case where I can see all my trophies (maybe some virtual VR option) with proper filtering options. Also leaderboards, but track who was first, who was quickest and to be able to compare that against the world, your country or just your friends. I would love PlayStation to lean into the social aspects of trophy hunting more. Anything that brings the community together," he says.
One common thread through everything Brian has created is the sense of community he has built. With a wide array of people engaged, discussing and coming together over their common love of trophies. Whether this be on Twitter, through English's regular streams or embracing the content he puts out there on a daily basis, it's something he's actively campaigning to transition over to the new consoles and build upon its foundations.
"As long as PlayStation gives us the tools, the whole community will drive the trophy system and perhaps evolve it into something better." English adds. "Something we are going to start seeing more of is trophy hunters and achievement hunters working on their lists together now that cross platform play is starting to catch on."
It's this sense of coming together that has English and thousands of others excited for the coming generation. While game developers and industry officials will work hard to deliver compelling, rewarding lists to embrace, English and the community will continue to support the growth with love and acceptance. Whether any of these changes or enhancements will see the light of day when the PlayStation 5 arrives in homes is yet to be seen, but you can remain confident that content creators such as Brian will continue to funnel their love into YouTube channels and varying other guides to assist, motivate and encourage others to follow their passion.
One thing English really wants though: "My absolutely craziest dream is that I want a trophy hunting esports league."