PS5 exclusive Destruction AllStars delivers immediate thrills but severely lacks content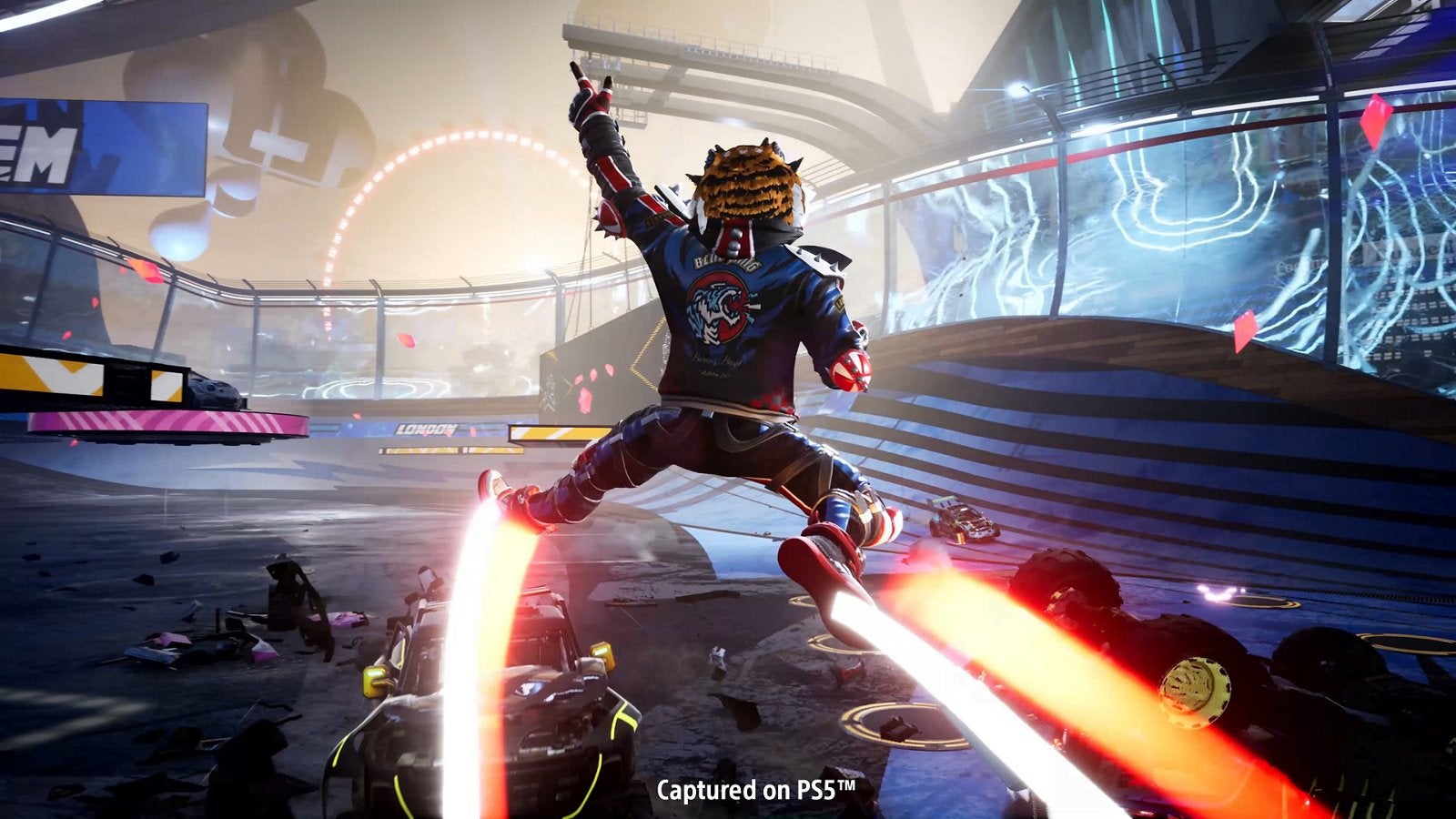 When the unlockables are just varying colours of the same outfit and some emotes, there's little to drive prolonged play.
Destruction AllStars, the latest PS5 exclusive, arrived on PS Plus at the start of February and it's undoubtedly a fun time. Smashing a car into other cars has been a jolly good throughout numerous console generations, so the fact it's still capable of getting those endorphins into your brain is no surprise. Somewhat surprising is how well the mixture of car combat and on-foot gameplay work alongside each other, which gives AllStars a neat twist on the arena-based car combat genre. So why do I already feel like I'm not driven to keep playing Lucid's first next-gen title? There's just not enough content or unlockables.
Core to Destruction AllStars are the dual gameplay systems of on-foot running and jumping, and the in-car smashing. While on foot your character is pretty nimble, able to run, jump, climb, and wall-run around arenas. By collecting shards, which can only be obtained by playing bipedally, you build up a Breaker meter and Hero Vehicle meter - although you can also build these meters while hitting other cars with your car. The Breaker will let you unleash a power boost to your on-foot character, unlocking a temporarily available special ability, double jump and speed boost. The Hero Vehicle meter lets you materialise your character's special vehicle (rather than the generic ones found in the arena), which comes with its own special ability. With 16 well designed characters each with their own unique vehicle, this is one area where the game doesn't feel lacking.
The action on foot is perfectly serviceable, but feels more like a means to an end, whereas the car combat is the real meat. With a nod to classic Xbox 360/PS3 era car game Wheelman, you can use the right stick of the DualSense to ram your vehicle forward or to the side, and thanks to these moves having a recharge time you can't spam the attacks - timing is crucial. Wrecking other player vehicles is the core goal, although depending on the game mode you might also need to drop gear tokens off to score points.
In teams of eight players there are two game modes: Carnado sees you earning gears by attacking opponents before depositing them in a central tornado zone, and Stockpile has a similar gear collection mechanic but the gears are released when cars are wrecked and can only be picked up on foot to then be carried to banks. Of the two Stockpile is the more interesting, with its banking mechanic making the best use of the game's dual gameplay styles.
For solo players there are two additional game modes: Mayhem is more of a simple hits-mean-points type destruction derby round, while Gridfall is a last person standing event where the arena floor gradually falls away. Gridfall has so far offered the most thrills, although as with all the modes it could do with more arenas to choose from.
For want of a more cultured turn of phrase, the gameplay in Destruction AllStars is good, simple fun. It's not especially clever, and I'm yet to determine if there's any real depth to the carnage, but I'm having a good time. Yet I'm not feeling the pull to keep playing. Currently Destruction AllStars is severely lacking in the very thing that keeps multiplayer games like this alive: unlockable gear.
Costumes are a key part of a game's unlockable items arsenal, yet here they are limited to colour changes. You can't unlock new bits of kit to dress up your character with, and other customisation items are limited to emotes and shouts. Most of these can at least be bought using in-game earned currency, but a small number are tied to the single-player Challenge Series events, where currently two of the three cost real money. It's unclear if eventually every character will get their own set of events or if all future additions will cost money to unlock.
There's obviously a chance this kind of content will come, alongside, I hope, more arenas and game modes (I'd like some circuits to be trialled alongside a racing mode), but at the moment it all feels rather slight. There's a definite sense that it's still early days for AllStars. Other slight irritants are lengthy waits for matchmaking to finish (something especially annoying if you go out early in Gridfall) and some sluggish performance when a lot of cars are crashing into each other on-screen at once. The former is something I hope can be resolved as a priority.
Being part of PS Plus will no doubt give Destruction AllStars a sizable audience it simply wouldn't have managed had it released as a $60/$70 title, but keeping that audience engaged will be the tricky part. There's only so much time I'm willing to invest in the game while it doesn't give me much in return.
Destruction AllStars is out now exclusively for PS5 and is part of the PS Plus line-up until April 5, 2021. A PlayStation Plus membership to play the game was provided by the publisher, Sony.