These are some of our recommended PS4, Xbox One and Switch console deals on sale right now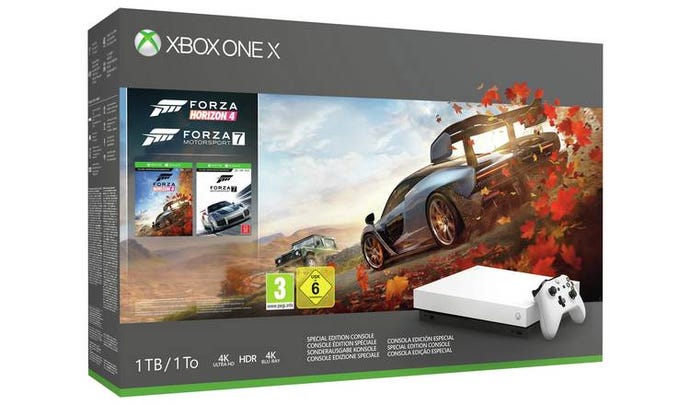 Finding the right console bundle can sometimes be a real struggle, what with the multitude of options available at once. To help you navigate some of that chaos, though, we've put together a selection of some of the best PS4, Xbox One and Nintendo Switch console bundles available to buy at this very minute.
We're starting things off with the Switch. A refurbished Nintendo Switch Grey console for £224.99 from the Argos eBay outlet is undoubtedly an excellent bargain – the only issue we have with this one is that stock appears to be fluctuating. If you can grab one, though, that's a great deal. And it comes with a 12-month guarantee included to give you some peace of mind, too.
If you're looking for a brand new console, one good possibility is this Neon Red/Blue Nintendo Switch with Super Mario Odyssey for £299.99 at AO.com. As a way to start off your Switch library, you can't really get much better than Mario's latest journey. Then, soon enough, your SD card will be filled to the brim with terrific eShop releases too.
Elsewhere, we've tracked down the best Xbox One X deal over at Argos. Head there and you can zoom away with an Xbox One X 1TB with Forza Horizon 4 and Forza Motorsport 7 for only £379.99.
For a less powerful model that also doesn't involve an overwhelming number of cars, an Xbox One S 1TB is available with The Division 2, one month Xbox Live Game Pass and one month Xbox Live Gold for £239.
Last but not least, the PS4 deals. We're not exactly ready to belt these offers out from the rooftops, but GAME does have a few decent bundles up for grabs. One you might want to consider is this 1TB PS4 with Days Gone, The Evil Within 2, The Division 2 and South Park: The Fractured But Whole for £309.99. In terms of value alone that is a very strong offer. You can swap Days Gone for Spider-Man if you'd prefer too!
A 500GB PS4 with Red Dead Redemption 2 for £250 or a PS4 Pro for £350 is also still available from many retailers, should that be more to your tastes. If you're thinking of holding off on buying a PS4 because of all the PS5 news that's been bouncing around lately, know that you'll be waiting until late 2020 at best estimate.
If nothing here quite fits what you're after please do keep an eye on Jelly Deals where you can find all the latest console offers as and when we spot them!