Preliminary list of developers for gamescom 2014 revealed - report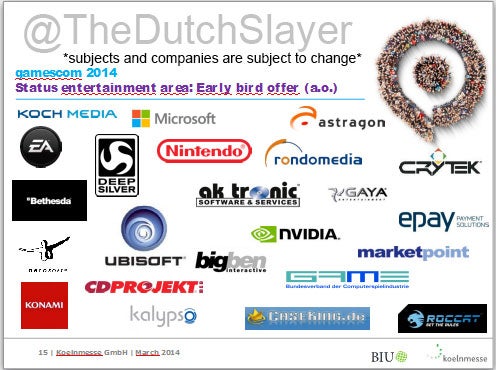 Gamescom 2014 isn't until August, but it looks as through the first meetings have started taking place, according to someone familiar with the event, and the preliminary list of developers has been outed.
According to a post on NeoGAF, Ubisoft, CD Projekt RED, Deep Silver and other annual attendees are listed.
Nintendo, Bethesda, Microsoft and Konami are also noted in the logo image, as well as Crytek and Kalypso.
"Just got back from our first gamescom 2014 meeting, and we got a first early confirmations from a few of the attendees," notes industry insider The Dutch Slayer who has been spot on with information many times in the past.
"No other source because I'm the source, and please keep in mind that companies can always be subject to change in the future."
Gamescom 2014 August 13-17, and will open to the public on August 17.
As usual, VG247 will be attending to bring you all the news from the event.