Portal: Uncooperative Cake Acquisition board game revealed, coming Q4 2014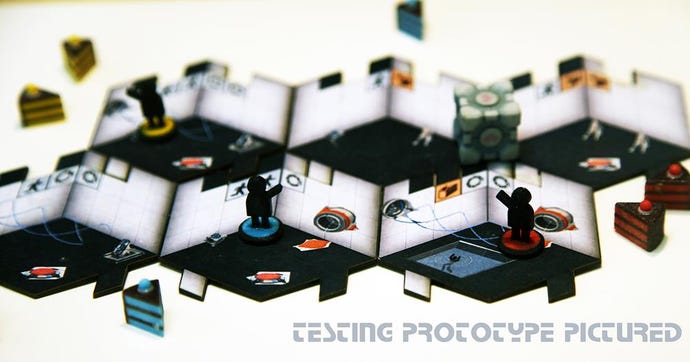 Portal: Uncooperative Cake Acquisition Game is the board game based on Valve's first-person puzzler, and although it's being published by Cryptozoic Entertainment, the game was actually designed by Valve itself.
It follows my hands-on write up of the BioShock Infinite: Siege of Columbia board game.
Polygon reports that the board game concept was created by the same team behind both Portal games and its predecessor Narbacular Drop. A member of that original team, Jeep Barnett, told the site, "In general there's been two to three people actively working on it at a time, but in total about a dozen people have been involved."
The game's working title is Portal: Uncooperative Cake Acquisition Game, and it's a strategic affair for up to four people that sees test subjects completing objectives around the Aperture Laboratories facility. It can even be played co-operatively as players attempt to wipe out another person's test subjects.
Barnett added, "From the very first prototype, the core mechanic struck us as unique and compelling. As it evolved, it survived our rigorous process of external playtesting and iteration. This is the first that we're sure meets the quality bar that customers expect from Valve."
Publisher Cryptozoic was approached by Valve in early 2013, which is now adding final polish to the project.
It's due late in Q4, 2014. Are you tempted?