Pokemon Sun & Moon Walkthrough Part 1: Setting off for adventure & getting your first Pokemon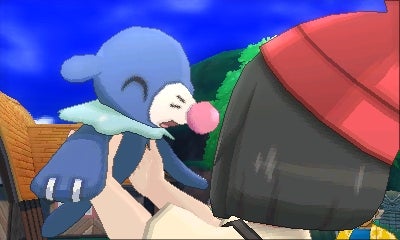 Getting started in Alola.
So you've just moved to Alola. Welcome! Some of you might be familiar with the world of Pokemon intimately, some might be lapsed trainers and some might be all new. All will do pretty well here - Alola is a welcoming and fun place to be.
This walkthrough is going to keep things simple. We're not going to write out detailed strings of endless prose telling you where to walk and what to press point-to-point. Instead we're going to streamline things down: we'll talk instead about each area of Pokemon Sun & Moon you'll encounter, listing off the Pokemon that can be caught there, items that can be found there and so on.
First, however, we have to get through the tutorial and get to the game's all-important major first choice: which starting Pokemon to choose. So our walkthrough is complete, here's a little about that.
Starting a new game - plus how to delete your save and restart
When you start the game you'll be greeted by Professor Kukui. As part of this process you'll choose a basic look for your character, though don't fret over this too much. You can change your clothes, eye colour, hair style, hair colour and the like in the game proper. You can't change your name, skin complexion or gender, so pick those wisely.
If you've already started playing and find yourself needing to reset Pokemon Sun & Moon, you can do so by pressing Up, B and X simultaneously on the title screen. This will delete your previous save entirely - as is traditional for these games, Pokemon Sun & Moon are limited to one save per copy of the game.
Iki Town - First steps in Alola
The first steps of the game are pretty simple, all told. You really don't need to have us tell you what to do. Here are the basic steps:
Meet Professor Kukui in person
Go upstairs to get your bag and other gear
Follow the professor to Iki Town
Explore the town, heading north to see a mysterious blonde girl. Follow her.
Watch the story sequences and then head back to town to recieve your starter Pokemon, Pokedex and Trainer Passport
Battle your new friend Hau in your very first Pokemon Battle.
Which starter Pokemon should you choose?
So… the time has come. You're standing in front of the Melemele Island Kahuna and you're faced with a difficult choice. No, a nearly impossible choice: Which Pokemon do you choose?
Will it be fire-type Litten, water-type Popplio, or grass-type Rowlet? This decision is never easy... but we're here to help. That's our whole thing.
It's a bit long to squeeze onto this guide page, but we've built a whole separate page all about Rowlet, Litten and Popplio - Sun & Moon's cool new Starter Pokemon. No specific one is best, but they all do have their strengths and weaknesses, so we've written about that.
We've also produced another separate page about the Starter's final evolutions. There's spoilers here, but if you want to see how the three starter Pokemon end up and see what they'll be good at by the end-game, you can find that here.
Once you've chosen, you'll end up in a rival battle.
Rival Battle: Hau
Given that this is your first battle, it's not exactly killer. Hau will use a Pokemon that's weak against your chosen Starter. If you chose Rowlet he'll have Popplio (Weak against Grass & Electric), if you chose Popplio he'll have Litten (Weak against Water, Ground and Rock) and if you chose Litten he'll have Rowlet (weak against Ice, Fire, Poison, Flying and Rock).
It really is a simple battle: just hit him until his Pokemon is KOed. It's more or less impossible to lose.
With Hau defeated, you'll be let loose towards our next destination and the first proper step in our story, Route 1. Just sit through some more story waffling first.